IMPORTANT DATES FROM THE NCSBN ABOUT THE NEW NCLEX EXAM
Apr 9, 2021, 11:16 AM
<1-min. read> The deadline is becoming clearer for the launch of the Next Gen NCLEX. We lay out the dates, so you'll know what's happening when.
---
HOW TO BE EXTRA PREPARED: HERE IS THE NEXT GENERATION NCLEX TIMELINE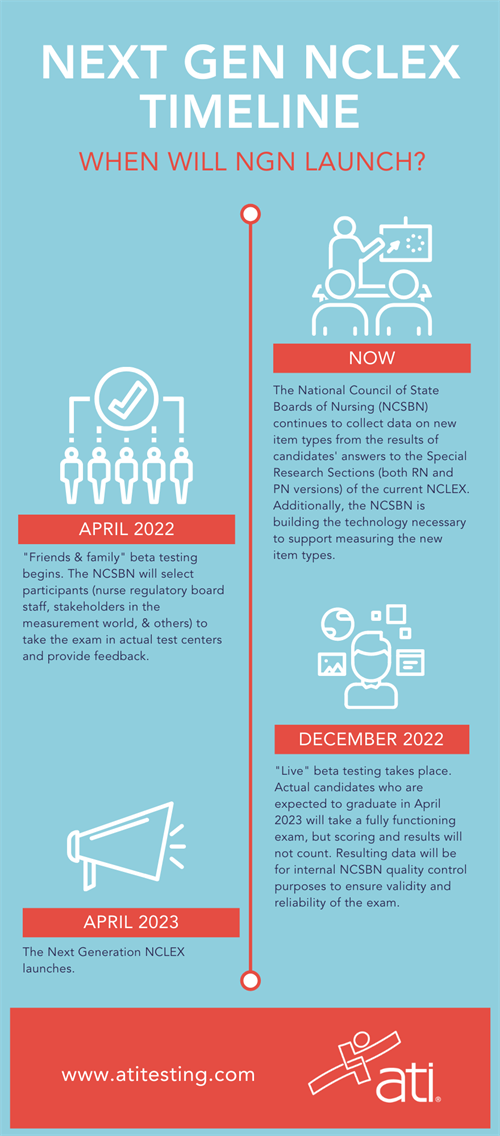 Data collection supporting the launch of the Next Generation NCLEX continues as the National Council of State Boards of Nursing (NCSBN) enters the last stretch before launching the new exam in 2 years.


---
Stay up-to-date on the Next Generation NCLEX.
---
What's currently happening? The organization continues to collect data on new item types from the results of candidates' answers to the Special Research Sections in both the RN and PN versions of the current NCLEX exams. Additionally, the NCSBN is building the technology necessary to support measuring the new item types.
NEXT STEPS FOR THE NEXT GEN NCLEX LAUNCH
April 2022:
"Friends & family" beta testing begins. The NCSBN will select participants (nurse regulatory board staff, stakeholders in the measurement world, & others) to take the exam in actual test centers and provide feedback.

December 2022:
"Live" beta testing takes place. Actual candidates who are expected to graduate in April 2023 will take a fully functioning exam, but scoring and results will not count. Resulting data will be for internal NCSBN quality control purposes to ensure validity and reliability of the exam.

April 2023:
The Next Generation NCLEX launches.
HELPFUL FACT ABOUT THE NEXT GEN NCLEX
The NCSBN has been collecting millions of data points from the RN and PN versions of the Special Research Section. This information is providing the foundation to be able to launch the RN and PN versions of the exam simultaneously.
---