Download an easy tip sheet to prepare for Next Gen NCLEX
Jul 14, 2022, 11:07 AM
<6-min. read> The Next Generation NCLEX requires strong clinical judgment. Need an easy-to-use resource to help prepare students? You'll find it here.
---
The 'ABCs of clinical judgment' is a helpful resource for Next Generation NCLEX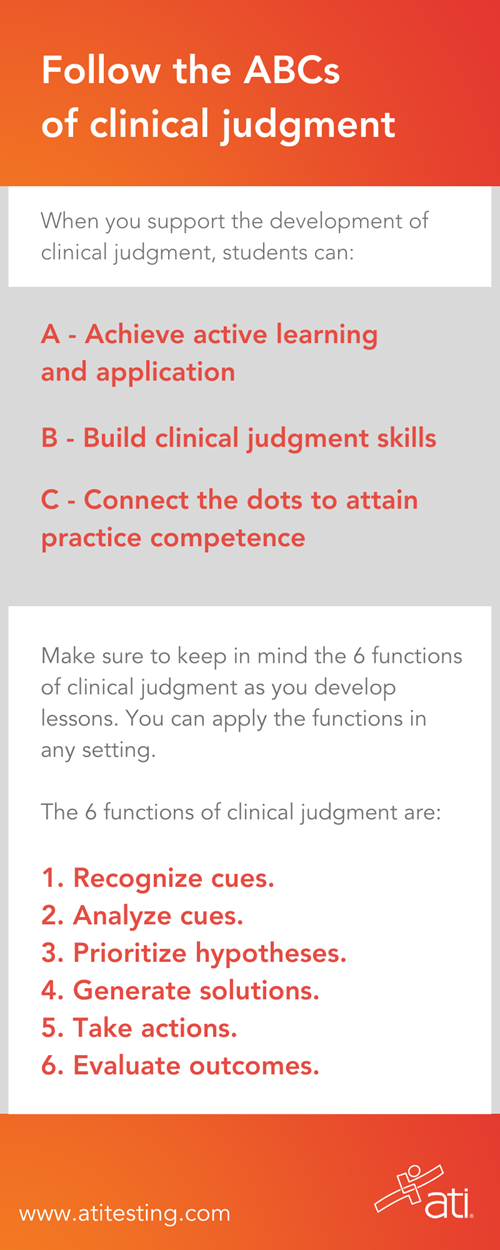 The launch of the Next Generation NCLEX (NGN) is leading to a transformation in nursing education. This transformation requires building students' clinical judgment by connecting didactic instruction with clinical practice.

The use of active learning in this transformation continues to increase as research shows the benefit of this technique in building nursing students' skills and knowledge.
As noted, the acceleration of that transformation has become especially important as instructors prepare students for the launch of the Next Generation NCLEX (NGN) in April 2023. The Next Gen NCLEX will focus on assessing students' clinical judgment, and that means most nurse educators need to increase their focus on the development of this skill. Having a variety of resources makes the task much more achievable.
To help, ATI's team of expert nurse educators wanted to develop an easy way for faculty to remember how to create this foundational aspect of nursing. Their collaboration resulted in a new document: "ABCs of clinical judgment."
The ABCs are spelled out as follows:
A – Achieve active learning and application
B – Build clinical judgment skills
C – Connect the dots to attain practice competence.
---
Download a PDF of "The ABCs of clinical judgment"
---
The document identifies specific activities educators can use to prepare for the Next Gen NCLEX by teaching clinical judgment in a variety of settings: in the classroom, lab, and clinical.

(Another document you will find helpful: "The ATI guide for clinical judgment.")

Making the ABCs document even more helpful is the inclusion of lists of specific ATI solutions and modules that align with the suggested activities:
(If your program doesn't currently have access to some of these resources or you want to learn more about increasing students' clinical judgment skills as the Next Generation NCLEX's launch gets closer, contact ATI for details.)
With these tools, you'll be able to emphasize the 6 functions of clinical judgment as outlined by the National Council of State Boards of Nursing (NCSBN):
Recognize cues.
Analyze cues.
Prioritize hypotheses.
Generate solutions.
Take action.
Evaluate outcomes.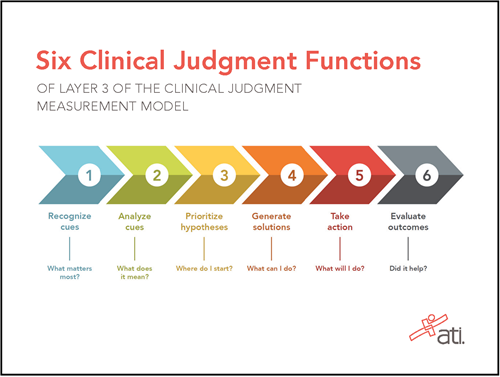 (Have trouble remembering these functions and the most important question to ask when considering each one? We've got another helpful document you can download: 6 clinical judgment functions.)
---
Download a PDF of "6 clinical judgment functions" (at right)
---
Have you begun incorporating clinical judgment into your lesson plans? Share in the comments below.
---

---
PEOPLE ALSO ASK ...
WHAT IS NCLEX CHANGING TO IN 2023?
To ensure that nursing graduates are prepared for practice, a new version of the NCLEX — referred to as the Next Generation NCLEX (or Next Gen NCLEX) — will include new questions designed to assess clinical judgment. Previously, the licensure exam focused on nursing knowledge. But the NCSBN determined that clinical judgment skills need to be assessed, as well.
WHAT WILL THE NEXT GEN NCLEX LOOK LIKE?
The new version of the licensing exam will include item types in formats that have never been used before. These new questions will be presented in the form of case studies and standalone items. Their formats will vary from matrix style (in both multiple response and multiple choice), multiple response (in formats of "select all that apply" and "select N") and others.
HOW DO NURSE EDUCATORS PREPARE FOR THE NEXT GEN NCLEX?
You've always included clinical judgment in your lessons, but now you need to focus on clinical judgment from the perspective of the 6 cognitive functions that a nurse goes through in each client encounter. The NCSBN Clinical Judgment Measurement Model breaks these functions into: Recognize cues, Analyze cues, Prioritize hypotheses, Generate solutions, Take actions, and Evaluate outcomes.

---