What You Need to Know About the Next Generation NCLEX
Nov 13, 2022, 11:43 AM
<4-min. read> Every nurse educator is eager to know how to prepare for the Next Generation NCLEX. We provide some concrete tips.
---
WHAT SHOULD YOU DO TO PREPARE?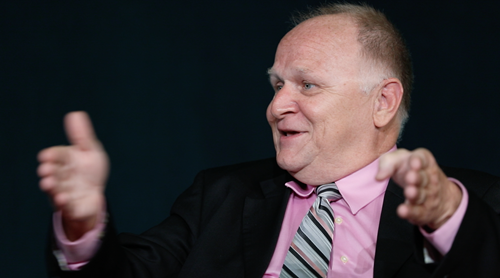 Worried about the launch of the Next Generation NCLEX, the exam that that will replace the current version of the NCLEX? Philip Dickison, PhD, RN, NCSBN Chief Officer of Examinations of the
National Council of State Boards of Nursing (NCSBN)
(in the photo at right), says it's not a time to panic.
In an exclusive in-person interview with ATI, Dr. Dickison said he'd heard lots of stories about the Next Generation NCLEX that have caused a great deal of concern among many nurse educators. The reality, however, is that most are completely inaccurate.
What is true? The test will launch on April 1, 2023. What else is true? Read on for some important details directly from Dr. Dickison and the
NCSBN
.
Consider first what has already happened: The NCSBN's expert team of psychometricians and researchers began the process by following 8 evidence-based steps:
1) DEVELOP THE CLINICAL JUDGMENT MODEL
NCSBN developed a
Clinical Judgment Measurement Model
(see at right) consisting of 5 interacting layers that illustrate the complex process of clinical judgment, including the context in which decisions are made.
2) CREATE ITEM PROTOTYPES
Measuring clinical judgment requires more unique item types than simple multiple-response questions with different scoring methodologies. In fact, the organization discovered that the new item types will require some penalties for answers that indicate a lack of clinical judgment. (That, of course, is a good thin in ensuring only practice-ready nurses are passing the exam.) So the NCSBN made a priority of digging deep into these differences.
3) TEST ITEM USABILITY
Students, nurses, and educators have been reviewing item prototypes from the very beginning to ensure they represent real-life clinical judgment scenarios.
4) COLLECT ITEM DATA
Early on, the NCSBN added a "Special Research Section" with new item types that have been presented to select students when they have finished taking the current version of the exam. Test-takers voluntarily choose whether to answer the items (on both the RN and PN versions of the test). Test-takers' responses don't impact their scores, but they do provide valuable insight on question fidelity.
5) RESEARCH MEASUREMENT
Psychometricians have received thousands of results from the NCLEX "Special Research Section." Ongoing analysis is helping to determine which item types accurately measure clinical judgment and nursing competence.
6) BUILD TECHNOLOGY
The new version of the exam will launch on April 1, 2023. Until then, the NCSBN has been building the complex technology needed to support the new item types. (It's nearly ready!)
7) PERFORM ALPHA/BETA TESTS
Multiple evaluations have been necessary to compare test questions. The NCSBN has scrutinized every item type to ensure the new exam will only include those that provide the highest accuracy.
8) LAUNCH THE NEW NCLEX-RN
An operational phase of testing and building item types has been going on for the last 3-4 years. But the launch date has been announced. And, starting on April 1, 2023, new graduates will sit for the new version of the exam.
---
What Does Next Generation NCLEX Mean for You and Your Students?
The NCSBN's initiative has been both exciting and anxiety-inducing. A new NCLEX means a better evaluation of graduates' readiness for the challenges of real-life nursing practice — but that has meant they will face more difficult, in-depth questions that could put your pass rates at risk.
So, what can you do today to prepare for this potential new future? Look for products that help students sharpen clinical judgment and develop this critical skill. ATI offers a variety of tools to support these crucial objectives: Visit
the "Solutions" page of our exclusive Next Gen NCLEX Resource Center
to learn more.
---
New Item Types
The Next Generation NCLEX test will use a complex mix of item types that require nursing students to demonstrate their clinical judgment skills.
These item types are:
Matrix multiple-choice
Matrix multiple-response
Multiple-response: Select all that apply
Multiple-response: Select N
Multiple-response: Grouping
Drag-and-drop: Cloze
Drag-and-drop: Rationale
Drop-down: Cloze
Drop-down: Rationale
Drop-down: Table
Highlight: Text
Highlight: Table
---
HAVE QUESTIONS ABOUT ITEM TYPES? ASK THEM IN THE COMMENTS BELOW.
---