ATI RELEASES UPDATED VERSION OF 'NEXT GENERATION NCLEX GUIDEBOOK'
---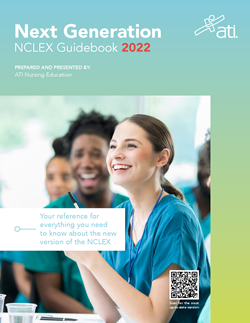 When ATI published its definitive and comprehensive guidebook to the Next Generation NCLEX (NGN) in late summer 2021, the first printing was gone within months. Now, the guide has been updated with the latest information about the NGN.
---
Leawood, Kan., June 18, 2022 — After initially launching last summer, an updated version of the NGN Guidebook is now available.

The first version received widespread recognition among nursing programs for its comprehensive nature.

Valerie Rakes, DNP, RN, CNE, Chair of the Nursing Department at Catawba College (Salisbury, N.C.), said, "ATI's handbook on the NGN resources and clinical judgment is phenomenal. I copied off the handbook for every faculty member last summer for when they came back in August, and we went through and we utilized it. We learned what the question types were and how to implement them in class for case studies. And I want to say that made a difference in our students. They loved those NGN resources that we were using, although they weren't going to be tested on those NGN question types."

Since then, Dr. Rakes has been using the updated version of the guidebook. Some of the differences between the original and 2022 version include:
• An example of every new item type that will appear on the NGN
• Examples of how the activities tie in with the clinical judgment functions
• Updates to the "Strategies in the classroom" section with new activities and more detailed client examples
• An enhanced sample of an action model template with partially filled-out fields
• A QR code on the cover that readers can scan to access upcoming versions online.
The 2022 hard-copy version recently became available and is being shared with ATI clients by ATI's Client Executives Team.

Additionally the new version is available via downloadable PDF on the NGN section of the ATI website: https://www.atitesting.com/educator/next-gen-nclex

# # # # #
ABOUT ATI
ATI helps create competent, practice-ready nurses who are dedicated to maintaining public safety and ensuring the future of healthcare. As the leading provider of online learning programs for nursing, we support and help educate future nurses from admissions, throughout undergraduate and graduate nursing school, and via continuing education over the course of their careers. Our company began in 1998 with the aid of a nurse, and our team of doctorate- and master's-prepared nurse educators continue to lead the development of our psychometrically designed and data-driven solutions. These solutions improve faculty effectiveness, fuel student progress, and advance program outcomes in three distinct areas: assessing performance, remediating problem areas, and predicting future student and program success. For nursing school administrators and nurse educators, ATI is the trusted advisor that consistently drives nursing success.
To learn more about ATI, visit
www.atitesting.com
.
---