ATI experts provide insight for Bloomberg article on the need for male nurses
Apr 6, 2023, 17:47 PM by Gina Kellogg
---
Bringing critical issues to journalists' attention is part of ATI's efforts to help solve the nursing shortage.

---
ATI recognizes the need to create a strong, sustainable nursing pipeline to address the severe nursing shortage. Considering the gravity of this issue, ATI has begun taking proactive steps to support industry initiatives that can have an impact.
ATI is using a two-prong approach: working with public affairs experts and connecting within government relation circles. These techniques have so far resulted in high-profile exposure within major news publications, which means high exposure in getting the message out.
Most recently, these efforts led to
Bloomberg News
Editor Rachel Rosenthal interviewing ATI Educators
Gene Leutzinger
and
Timothy Beitzel
. (See photo below.) Leutzinger is an Integration Nurse Specialist, and Beitzel is a Regional Manager and Nurse Educator.
The two men provided Rosenthal with helpful background information on the overall nursing shortage along with why it is crucial to focus more on men in the recruitment efforts of nursing schools.
Read the Bloomberg article to better understand why more men are needed in nursing.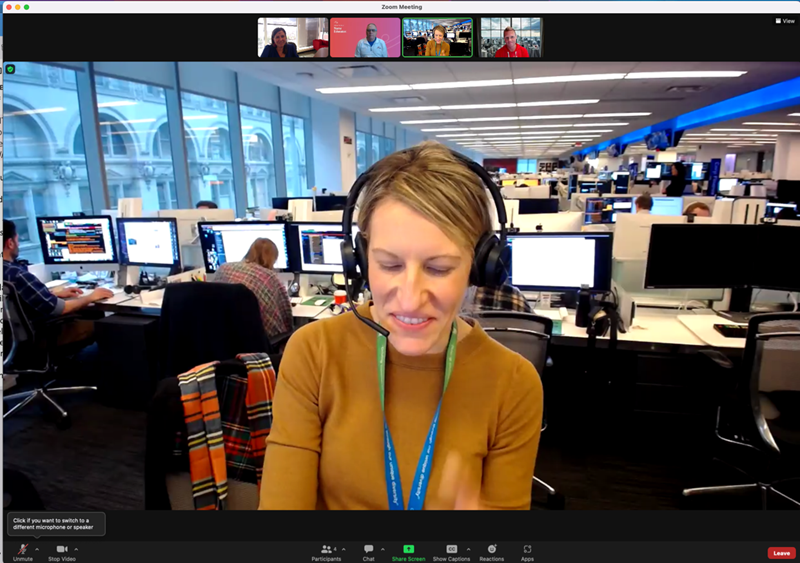 ###
ABOUT ATI NURSING EDUCATION
ATI helps create competent, practice-ready nurses who are dedicated to maintaining public safety and ensuring the future of healthcare. As the leading provider of online learning programs for nursing, we support and help educate future nurses from admissions, throughout undergraduate and graduate nursing school, and via continuing education over the course of their careers. Our company began in 1998 with the aid of a nurse, and our team of doctorate- and master's-prepared nurse educators continue to lead the development of our psychometrically designed and data-driven solutions. These solutions improve faculty effectiveness, fuel student progress, and advance program outcomes in three distinct areas: assessing performance, remediating problem areas, and predicting future student and program success. For nursing school administrators and nurse educators, ATI is the trusted advisor that consistently drives nursing success.
To learn more about ATI, visit www.atitesting.com