BUILDING CLINICAL JUDGMENT: TIPS FROM 2018's TEACHING FORWARD AWARD RECIPIENT DR. BRENDA WILLIAMS
Jul 22, 2019, 17:33 PM
<7-min. read> No aspect of nursing today is more important than developing the skill of clinical judgment. NCSBN has zeroed in on this skill as the reason behind creating a new version of the NCLEX (commonly referred to as Next Generation NCLEX).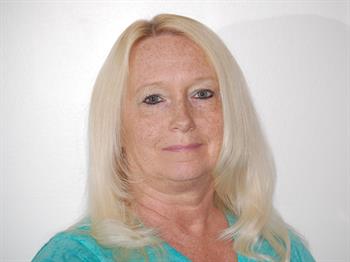 Brenda S. Williams, DNP, MSN Ed., BSN, RN, CNE®cl, clinical nursing faculty at Chamberlain College of Nursing (Atlanta), also recognized the crucial importance of helping students develop their clinical reasoning on a deeper level. She knew, too, that getting time with actual patients wasn't always easy. So she wanted another option for students when they were unable to participate in their assigned clinical experience.
To overcome this obstacle, Dr. William's converted ATI's Real Life scenarios solution from a group project into an individual project. To make the assignment even more effective, she required students to develop a plan of care (action plan) for their virtual patients and assigned the students to return to the simulated scenario multiple times, selecting new responses with each pass so they could experience how the situations would play out differently.
REAL LIFE SUPPORT OF CLINICAL JUDGMENT SKILLS
After completing the new assignments, students' feedback was enthusiastic. They told her the assignment "had provided them with a valuable understanding of how one clinical decision can change the clinical status of the patient." Another comment, Dr. Williams shared, said "the assignment improved confidence, as well as the ability to prioritize, critically think, and manage time."
Even peers were intrigued by Dr. Williams' brainchild. "The verbalized reviews by peers included asking me to email them the individual assignment to be used by the course coordinators when a student was absent from clinical," she explained. "Another comment was about how the student was required to select different options in the scenario to review why they were not the best option at that time providing the student a better understanding of how easy and fast a mistake can be made."
AN AWARD-WINNING SOLUTION
Dr. Williams' innovative efforts were acknowledged recently when she was announced as the 2018 recipient of the inaugural Teaching Forward Award, presented by ATI Nursing Education. This award acknowledges an educator who has embraced and created innovative strategies using ATI Tutorial products to become a catalyst for students' success.
We asked Dr. Williams to provide a few more details about her efforts, and our Q&A with her follows:
ATI:

WHAT CHALLENGES TYPICALLY CAUSE STUDENTS TO MISS CLINICAL?
DR. WILLIAMS: The reasons vary. Examples include personal or family illness, unforeseen emergencies, and extremely bad weather (where the campus is closed). Other examples include having overslept, forgetting to turn their alarm on, car trouble, and traffic.
ATI:

BEFORE DESIGNING THIS PROGRAM USING REAL LIFE, WHAT OPTIONS DID STUDENTS HAVE TO MAKE UP CLINICAL?
DR. WILLIAMS: Students were assigned case studies or being on campus to complete activities.
ATI:

WHAT ASPECTS OF REAL LIFE DID YOU CONSIDER MOST IMPORTANT FOR THIS ASSIGNMENT?
DR. WILLIAMS: The most critical skills that students need are the aspects of critical thinking, bedside nursing skills, communication skills (with the clients/patients, families, nurses, and care teams), and allowing the students to participate in the everyday needs of the clients/patients.
ATI:

TELL US A BIT MORE ABOUT HOW STUDENTS USED THE REAL LIFE SIMULATIONS TO FULFILL THIS TASK.
DR. WILLIAMS: In Real Life scenarios, the student receives a report on the patient from the transferring nurse. The report includes the patient's current condition and what led up to the hospitalization. In the patient's chart, the student can review the current physician orders, progress notes, medication administration record, laboratory report, and the radiology report. The student can use all of this information, plus the module report, to develop their plan of care for the patient in the scenario.
ATI:

WHAT'S INVOLVED IN DEVELOPING A PLAN OF CARE?
DR. WILLIAMS: While in the clinical setting, most underclass students are assigned to care for one client/patient. Doing so gives them the opportunity to develop a plan of care for that one client/patient. When developing the plan of care, the students talk to the client/patient to gather information on the condition that led to the hospitalization, review the past medical history, take the medical diagnosis, identify the signs and symptoms that the client/patient is experiencing, evaluate recent and current lab values and reports from diagnostic procedures, and then start to identify the nursing diagnosis most appropriate for that client/patient. Once they have identified that diagnosis, they can then start to develop the plan of care. Without that plan, the student would not know how to care for the client/patient.The biggest advantage of the Real Life Scenario when compared to a clinical day is the module report.
ATI:

WHAT'S NEXT?
DR. WILLIAMS: After students complete the module for the scenarios, they are provided with a report that includes a decision log. The decision log states the scenario, the question that was asked, the selected option, and the rationale. The module report also includes the reasoning scenario performance related to outcomes. It shows in what areas the student is strong, satisfactory, and needs improvement.
This report provides details that we may not review in clinical.
ATI:

WHAT WERE STUDENTS' REACTIONS TO THE NEW ASSIGNMENT?
DR. WILLIAMS: A few of the comments were:
"The Real Life scenario has been one of the most helpful video case studies that I have had."
"This scenario is one that we, as future nurses, will commonly see."
"This ATI study did a good job in showing how nurses must prioritize and divide their time."
"Before completing this scenario, my assumption was that a person with a chronic condition like diabetes was already familiar with the management protocol and routine health maintenance, and it was obvious that this is not always the case."
"I learned the importance of continuing education and teaching the client."
"This scenario was very realistic, because it incorporated numerous medical issues, and because it demonstrated how a patient's condition can change very quickly."
"The Real Life scenario was a little challenging and required some critical thinking to be able to provide optimal care for the patient and was a very educational scenario and will benefit us in the long run to become great nurses."
Dr. Williams added, "I even had one student to tell me that she would never miss another clinical day even if her arm was falling off."
ATI:

DID PEERS HAVE ANYTHING TO SAY?
DR. WILLIAMS: They have liked the Real Life scenarios as a make-up assignment. It is seen as being very informative.
ATI:

WHAT DO YOU EXPECT THE LONG-TERM IMPACT OF THIS ASSIGNMENT TO BE?
DR. WILLIAMS: For the student that has to be absent from clinical, it provides them with a lifelike experience that they can learn from and take forward with them throughout their nursing career.
I would like to see other campuses and colleges use this assignment as a clinical make-up assignment.
ATI:

WHAT ARE THE ADVANTAGES AND DISADVANTAGES OF USING REAL LIFE COMPARED TO MANIKIN SIMULATION?
DR. WILLIAMS: One of the advantages of using the Real Life scenarios is that students can complete it by themselves and use the different options in the scenario to get a better understanding of how those different options could affect the client's/patient's condition for better and for worse.
In a manikin simulation, you have questions that are answered before the day of simulation, then you are given report on the patient and have time to review the chart. Then, you work as a group to care for the client/patient. This simulation provides students with the experience of teamwork, which is a great quality.
The disadvantage? Manikin simulation is not designed to accommodate one single student.
ATI:

BEFORE WE END THIS, TELL US ABOUT YOUR BACKGROUND.
DR. WILLIAMS: I am a Clinical Nurse Educator at Chamberlain University/College of Nursing/Atlanta campus. I have been with Chamberlain for 5 years and a clinical nurse educator for the past 7 years. I earned my Associate of Science in Nursing degree from Dalton State College in 2006, my Bachelor of Science in Nursing degree from University of West Georgia in 2008, my Master of Science in Nursing degree (focused on Nursing Education) from American Sentinel University in 2013, and my Doctor of Nursing Practice degree (focused on Healthcare Systems Leadership) at Chamberlain University in 2017.
I have instructed students in clinical at different levels of the nursing program, including Fundamentals, Adult Health (Med/Surg), Complex Adult Health, Community, Collaborative, and Capstone students. In September 2018, I was one of the first nurses to earn certification as a Certified Academic Clinical Nurse Educator (CNE®cl) with the National League of Nursing.
I have been an ATI Champion since the Atlanta campus implanted ATI in 2017. I am one of the Master Instructors on campus, and I also have been the Fundamentals skills lab coordinator, Fundamentals clinical champion and Adult Health I & II clinical champion. I am also a member of Sigma Theta Tau.
---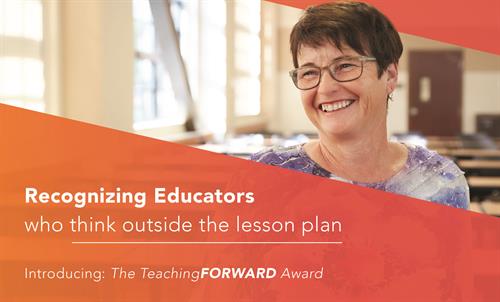 Nominations for the 2019 Teaching Forward Award are open and end Sept. 30, 2019. Submit your nomination today!