GOING IN-DEPTH: VIDEO CASE STUDIES FOR ONLINE-ONLY LEARNING
Mar 30, 2020, 17:46 PM
<7-min. read> The COVID-19 outbreak has forced nursing programs to eliminate in-person teaching and move all classes online. Simultaneously, many clinical placements are barring students from attending. However, you have resources to help your students overcome these educational challenges. Video Case Studies, for example, is a valuable solution for use in the virtual classroom, especially for clinical make-up assignments.
---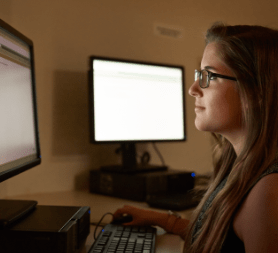 Janet Kane, MSN, RN, CNE
;
Michele Steinbeck, MNSc, RN, CNE
; and
Janet McMahon, DNP, MSN, RN, ANEF
, are all used to working virtually to help nurse educators be as effective as possible in their teaching efforts. However, they know that many faculty members might not be as comfortable switching from the classroom to online learning efforts.
In their roles as ATI Nurse Educator Integration Specialists, they recently spent time with educators facing the new reality of teaching exclusively online.
During several webinars, the ATI educators explained the value of specific ATI products and resources
that lend themselves to easy use in the virtual world. They also identified specific opportunities for clinical integration and utilization in the virtual learning environment and suggested ways to incorporate these tools for clinical make-up assignments.
(To watch webinars addressing the switch to online learning due to the coronavirus, visit ATI Academy, click on "Content Library," and then search for "COVID.")
This article will focus on the use of ATI's
Video Case Studies
and complements the step-by-step instructions in "
How to use Video Case Studies in the virtual classroom: 5 tips for online learning [Infographic]
" (and goes into more depth).
BACKGROUND INFO: DETAILS ON VIDEO CASE STUDIES
"Video Case Studies are a wonderful opportunity for students to engage in visual presentation of content in application and then follow up with the ability to use clinical judgment and critical thinking to answer challenge questions," Janet K. explained.
Michele added, "These are very short videos that review content. Typically, most of the Video Case Studies are less than 5 minutes long." But the product is more than just videos. "There are activities," she added. "There are lesson plans. There's an expert response. There's a post test." And all these features, she said, can be implemented in the virtual environment.
(
Unfamiliar with Video Case Studies? Discover details here.
Also refer to the Education Implementation Guide after logging in to the ATI Faculty Portal. Visit the "Resources" section in the left-hand column, and click on the Video Case Studies section.)
To help you take advantage of the benefits offered by ATI's Video Case Studies solution in remote learning, our expert educators outlined some suggestions. You can incorporate these tips into a virtual meeting with students via the video-conferencing platform of your choice.
To more easily explain the use of Video Case Studies, the educators focused on the "Maternal newborn" module and its corresponding primary concept of "Apgar scoring" for their examples.
STEP 1: ASSIGN A VIDEO AND AN ACTIVE LEARNING TEMPLATE.
Before a class meets online, Michele said that she will sometimes ask students to download an Active Learning Template to accompany a video for students to watch independently. In this example, she would direct students to the Active Learning Template for Systems Disorder. By having the students fill out the template before class, she said, "You're going to get a little more participation during class discussion, because students are more prepared."
In addition, before class begins, you can ask the students to return the forms to you after filling them out. Then you can see any knowledge gaps you need to address during the session.
STEP 2: PLAY A VIDEO CASE STUDY TO WATCH AS A GROUP.
Using your video-conferencing platform, open the Video Case Study and play it for the group. At the end, a Video Challenge Question will be offered. At this point, you can ask students to key in their answer using the chat function. Another option? "You can unmute your students, and start calling on them to answer the question," Michele said.
STEP 2a. ASSIGN SMALL GROUPS TO ANSWER THE CHALLENGE QUESTION.
If you want students to go more in-depth, you can break the students into small groups.
Janet K. suggested, "Have them work through the Video Case Study challenge question and come up with their best answer." Then, she said, ask a representative from each group to chat in their response.
STEP 2b: HAVE STUDENTS PERFORM A PEER REVIEW OF RESPONSES.
After all groups have posted their answers, Janet K. said, "Go ahead and dialog over the different submissions." Ask students to review and critique the various answers.
STEP 3: COMPARE/CONTRAST THE EXPERT'S ADVICE.
Whatever technique you choose for having students answer the Challenge Question, your next step is to educate students on the correct answer. Video Case Studies makes this easy by offering an "Expert" video, which Michele described as "kind of like a debriefing."
Once students have heard the expert explain the correct response, consider asking them to compare and contrast their responses to the expert's answer.
STEP 4: BEGIN THE POST-VIDEO TEST.
The test offered after the video may be short — only 5 or so questions, for example. Nevertheless, Michele said, it's a useful way to assess your students' knowledge.
Using it, "you get the opportunity to see if your students are mastering the content," she added.
Like with the Video Challenge Question, you can ask students to key in their answers to each question. (While the answers in the online test do not have numbers assigned to them, simply instruct students to assume a number for each answer starting with 1 for the first answer.)
Once all students have chatted in, share what the most popular response was. Then click the arrow on the page to see the correct answer.
Even if most students chose an incorrect answer, you then have the opportunity to review the rationales for each response. "Now, you can go and have that conversation with your students," Michele explained, reviewing why 1 answer was correct but, more importantly, why the other 3 answers were incorrect.
You can even take the discussion one step further, Michele said, by asking those students who chose a certain answer to provide their rationales. Doing so allows you, as the educator, to understand what they were thinking when they chose that answer and continue the conversation from there.
STEP 5: BUILD ON ANSWERS WITH MORE QUESTIONS.
You don't have to stop with the challenge or test questions, of course.

"The Video Case Study, in and of itself, could have many, many questions asked about it," Janet K. added. "Based on the scenario, I might make any one of a dozen different questions related to that, requiring the students to — if you will — think on their feet."

For example, she said, you could start by describing the original situation presented in the Video Case Study. Remind students of what they viewed. Then, expand the opportunity for clinical judgment development and ask questions to further unfold the scenario. Ask students:
What do you see?
What should you do next?
What if this aspect changed?
What does that action mean from the perspective of the nursing process? The assessment process? Intervention?
For other ideas, Janet K. suggested educators visit the prepared lesson plans included in the Educator Implementation Guide.

"Every one of the Video Case Studies has a 2-page document with a description of the Video Case Study and, additionally, items for discussion," she added. "So, in addition to that, having the students look at that video case study from a 'What would you do next? What's the next step? If we identify this, what would be the responsibility of the nurse in moving that information forward, whether it be from a communication perspective or from an intervention that would be appropriate?'"

Michele added, "Another question I love to ask the students is 'What would the follow-up care be?' or 'What would you do with an apgar score of 9 compared to an apgar score of 2?' And then talk through those interventions."

Janet M. suggested the same scenario could lead to a discussion of therapeutic communication. What would the nurse say, for example, to a father who asks about a client's score of, say, 6? "Which of the following responses should the nurse give," she explained. This process provides yet 1 more option for you to provoke further discussion with students.
---