ARE YOU IN-THE-KNOW ABOUT SYSTEMATIC EVALUATION PLANS?
Oct 23, 2020, 12:05 PM
<4.5-min. read> They are complex, confusing, and crucial. And your nursing program can't be successful without one of these comprehensive evaluation plans.
---
GAIN AN EDGE IN BUILDING A BRILLIANT SEP WHEN YOU CAN ANSWER THE 5 'WHYS'

By Debbie Lyles, PHD, MN, RN, CNE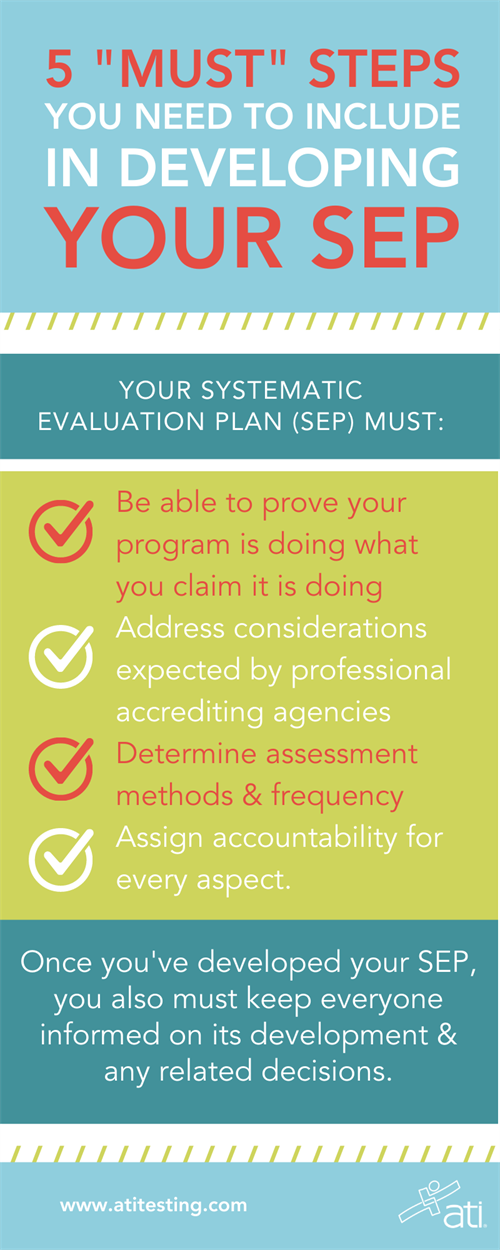 Just as a builder uses a blueprint to guide the construction of a house, a nursing program relies on a plan to organize and track its evaluation activities. You'll hear various terms used to refer to this plan, such as a:
Systematic Evaluation Plan (SEP)
Systematic Plan of Evaluation (SPE)
Program Evaluation Plan (PEP).
Whatever name you use (and we're going to use SEP here), the process of developing one is often complicated. After all, it's a very comprehensive project, and its inherent complexity is related to the fact that it involves pretty much every aspect of your nursing education program.

Unfortunately, despite its importance, some programs support their SEPs in a rather absent-minded fashion. Some only worry about their plans when they realize an accreditation visit is pending. Typically, such naivety is based on a lack of understanding regarding these plans' significance.

So, let's explore the specific whys behind your need for an SEP.
WHY YOU NEED TO PROVE YOUR PROGRAM IS DOING WHAT YOU CLAIM IT'S DOING
Both nursing faculty and administration work in tandem to develop and implement an SEP. The intent of the plan is for it to be:
Ongoing
Comprehensive
Data-driven
Aligned with guidelines from the identified accrediting agency. (Most

state boards of nursing

require programs to have an SEP, as do many program-approval organizations and professional accrediting agencies.)
So, why is this plan essential? That question requires a multipronged answer, too. An SEP is essential because it:
Determines how the various elements of your program interact and influence your program's overall effectiveness
Determines whether your program achieves its mission, goals, and outcomes
Provides rationales for decision-making to improve program effectiveness
Identifies what resources you need and how to use them to improve program quality and effectiveness (Billings and Halstead, 2020).
---
DOWNLOAD THE INFOGRAPHIC ABOVE AS A HANDY REFERENCE
---
WHY YOU NEED TO BE ORGANIZED IN SETTING UP YOUR SEP
Professional accrediting agencies tend to be methodical in their review of your SEP. In fact, they typically require that your program address certain aspects in a specific manner. As a result, an evaluation plan most often will need to address your program's: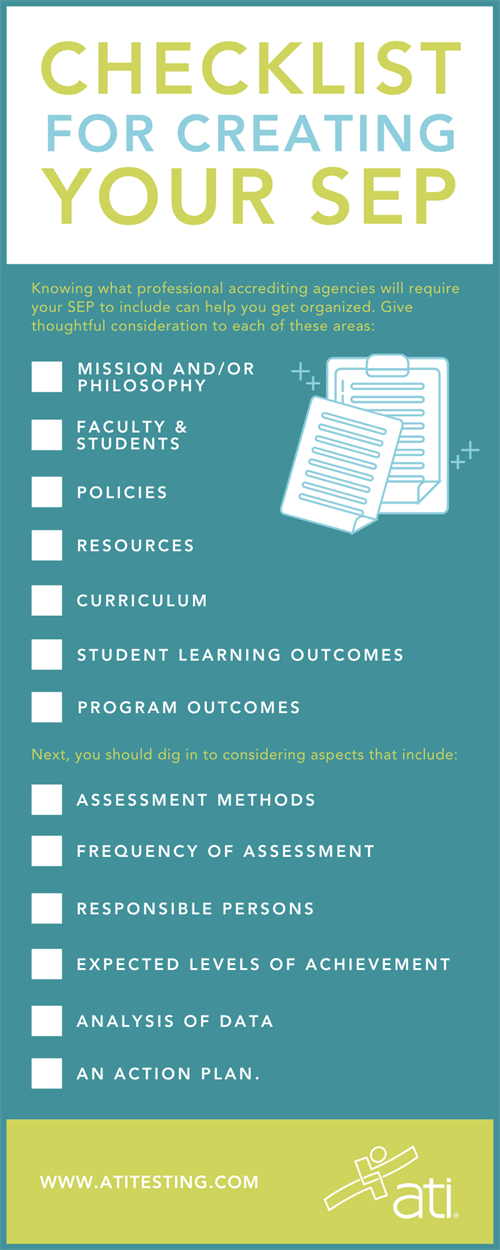 Mission and/or philosophy
Faculty
Students
Policies
Resources
Curriculum
Student learning outcomes
Program outcomes.
Therefore, you need to set aside some time for thoughtful consideration of each of these areas. Then, you need to dig in to considering aspects that include:
Assessment methods
Frequency of assessment
Responsible persons
Expected levels of achievement
Analysis of data
An action plan.
Whether your plan is a paper-pencil document, an electronic document, or an integrated product designed specifically for an evaluation plan, you must ensure that it addresses all of the essential elements.
---
DOWNLOAD THE INFOGRAPHIC AT RIGHT AS A HANDY REFERENCE
---
WHY MAKING A DETERMINATION ABOUT YOUR ASSESSMENT APPROACH MATTERS
You have multiple assessment methods you can incorporate into your evaluation plan. They can include:
Standardized assessments
Interviews or focus groups
Attitudinal scales
Rubrics.
You can choose all or just a few of these methods.

Once you've decided how to evaluate your program, you need to determine the frequency of the assessments. Some components of your plan may only require evaluation every few years, whereas others may need to be assessed annually — or whenever you make a substantive change in your program or curriculum. For example, you likely can evaluate your program's mission and philosophy every 3 to 5 years, while you should evaluate NCLEX pass rates annually.
WHY YOU NEED TO ASSIGN ACCOUNTABILITY FOR YOUR SEP
Identifying the responsible person or persons of your evaluation plan is another important facet of its creation. Assigning responsibility for data collection, analysis, decision-making, and reassessment for items in your SEP will prevent you or your team from overlooking an important aspect. Some nursing programs designate one person to be in charge, while other schools organize committees to ensure accountability. For example, the dean or director of a program may be designated as the responsible person for faculty evaluations, and the Curriculum Committee may be the responsible group for addressing the curriculum component in the plan.

Those in charge can then identify outcomes with expected levels of achievement, analyze the data, and implement action plans — all integral and crucial parts of your SEP. You'll also want to set an expected goal with a designated level of achievement and desired outcome. This step allows you to measure quality. But before you move in that direction, first make sure you base your goals on rationales.

Following that, you can collect, aggregate, and trend your outcome data. Then, you should analyze the data and make some decisions. Finally, even if your data doesn't lead you to make any changes to your program, you still need to maintain a record of it.
WHY KEEPING EVERYONE INFORMED MAKES A DIFFERENCE
If you determine an action plan for program improvement is necessary, report it to faculty and any other stakeholders. Don't forget to document your plan (in minutes and in the evaluation plan itself) and also summarize it for a designated period of review.

When you or your committee is reviewing outcomes and expected levels of achievement, you'll undoubtedly come to various conclusions and need to make some decisions. Those decisions will lead to additional actions:
Meeting (or not meeting) the level of achievement with a subsequent decision to maintain the plan
Revising the plan
Developing a new component of the plan.
If your program doesn't meet the expected level of achievement, make sure to include a feedback loop in your SEP for further analysis. Follow that step by setting a timeline to address the outcome.

Ultimately, the most effective use of your "blueprint" is continual evaluation of data. Doing so will ensure your program is making informed decisions and improving outcomes. The result? A successful program and successful graduates.

Author: Debbie Lyles, PHD, MN, RN, CNE, is Director of Consulting for ATI Nursing Education. She has been a registered nurse for more than 35 years and has 25+ years of post-secondary nursing education experience, including with both RN-BSN and Associate Degree Nursing.
---
REFERENCES
---