DISCOVER VALUABLE RESILIENCE TIPS YOU NEED TO PREPARE FOR 2021
Dec 2, 2020, 10:56 AM
<4-min. read> Learning how to fortify your resilience couldn't come at a better time. Read the advice of Dr. Tese Stephens, a renowned expert on the topic.
---
RESILIENCE IS THE BEST TRAIT EDUCATORS MUST STRENGTHEN
By Teresa M. Stephens, PHD, MSN, RN, CNE, ATI Nursing Education Consultant
Greetings! I am honored to be your host as we explore the concepts of resilience and well-being. I have spent the past 12 years embedded in this research and work, driven by my own passion and commitment to the radical transformation of nursing education and practice to improve the lives of nursing students and nursing professionals.

As you can probably imagine, I have learned a lot about resilience:
What it is
What it is not
How we become resilient
How we use resilience to successfully navigate the challenges of life.
As I have researched and heard the stories of many highly resilient individuals — including Holocaust survivors — I have come to recognize one main point: Resilience is choosing to learn from adversity. This simple statement packs a big punch. Here's what it means:
MEANING 1) RESILIENCE RESULTS FROM ADVERSITY
We don't become resilient from our blissful moments. Resilience results from opportunities presented in our adversities, life challenges, or stressful experiences. Growing pains are not just for children. Resilience comes from the experiences that we frequently describe as "painful." This is why not everyone is highly resilient.

It is during these painful (adverse) times that we choose our response. It is never easy. But it is something we can all do.
MEANING 2) CHANGE IS INEVITABLE
How we change is our decision. We can choose to become bitter or better. Highly resilient individuals choose to learn, grow, and become better and stronger because of perceived adversities. It is a process that we can learn at any stage of our lives, but we must be intentional and committed to this process, approaching it as a skill that must be practiced to become competent.
MEANING 3) LEARNING IMPLIES A CHANGE IN BEHAVIOR
When we are truly resilient, we are positively changed because of our adverse experiences. It is much more than simply "bouncing back." We learn and grow, which affects how we respond to future challenges, improving our overall well-being.
HOW 2020 PUT RESILIENCE TO THE TEST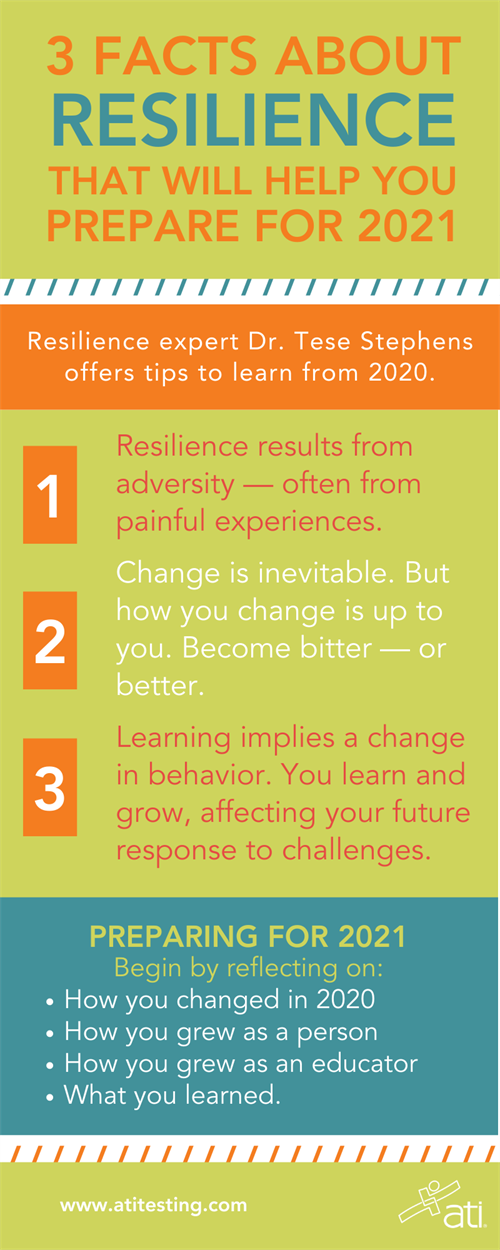 So, what does this all mean to us now, as we are nearing the end of 2020? We must decide how we, as individuals, will respond to this exceedingly difficult year — one that has come with many growing pains. It is serendipitous that the World Health Organization designated 2020 as "The International Year of the Nurse and Midwife" long before the pandemic became a reality. The American Nurses Association then built upon WHO's theme, inspiring us to "Excel, Lead, & Innovate." I believe we have gone above and beyond in all three.

No one could have predicted the challenges, disruptions, and overwhelming stress that we would face as individuals, educators, and professionals this past year. Within the adversity, however, lies great opportunity. We have observed our colleagues respond with true resilience as they have excelled, led, and innovated to meet the needs of students, clients, and communities. We have thrown aside the "tyranny of precedent," because we had no choice — a perfect example of resilience. Many organizations have made positive changes that will last long beyond the pandemic and, hopefully, spark continued innovation and positive disruption to propel them to bigger and brighter futures.
YOUR 1ST STEP TOWARD 2021
As an individual, no matter your role, you have a choice in how you respond to 2020. I encourage you to begin by reflecting on:
How have you changed this year?
How have you grown as a person?
How have you grown as an educator?
What have you learned?
Next, I challenge you to do something that may be difficult or feel strange. Give thanks for 2020. Gratitude is a wonderful spark for resilience. It is the true path to positive growth from adversity. While we mourn our losses, we can't forget to celebrate our successes, even the small ones. What did 2020 give to you that you would not have experienced otherwise? Maybe it was more quality time with your family members. Did you learn how to navigate online learning or remote work? Maybe you discovered how to use a new mobile app or technology that will make your life easier beyond the pandemic.
---
DOWNLOAD THE INFOGRAPHIC AT RIGHT AS A HANDY REFERENCE
---
For myself, I learned to embrace quiet time at home, spend more time at the piano, learn about the wonders of online grocery shopping, and how to use fun Zoom backgrounds. I've also learned to set more clearly defined boundaries between work and life, to connect with friends and family in diverse ways, and I've learned to enjoy the benefits of virtual conferences.

As we begin the holiday season, it probably looks vastly different from what we expected or desired. But it can still be wonderful if we choose to adjust our perspective.

I wish you moments of peace amid the chaos, joy in the unexpected, and love for and from what matters most to you.
---
Author: Teresa (Tese) Stephens, PhD, MSN, RN, CNE, is a Nursing Education Consultant for ATI. Dr. Stephens has 3 decades of nursing experience in both clinical and educational settings. She is active in multiple professional organizations, including as a member of the Continuing Education (CE) review committee for the Tennessee Nurses Association and a member of the QSEN RN-BSN national taskforce. Dr. Stephens has written extensively and is a frequent presenter at regional and national nursing conferences. Her research explores the concept of resilience in nursing students, nurses, and other healthcare professionals as a tool for personal growth and well-being, as well as a means of improving client outcomes. She is the author of Stephens' Model of Resilience and the founder of

RN P.R.E.P.

(Personal Resilience Enhancement Plan), an interactive learning experience for nursing students and new graduate nurses. She works with various Holocaust organizations to explore survivor stories using her conceptual model of resilience. Dr. Stephens lives in Blountville, Tenn., with her husband, Scott.
---