3 TIPS ON HOW TO WRITE LEARNING OBJECTIVES FOR GEN Z STUDENTS
Jan 8, 2021, 15:57 PM
<4-min. read> Making sure you communicate appropriately with Generation Z students is crucial to their success. A new column on the ATI blog explains how.
---
THE BEST WAYS TO CREATE A VISION WITH CONCISION
BY BRIDGETTE BRYAN, DNP, MS, ATI DIRECTOR OF POST GRAD SOLUTIONS
Have you considered whether your students actually read and understand your course learning objectives? If you write them from your perspective as an educator, then students are likely overlooking — or even ignoring — them. But, if you write them from the perspective of the Generation Z student (typically identified as those born between 1997 and 2012 to 2015), then you'll promote greater engagement.

What do you need to do differently for your writing to enhance student engagement? The simplest advice is to make sure your writing has:
Fewer words
More in-depth meaning
An explanation of the assignment's value.
CONSIDER THE GEN Z LEARNER'S VIEW
To best ensure your learning objectives include the characteristics cited above, ask yourself these 3 questions as you write:
Does the objective describe how the information will be of value to the student?
Does the objective address when the student will use the information?
Is the objective concisely written or can you eliminate some words?

As you review your learning objectives, envision students reading and embracing what you have written. Once students recognize the value of the course, a desire to learn will begin to grow, which leads to a successful outcome for everyone.

Author: Bridgette Bryan, DNP, MS, is ATI Director of Post Grad Solutions. She holds a Doctorate in Executive Leadership and a Master's in Nursing Administration and Psychology. She has been published in the ATI Live Review Book and nursing journals, and she also has written an inspirational column for her local newspaper. Prior to joining ATI, Dr. Bryan's leadership experience included director and vice president roles in hospital administration, as well as academic experience including associate professor roles in both university and community colleges. Outside of her ATI responsibilities, Dr. Bryan devotes time to volunteer service, including work on a medical mission team and as a support group leader and educator at a faith-based rehabilitation center.


---
KEY ATTRIBUTES OF GENERATION Z STUDENTS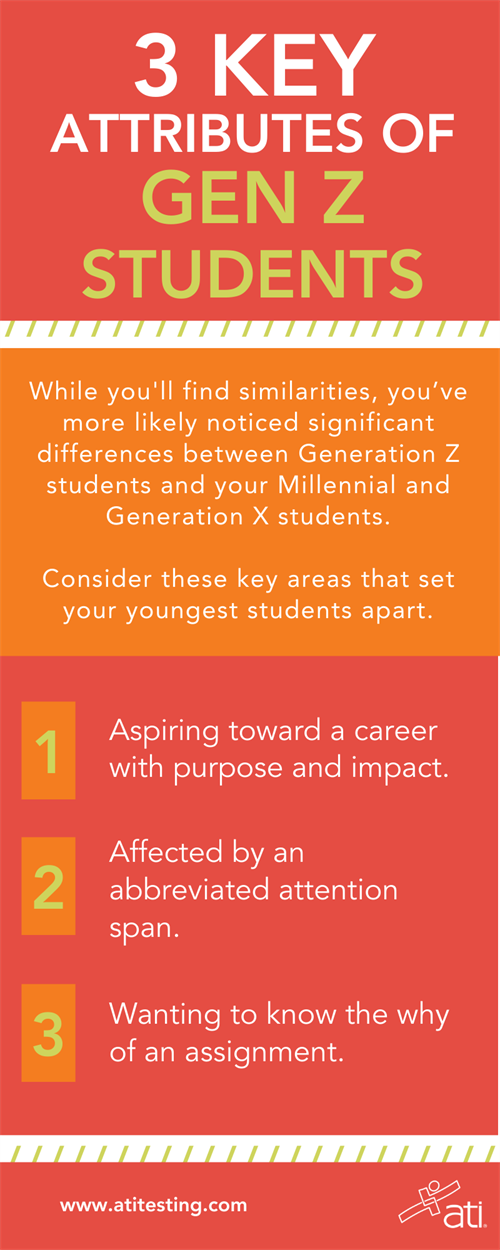 While you'll obviously find similarities, you've more likely noticed significant differences between Generation Z students and your Millennial and Generation X students.
Consider these key areas that set your youngest students apart.
ASPIRING TOWARD A CAREER WITH PURPOSE AND IMPACT
The Chronicle for Higher Education reports that Gen Z students "want an education they can apply. They prize project-based learning and undergraduate research that will hone crucial, marketable skills for life."
These desires make a career in nursing truly compatible with Gen Z students' motivations.

But that desire doesn't mean you can teach using the same techniques you have in the past.

An article in The World University Rankings, Sandro Galea, a professor and dean at the Boston University School of Public Health, states, "Generation Z's involvement in identity-based meaning requires a rethinking of … our previously held assumptions about them [that] have influenced how and what we teach."
AFFECTED BY AN ABBREVIATED ATTENTION SPAN
One of the most significant ways in which Generation Z is inherently different from previous generations is due to the impact of technology on their lives.
Much research on Gen Z's attention span has concluded that it only lasts for 8 seconds. Millennials' attention span is, on average, 12 seconds. That difference may not seem significant at first glance. But try setting a timer for 8 seconds and read your learning objective. Now do the same with a 12-second timer. That extra 4 seconds allows for more information uptake — time you don't have with Gen Z students.

And while you may be tempted to blame students for their narrow attention limits, reconsider. It is the society in which they've grown up that has shaped them. Immediate feedback and access is all they've ever known.


WANTING TO KNOW THE WHY OF AN ASSIGNMENT
Research into what inspires Gen Z students helps explain why you must deliver an explanation of your lessons' purpose. These young adults are looking for meaning in their lives, which translates into understanding how the knowledge you are teaching is important.

In one study, for example, more than 70% of Gen Z students said they were motivated by making a difference for someone else, not letting others down, advocating for something they believe in, having the opportunity for advancement, and earning credit toward something.1

For Gen Z nursing students, then, it is crucial to help them understand how their actions — or lack of action — can impact a client's life and health. Why is the information going to matter when they treat a client? Why is immediate recall of such knowledge crucial in an emergency when seconds count? Be prepared to offer these answers.

Put your course objectives into language that helps a student understand these aspects, and you'll motivate students to focus more intensely on their learning.


RESOURCES
1Semiller, C. & Grace, M. (2016). Generation Z goes to college. John Wiley & Sons Inc.
---