3 QUESTIONS TO INFORM YOUR GEN Z TEACHING TECHNIQUE
Feb 12, 2021, 12:31 PM
<2-min. read> You can't use the same approach for teaching Gen Z students that you used with Millennials. You must adapt to be most effective.
---
TO GUIDE AND INSPIRE GENERATION Z STUDENTS, YOU NEED A COACH APPROACH
BY ANN NEBEL, EDD, MSN, BSN, ATI MANAGER OF NCLEX SERVICES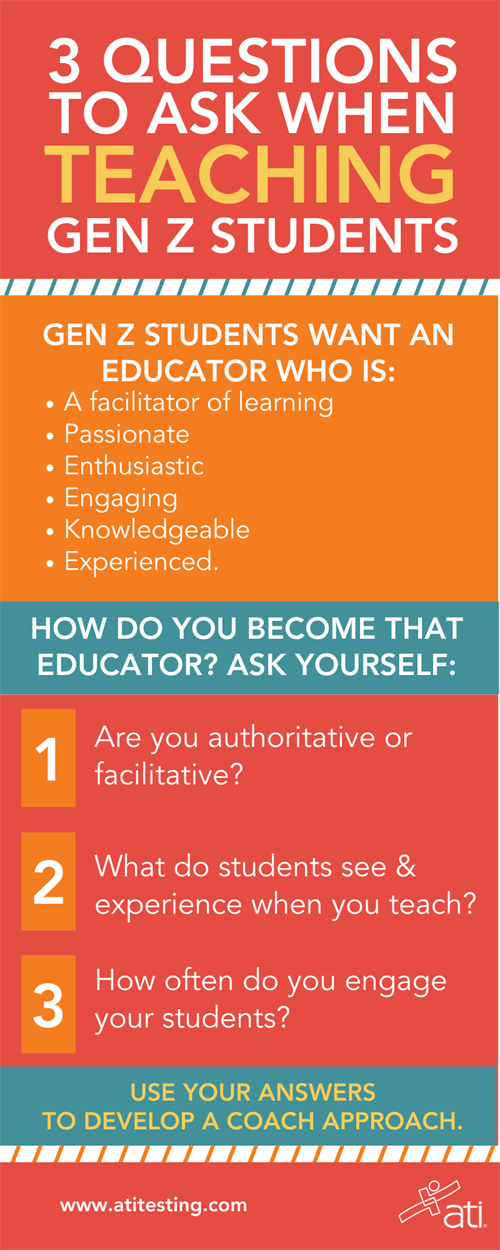 When Gen Z college students were asked to describe their ideal learning environment, they had very specific desires — especially when it came to their teachers.1

They wanted someone who was:
A facilitator of learning
Passionate
Enthusiastic
Engaging
Knowledgeable
Experienced.
As you consider how to approach this generation — with its different motivators, learning styles, characteristics, skill sets, and social concerns — you need to ask yourself: Are you giving careful consideration to these aspects of your teaching technique?

Here are some more specific questions you can answer to find out.
1. ARE YOU AUTHORITATIVE OR FACILITATIVE?
Gen Z learners want to feel empowered and to actively participate in decisions that impact their lives. Previous generations were accustomed to faculty being in an authoritative role. Gen Z learners, however, prefer the opposite. They want you to take on a facilitative function.

Basically, Gen Z students perceive teachers less as talking heads dispersing information and more like a coach guiding them to their best performance.

To be an effective coach, then, use these approaches in your classroom:
Offer clear directions.
Be transparent and authentic.
Provide meaningful feedback to improve academic performance.
A great coach will always see potential and offer guidance to help others achieve their best.
---
DOWNLOAD THE INFOGRAPHIC AT RIGHT AS A HANDY REFERENCE
---
2. WHAT DO STUDENTS SEE AND EXPERIENCE WHEN YOU PRESENT?
Do your students see passion and enthusiasm when you teach? Gen Z students are "we-centric." In other words, they want to feel like they are part of something relevant that will make a difference. Thus, when you demonstrate passion and enthusiasm for your content, students will perceive why it matters.

How can you tap into these emotions? Identify what you love about the content and let that drive your presentation. When students see you getting excited as you discuss a subject, they will get excited to learn about it.
3. HOW OFTEN DO YOU ENGAGE YOUR STUDENTS?
Gen Z students are digital natives with shortened attention spans. They are accustomed to getting immediate answers from the internet, and they've been raised with screens — phones, tablets, and computers — that have kept them engaged. To do the same, you may need to enhance the academic learning experience.

Some tips:
A multitude of strategies are available to engage your students; your challenge is to find the ones that work best for you and them.

Gen Z students want to learn from faculty they perceive as having knowledge and experience. But even the most novice instructor has something to share. Any level of educator can include relevant clinical experiences during presentations and provide examples of how students can expect to use content in practice. Don't forget about journal articles. Share them, highlighting current research. This technique has the dual benefit of role-modeling lifelong learning.

Whatever techniques you choose, use a consistent coaching approach. Doing so will cultivate inspiration and assist your Gen Z students with achieving their greatest potential.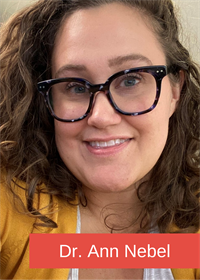 Author: Dr. Ann Nebel received her BSN at Bryan College of Health Sciences, her MSN from Nebraska Wesleyan University, and her Doctor of Education at the University of Nebraska – Lincoln. She has worked with ATI since June 2018. Previously, she was an Assistant Professor of Nursing at Bryan College of Health Sciences for 7 years. Before that, she worked as a nursing instructor at Southeast Community College, and as an RN at Bryan Health. Dr. Nebel is passionate about Gen Z (and the University of Nebraska).








---
RESOURCES
1Semiller, C. & Grace, M. (2016). Generation Z goes to college. John Wiley & Sons Inc.
---