6 KEY POINTS ON NEXT GENERATION NCLEX FROM NCSBN
Mar 1, 2021, 13:06 PM
<1.5-min. read> Need a refresher on why the NCSBN decided a new version of the NCLEX was needed? This summary will provide the salient details.
UNDERSTANDING THE CONNECTION BETWEEN CLINICAL JUDGMENT AND THE NEXT GEN NCLEX
---
The
National Council of State Boards of Nursing (NCSBN)
is changing the licensure exam to focus on assessing clinical judgment. These 6 points explain why clinical judgment is so important.
Download this handy infographic
for easy reference to the most important aspects of this momentous decision.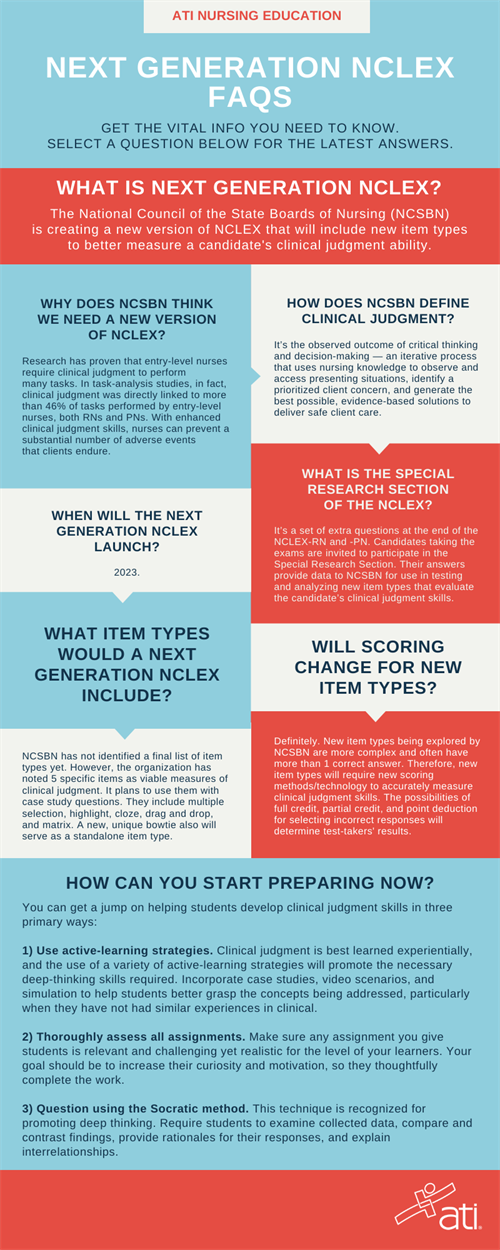 ---
1. What's the current state of clinical judgment?
Many nursing curricula incorporate

critical thinking and clinical judgment

.
Nearly 1 out of 2 novice nurses are involved in a nursing care error.
Medical errors cause 250k deaths a year (3rd leading cause of death).
1/5th of employers are satisfied with new nurses' decision-making ability.
2. NCSBN promotes the following operational definition of clinical judgment:
It's the observed outcome of critical thinking and decision-making — an iterative process that uses nursing knowledge to observe and access presenting situations, identify a prioritized client concern, and generate the best possible, evidence-based solutions to deliver safe client care.
3. When will the Next Generation NCLEX launch?
2023.
4. Clinical judgment is linked to 46% of tasks performed by entry-level nurses.
5. Clinical judgment is important because:
It's a necessary skill for novice nurses.
It can help novice nurses improve client care and avoid errors.
The need for its assessment in entry-level nurses has been proven.
Its assessment is part of

NCSBN

's goal for the NCLEX to establish minimum competency.
It is being indirectly tested via integration across activity statements.
6. NCSBN has in-depth findings on new NGN-style item types:
884

NGN items

and 95 forms were deployed in formal Item Type Data Collection referred to as Special Research Sections.
357,113 candidates took NCLEX-RN exams, and 85% participated in answering the questions in the Special Research Sections from July 2017 to December 2018; thousands more have answered since then. Now, NCSBN is gathering data from a PN version of the Special Research Section, which began in October 2020.
NGN participants spend ~1 minute on each NGN item.
---
Next Generation NCLEX's implications for nursing programs
Make clinical judgment a critical curriculum component.
Student learning outcomes:

Incorporate clinical judgment.

Student assignments: Provide multiple opportunities to develop clinical judgment skills.
Curriculum evaluation: Review student acquisition of CJ skills.
Teaching resources and tools: Incorporate learning activities that require clinical judgment.