YOUR INFORMATIVE, EXPERT, INSIDER GUIDE TO THE NGN
Mar 4, 2021, 17:32 PM
<3.45-min. read> ATI has gathered everything you need to learn about and stay up to date on the Next Generation NCLEX in one online resource from NCSBN & more.
---
ALL THE HELPFUL RESOURCES YOU NEED TO LEARN ABOUT NEXT GEN NCLEX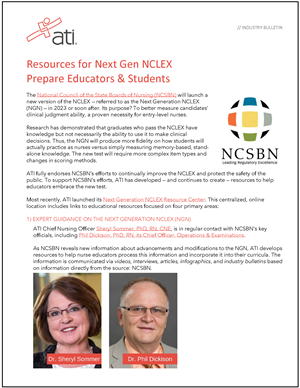 The
National Council of the State Boards of Nursing (NCSBN)
will launch a new version of the NCLEX — referred to as the Next Generation NCLEX (NGN) — in 2023. Its purpose? To better measure candidates' clinical judgment ability, a proven necessity for entry-level nurses.
Research has demonstrated that graduates who pass the NCLEX have knowledge but not necessarily the ability to use it to make clinical decisions. Thus, the NGN will produce more fidelity on how students will actually practice as nurses versus simply measuring memory-based, stand-alone knowledge. The new test will require more complex item types and changes in scoring methods.
ATI fully endorses NCSBN's efforts to continually improve the NCLEX and protect the safety of the public. To support NCSBN's efforts, ATI has developed — and continues to create — resources to help educators embrace the new test.
Most recently, ATI launched its
Next Generation NCLEX Resource Center
. This centralized, online location includes links to educational resources focused on four primary areas:
---
---
1) EXPERT GUIDANCE ON THE NEXT GENERATION NCLEX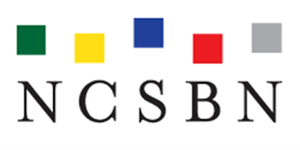 ATI Chief Nursing Officer
Sheryl Sommer, PhD, RN, CNE
, is in regular contact with NCSBN's key officials, including
Phil Dickison, PhD, RN, its Chief Officer, Operations & Examinations
.
As NCSBN reveals new information about advancements and modifications to the NGN, ATI develops resources to help nurse educators process this information and incorporate it into their curricula. The information is communicated via
videos, interviews, articles, infographics
, and
industry bulletins
based on information directly from the source: NCSBN.
2) CLINICAL JUDGMENT, THE BACKBONE OF THE NGN
No aspect of nursing today is more important than developing the skill of clinical judgment. Resources from ATI that support educators in developing students' clinical judgment skills include:
The ATI Guide for Clinical Judgment. This "training manual" assists educators in promoting clinical judgment skills by using existing ATI resources so faculty don't have to spend time creating their own materials. The guide is based on the NCSBN's Clinical Judgment Measurement Model and contains "Factors to Consider," including "Environmental and individual factors" and "Clinical judgment functions and expected responses and behaviors."
Articles in resource journals, poster presentations, PowerPoints, & more. Research by and guidance from ATI nurse educator experts help faculty be confident in understanding new ideas, such as NCSBN's

Clinical Judgment Measurement Model

and how it compares to traditional theories.

ATI's Blog

. Interviews with industry experts form the basis for videos, articles, infographics that explain how to incorporate clinical judgment into lesson plans and more, along with links to valuable resources.
3) UP-TO-DATE INFORMATION FROM NCSBN
To help educators prepare for the momentous change being introduced by the NGN, ATI gathers all the need-to-know information in one spot — including updates directly from NCSBN. Faculty can find links to "NCLEX Talks" videos, articles in "NCLEX News," "In Focus," and "Leader to Leader," plus research in nursing journals.

As NCSBN continues to research new item types and finalize scoring methods, it offers key recommendations to educators, including:
Focus on incorporating clinical judgment experiences in classrooms, labs, simulations, and clinicals
Sign up for NCSBN-organized seminars on writing NGN-style items
Hit pause on trying to write your own NGN-style items for testing until more information is available. Instead, focus on developing NGN-style items for teaching.
4) ATI TOOLS TO PREPARE STUDENTS
For years, ATI has focused on improving students' clinical judgment skills, evaluating new item types, exploring scoring methods, and developing new items. Current solutions that support these efforts include:
---
DOWNLOAD THE INFOGRAPHIC AT RIGHT AS A HANDY REFERENCE
---
NEW ATI SOLUTIONS IN DEVELOPMENT
NCLEX Experience
RN version: Updated NGN items (case study format + single episode).

COMING EARLY 2021

PN version.

COMING EARLY 2021
Assessment functionality & enhancements
Writing NGN-style items.

ONGOING

A new testing engine to support NGN-item types.

IN DEVELOPMENT

New scoring methods for NGN items.

IN DEVELOPMENT

Pretesting NGN items.

COMING 2021

NGN items in select Content Mastery Series assessments.

COMING 2022

NGN items in the Comprehensive Predictor assessment.

COMING EARLY 2023
Engage Fundamentals
A first-of-its-kind, interactive solution that engages students and enhances learning via a 40-lesson alternative to dull textbooks. Content is broken into easy-to-digest segments using rich multimedia graphics, videos, and activities, including a special focus on the nursing process and clinical judgment. COMING FALL/WINTER 2020-2021
---
ATI SOLUTIONS IN RESEARCH PHASE
Custom Assessment Builder
NGN-item functionality
NGN items in ATI bank
---