THE GOOD AND BAD OF THE INCREASED INTEREST IN NURSING
Mar 24, 2021, 15:56 PM
<5-min. read> One hopeful prospect from the pandemic? Greater interest in nursing careers, which means admission exams are more important than ever.
---
IDENTIFYING THE BEST NURSING APPLICANTS IS BECOMING HARDER EVERY DAY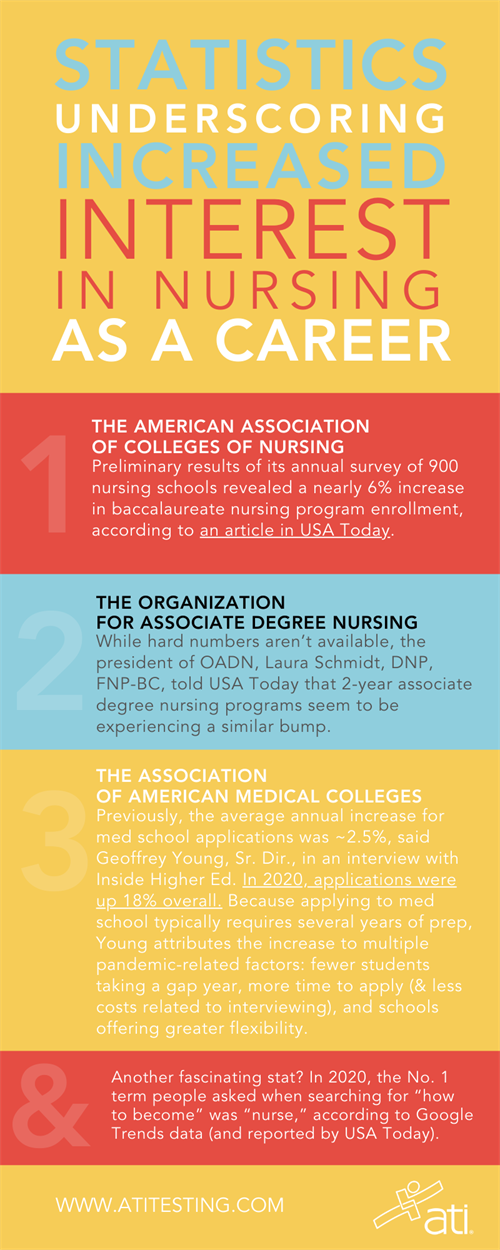 For years, healthcare has faced a gloomy forecast: As nurses mature and retire, they will leave a dark void in professional and experienced client care.
But news reports are sparking hope for many in the profession. An article in
U.S. News & World Report
in June 2020 foreshadowed a trend:
increased interest in nursing as a career
.
More recently,
USA Today
reported that
nursing schools were seeing an enrollment bump amid the pandemic
.
It appears that, rather than being fearful of the virus, individuals have been moved to help.
Deb Trautman, PhD, RN, FAAN, president and CEO of the
American Association of Colleges of Nursing (AACN)
, said the pandemic increased the visibility of nurses.
"I think that's been inspirational to many people," she told the paper.
The interest has been widespread across multiple segments of healthcare. The infographic at right provides details. To truly understand the scope of the situation, though, read on for additional statistics explaining the current trend, as well as research that points to best practices for handling the situation. Then, discover what's ahead in terms of helping your program prepare for this increased interest.
---
DOWNLOAD THE INFOGRAPHIC AT RIGHT AS A HANDY REFERENCE
---
WHAT SPECIFICALLY IS THE GOOD AND BAD?
With a shortage forecast for nurses, it seems the increased interest in nursing careers can only be good. The jump in increase — while significant — isn't entirely new, however; it follows a trend that started several years ago:
So, what can be bad about increased interest? Take a quick glance at the number of educators — or lack thereof — in your program, and the problem becomes clear:
Clearly, nursing programs are already having trouble accommodating the current onslaught of applicants. But it's not just a lack of faculty causing problems. Programs also don't have enough classroom space, budgetary support, clinical sites, and preceptors.

Nursing school assessment exams, then, are increasingly crucial to ensuring programs accept only the most qualified candidates.
MORE STATS ON NURSING APPLICANTS DURING THE PANDEMIC
The most widely used assessment test for applicants to nursing programs is the TEAS (Test of Essential Academic Skills). For more than 20 years, it has been helping schools determine which candidates can best handle the rigors of nursing education.

Because ATI developed and maintains the TEAS, we have unique insight regarding what's been happening with nursing school applicants over the last year.

Specifically, in March, April, and May 2020 — as the virus put the world on standby — TEAS test volume decreased (compared to numbers during the same time in 2019). The trend quickly reversed in June, according to a review by ATI researchers of COVID-19's impact on admissions-testing volume. Test volume grew by nearly 55% in June, almost 30% in July, and was up 14% in August, 29% in September, and 10% in October.

Researchers saw consistent increases among the different nursing-program types, whether PN or RN (BSN, ADN, and diploma).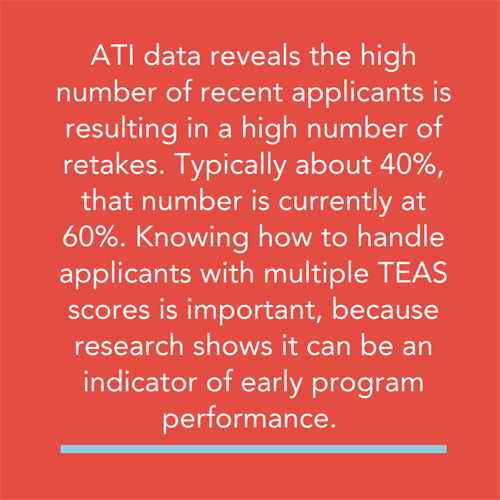 The increases in test volume were facilitated by the introduction of remote-proctoring technology and the creation of new proctoring channels, such as TEAS @ ATI — a new option in which ATI directly proctors the test. As a result, many students did not have to visit a testing center and, instead, could take the assessment exam from their homes. In August 2020, about 77% of all ATI TEAS tests were remotely proctored.
RECONSIDERING RESEARCH ON RETAKES
ATI data also revealed that the high number of applicants was resulting in a high number of retakes. Christine Mills, PhD, Director of Research and Applied Psychometrics at ATI, said, "In a typical year, we see about 40% of repeat test-takers. Currently, though, we're seeing about a 60% increase."

Knowing how to handle applicants with multiple TEAS scores is important, because research shows it can be an indicator of early program performance. Specifically, a paper in the Journal of Nursing Education cowritten by ATI Research Scientists Michelle Dunham, PhD, and Joshua MacInnes, PhD, stated, "Although the correlations between all TEAS score treatments and Nursing Fundamentals scores are significant for most groups, the correlation is generally greatest for the mean test score approach. This finding is consistent with literature from other fields recommending that programs use the average of all of an examinee's test scores in making decisions."
THE FUTURE FOR HANDLING APPLICANTS: A NEW TEAS
When applicant numbers are high, the TEAS becomes even more important for ensuring your program is admitting the right students — students who have abilities in the academic disciplines most indicative of success in a nursing program.

During its 20-year existence, the TEAS has undergone 6 blueprint reviews and revisions. The current blueprint was developed in 2015, released in 2016, and has proven to be a reliable admissions tool. Specifically, nursing programs have relied on it to:
Evaluate applicants' academic preparedness for nursing studies
Reduce attrition
Increase student retention.
The 7th revision will arrive this fall.

ATI is currently conducting research with subject matter experts in nursing education, math, science, reading, and English to ensure the blueprint reflects evolving Common Core State Standards, nursing, and allied health program criteria. These experts are recruited nationally and represent all program types.

This intensive, multi-phased research project began during Summer 2020 and is expected to end early this year.

To stay up to date on transitioning from the current test plan to the new one, bookmark ATIteas.info. This new website will compile the latest information about the launch of the new exam and include details on the rigorous process behind its revision. You'll also find helpful transition materials to guide both your program and your applicants.
---