This is why Week 1 of Nurses Month is focused on self-care: Because you aren't.
May 4, 2021, 17:59 PM
<3-min. read> Nurses Month's theme for Week 1 is self-care, an area in which Larissa Bair provides some important advice on why you can't ignore it.
---
5 areas where you are not taking care of your 'self'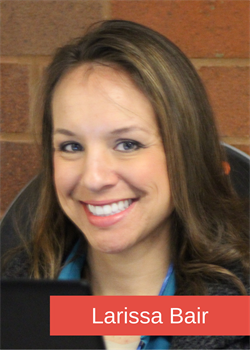 By Larissa Bair, MSN, RN, CEN
There is an age-old saying: "Nurses are the worst patients."

But why would members of the most-trusted profession be the worst at receiving care from their colleagues? Theorists identify multiple reasons for this phenomenon:
Not wanting to lose control
The desire to do it yourself
Fear of complications, dependence, and past encounters becoming a reality.
Regardless of whether all or none of these theories are true, we can all practice and refine being a "good" patient of self-care. And, with self-care as the theme for Week 1 of National Nurses Month, now is the perfect time to start.
---
GIVE YOURSELF A SPECIAL GIFT DURING NURSES MONTH
---
SELF-CARE ACCORDING TO INTERNATIONAL EXPERTS
The World Health Organization defines self-care as the ability to:
Promote health
Prevent disease
Maintain health
Cope with or without the assistance of a healthcare provider.
Inherent in this definition is that you must recognize the need for self-care and implement strategies that will promote your own health and well-being.

If we learned nothing else from the year 2020, the compassion and empathy of nurses is undeniably astounding. We witnessed nurses risk their health and sacrifice time with their families to navigate and support an unprecedented change in our healthcare system and educational-delivery models. Nurses consistently model selflessness, so modeling self-care should be second nature as well.

Self-care is multifaceted, yet many consider certain acts of self-care to be selfish, including putting oneself first and enjoying, for example, a lavish spa retreat. But self-care is the opposite of selfish. Rather, regular self-care prepares us to perform at our best rather than subsist simply on what is left over after we have met the needs of others.
CARING FOR EACH DOMAIN OF YOUR SELF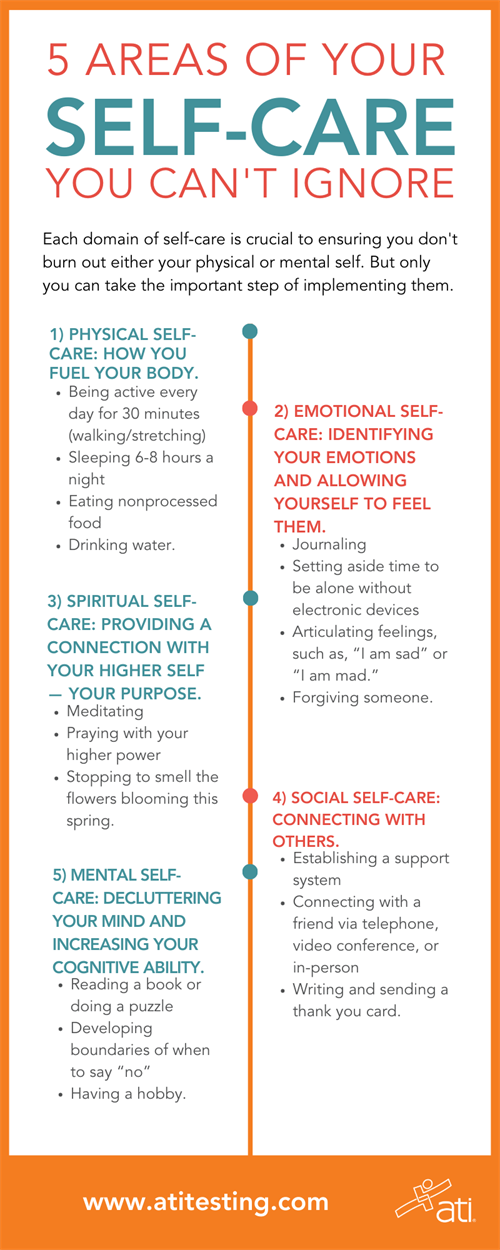 Each domain of self-care — physical, emotional, spiritual, social, and mental — is equally important. Without a balanced, regular measure of each of these domains, stressors can easily become overwhelming and unmanageable. They can ultimately lead to burnout, turnover, and errors that plague the nursing profession at all levels.

Creating a plan to incorporate self-care may seem overwhelming — even impossible — with your current competing responsibilities. In the next 30 days, however, I challenge you to be a "good" patient of self-care and begin offering your best self to the world by incorporating one activity from each of the 5 domains.
1) Physical self-care is how you fuel your body.
Being active every day for 30 minutes (walking/stretching)
Sleeping 6-8 hours a night
Eating nonprocessed food
Drinking water.
2) Emotional self-care identifies your emotions and allows you to feel them.
Journaling
Setting aside time to be alone without electronic devices
Articulating feelings, such as, "I am sad" or "I am mad."
Forgiving someone.
3) Spiritual self-care provides a connection with your higher self — your purpose.
Meditating
Praying with your higher power
Stopping to smell the flowers blooming this spring.
4) Social self-care is the practice of connecting with others.
Establishing a support system
Connecting with a friend via telephone, video conference, or in-person
Writing and sending a thank you card.
5) Mental self-care declutters your mind and increases your cognitive ability.
Reading a book or doing a puzzle
Developing boundaries of when to say "no"
Having a hobby.
---
DOWNLOAD THE INFOGRAPHIC ABOVE AS A HANDY PDF
---
KICK OFF NURSES MONTH BY MAKING SELF-CARE A PRIORITY
Integrating self-care into your routine is not indulgent nor should it make you feel guilty. Practicing self-care is associated with increased productivity, happiness, and general well-being. Self-care does not come in one size fits all. So, as you develop a self-care plan, listen to your body and pay attention to your needs:
Evaluate your schedule. Identify gaps in your self-care domains and your stressors.
Start small. Chose 1 activity to incorporate to improve your self-care and implement it consistently. Then choose another, and so on.
Lean on a companion. Commit to enhancing your self-care with a friend or partner.
Creating a self-care plan is not a race. You won't receive a medal, trophy, or certificate at the end. But you will create a better you!
---
In celebration of Nurses Month, ATI is proud to sponsor John O'Leary in a special event on Wednesday, May 19 (noon-1 p.m. CT).
Watch John's video below for a preview of what's in store as he honors this week's theme for Nurses Month: self-care. Then register for this limited-attendance event.



---
Author: Larissa Bair, MSN, RN, CEN, is a Regional Manager of Post-Grad Products for the West Region at ATI Nursing Education. She specializes in integration of ATI Capstone and Virtual-ATI products. Prior to transitioning to a management role, Larissa began her career with ATI in 2015 as a Post-Grad educator, NCLEX specialist. As a nurse educator, Larissa applies her teaching philosophy by establishing a mutual partnership to aid future nurses in their journey to be confident and successful. Larissa obtained her BSN from The University of Akron and her MSN in Nursing Education from South University. Larissa's past experiences as a clinical and didactic instructor in LPN, ASN, and BSN programs strengthen her teaching methods, philosophy, and curriculum integration. Larissa has served in a variety of roles as a nurse educator. Prior to her career at ATI, Larissa was a PN Program Associate Administrator. In 2016, Larissa published "Maximize time: Maximize outcomes" in the Academy of Medical-Surgical Nurses: Strategies for Nurse Educators. She has served as the Curriculum Development Project Leader for BSN prelicensure new program development, ACEN chapter writing task-force member, and ATI Champion. Larissa has also previously chaired multiple committees in academia. In addition to Larissa educating future nurses, she has 10+ years of clinician experience as a Certified Emergency Nurse, specializing in trauma care. Larissa is a recipient of the You Make a Difference Award at the Aultman Foundation. Maintaining an affiliation with current practice invigorates Larissa's passion to assist with the development of reliable and knowledgeable future nurses. Larissa is a member of the Emergency Nurses Association and Sigma, where she currently serves on the Leadership Succession committee to the Delta Omega Chapter. Larissa is an active volunteer in Boy Scouts of America and Shriner's International. She enjoys gardening and CrossFit during her free time.
---