It looks like the perfect time to show your appreciation!
May 12, 2021, 11:37 AM
<2.45-min. read> Nurses Month is your opportunity to let nursing colleagues know how much you care about the challenging work they do.
---
6 qualities that are crucial for perfect Nurses Month recognition
By Cara Rigby, DNP, RN, CNE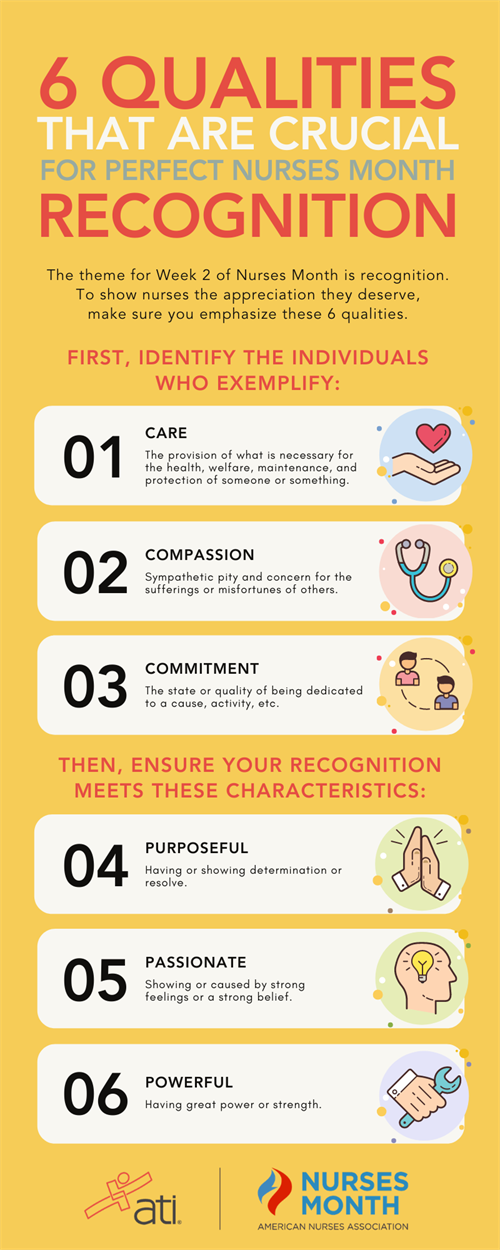 2020. What a year! Anointed the
Year of the Nurse and Midwife
by the World Health Organization, 2020 also marked the 200th anniversary of Florence Nightingale's birth. Above all else, though, it proved to be quite a year for recognizing nurses in ways that were unexpected, utterly deserving, and — in some cases — quite sad.
---
GIVE YOURSELF A SPECIAL GIFT DURING NURSES MONTH
---
In 2020, the world realized the selfless
care
,
compassion
, and
commitment
nurses provided to patients during the pandemic. And, instead of recognizing nurses as planned, nurses gained recognition from scenes on TV newscasts depicting their hardships, sorrow, and pleas to the public to do their part to end the pandemic.
THE SADNESS OF THE PAST YEAR ON THE FRONT LINES
Nurses were recognized globally and locally for commitment to their work: the countless days and nights caring for those with the coronavirus, the emotional anguish witnessing patients of all ages and backgrounds dying without family members present. The sad stories have been everywhere, putting a spotlight on the difficult job nurses have endured throughout this pandemic.
THE JOY OF THE PAST YEAR AT THE BEDSIDE
We also saw enjoyable, happy moments. We saw nurses lining hallways and cheering as patients were discharged after long, challenging hospital stays. We saw nurses creating banners — held up in patients' hospital windows — that shared loving messages with patients' family members. And, of course, we saw nurses setting the example being
first in line to receive the COVID-19 vaccination
.
The public recognized nurses like never before, sending food and gift cards of appreciation for the care they provided.
THE CHALLENGES OF THE PAST YEAR IN THE CLASSROOM
In academia, nursing faculty grappled with different kinds of problems. They scrambled to
provide coursework online
so students wouldn't miss classroom content. They learned how to deliver effective instruction virtually. They engaged with support, understanding, and empathy for students facing unimaginable challenges.
---
DOWNLOAD THE INFOGRAPHIC ABOVE AS A HANDY REFERENCE

---
Many educators relied heavily on
virtual solutions for clinical replacement
and kept a strong focus on NCLEX pass rates by taking advantage of virtual-prep products to support students sitting for the NCLEX.
They created other solutions, as well, such as meeting off campus in more spacious environments, passing out PPE to students upon arrival to class, and ensuring their new learning environment was thoroughly and regularly cleaned and disinfected.
THE NEW OPPORTUNITIES TO CELEBRATE TODAY
Now, in 2021, we celebrate Nurses Month. It's a special time to give accolades to those on the front lines, in administration, academia, and research.

How are you celebrating Nurses Month? Who will you recognize during this special time?
The nurse who put in extra hours on the front lines of clinical?
The nurse who revised course and program outcomes to ensure students stayed on track?
The nurse who worked so hard to provide quality education to students so they graduated on time?
What will you do to let them know you saw what they did? That you understand the perseverance and hard work they put in so that others thrived?

I ask that, in your recognition efforts, your messages to nurses fulfill 3 goals. Make them:
Purposeful
Passionate
Powerful.
Let's celebrate nurses — and the enormous role they play in this world — bigger than ever before. Let them hear our applause for the countless hours, tears, determination, and pride they pour into every day as they show up to handle the challenges that lay before them.
---
IN CELEBRATION OF NURSES MONTH, ATI IS PROUD TO SPONSOR JOHN O'LEARY IN A SPECIAL EVENT ON WEDNESDAY, MAY 19 (NOON-1 P.M. CT).
Watch John's video below for a preview of what's in store as he honors this week's theme for Nurses Month: self-care. Then register for this limited-attendance event.
---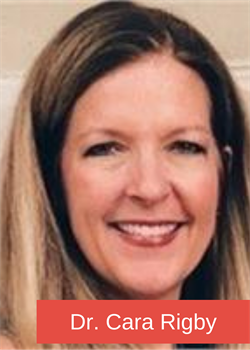 Author: Cara Rigby, DNP, RN, CNE, has been in academia in various roles for more than 22 years. Her teaching experience includes associate and baccalaureate education. In her role as BSN Program Director, she was integral in leading a new concept-based curriculum through development and implementation, developing the program's professional development courses and introducing a dedicated student educator program in a senior clinical intensive course. She was also founder and inaugural president of the Psi Omega chapter of Sigma, the first at-large chapter of

Sigma

. She has been instrumental in accreditation and state board of nursing approval visits. She was honored with a continuing education scholarship for her work mentoring faculty and students. She is also credited with starting a nurse residency program at a community acute care hospital where 100 new graduate nurses attended annually. She taught and mentored new graduate nurses in addition to her development of the program. Her role there also includes being cofounder of a chapter of the

Academy of Medical Surgical Nurses

. Her education includes the

University of Kentucky

(BSN), Emory University (MSN), and Samford University (DNP).
---