8 BEST PRACTICES TO PREP GEN Z STUDENTS FOR ASSESSMENTS
Aug 11, 2021, 11:28 AM
<2-min. read> Gen Z learners face the same test-taking stress as previous generations. To help them, add today's tech options to tried-and-true methods.
---
THE TOP 3 AREAS WHERE YOU CAN HELP REDUCE GEN Z STUDENTS' TEST-TAKING STRESS
BY ANN NEBEL, EDD, MSN, BSN, ATI MANAGER OF NCLEX SERVICES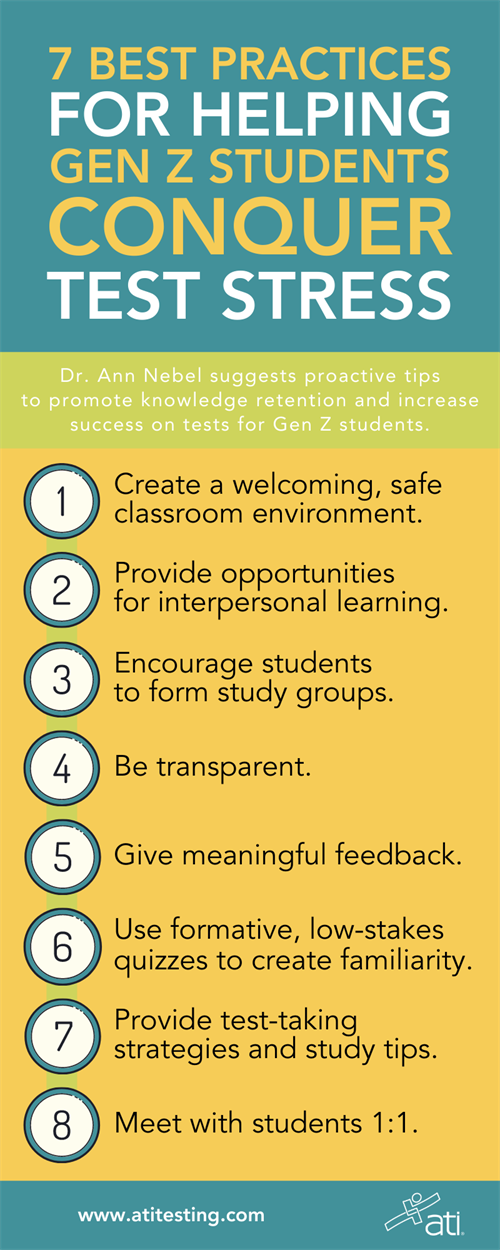 To promote knowledge retention and increase success on tests, the following proactive tips will lead to a win-win for you and your Generation Z students!
1) AID GEN Z STUDENTS' LEARNING
1. Create a welcoming and safe classroom environment for your Gen Z students.
Be a positive presence, encourage your students, and cheer them on. Showing passion for the content will engage students and motivate them to learn new material.
---
LEARN MORE ABOUT GENERATION Z LEARNERS
---
2. Incorporate opportunities for students to use interpersonal learning to prep for tests.
Put together a module in your online course with credible websites and content. You can include TED talks, YouTube or TikTok videos, images, and concept maps. This platform would also be a great place to provide students with practice questions like the ones they will encounter on upcoming exams.
3. Encourage students to form study groups.
Gen Z students crave social learning, and they want to engage with peers socially to reinforce what they have learned. Help make introductions in class between students with similar interests and provide a space for students to meet.
---
DOWNLOAD THE INFOGRAPHIC AT RIGHT AS A HANDY REFERENCE
---
2) COMMUNICATE WITH GEN Z STUDENTS SO THEY ARE PREPARED
1. Be transparent.
Provide students with all of the information they need to take their assessments. Create a simple test blueprint, including the testing procedure. Be sure to mention time limits, format, what to bring (laptop, scratch paper, calculator, etc.), and what to leave at home.
2. Provide meaningful feedback to students throughout the semester.
Students should know where they stand prior to each assessment. Help them identify areas of strengths and weaknesses and what they can do to improve.
3) ASSESS GEN Z STUDENTS BEFORE YOUR BIG EXAM
1. Administer formative, low-stakes quizzes during the semester
to increase students' confidence level with the types of items they will see on the assessment.
2. Fill your student's toolboxes with test-taking strategies and study techniques.
Practice breaking down test items as a class activity and explain the processes they should use to answer them. (Learn about
ATI's "Test-taking strategies" webinar
in an online session for faculty only
so you can refer students to it.)
3
. Make time for face-to-face test prep with the expert
—
you
!
Whether you meet on-site or virtually, try holding a night-before-the-exam "happy hour" so students can come and ask any last-minute questions they have.
Educators should prepare students to approach each assessment with a positive mindset. Implementing these tips will help create conditions in which your Gen Z students will be able to demonstrate their best performance on all assessments.
---
REFERENCES
Seemiller, C., & Grace, M. (2016). Generation Z goes to college. San Francisco: Jossey-Bass.
---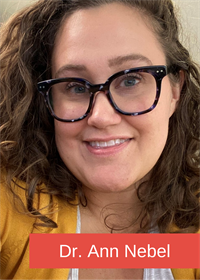 Author: Dr. Ann Nebel received her BSN at Bryan College of Health Sciences, her MSN from Nebraska Wesleyan University, and her Doctor of Education at the University of Nebraska – Lincoln. She has worked with ATI since June 2018. Previously, she was an Assistant Professor of Nursing at Bryan College of Health Sciences for 7 years. Before that, she worked as a nursing instructor at Southeast Community College and as an RN at Bryan Health. Dr. Nebel is passionate about Gen Z (and the University of Nebraska).
---