HOW YOU CAN'T LET LEARNING GAPS LEAD TO DESPAIR
Sep 9, 2021, 12:56 PM
<4-min. read> A major cause of nursing school attrition? Students starting out with learning gaps who fail. But early resources can help students succeed.
---
1ST STEP TO BATTLING ATTRITION: GIVE STUDENTS BELIEF IN THEIR SUCCESS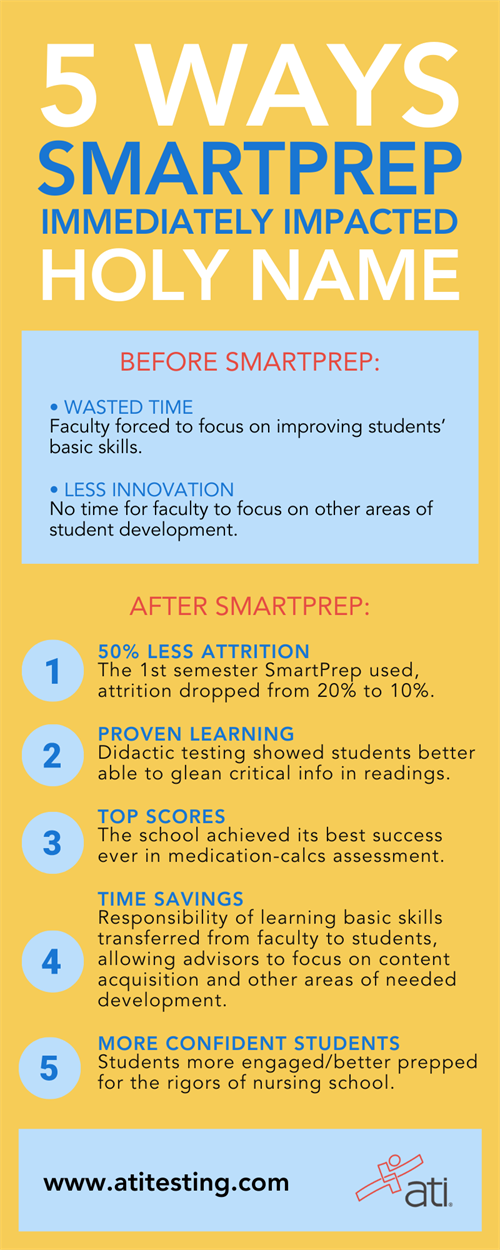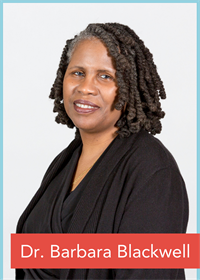 Barbara Blackwell, MA, EdD, RN-BC, knows what success looks like. After 3 decades working at St. Luke's-Roosevelt Hospital (now Mt. Sinai) in New York City and more than 7 years as director of the School of Nursing at Holy Name Medical Center (Teaneck, N.J.), she is driven toward continuously improving the outcomes of her school's registered and practical nurse programs.
---
---
However, like many schools, Dr. Blackwell has seen a problem in recent years that has become increasingly difficult to overcome: noticeable deficits in freshmen students' basic skills, such as reading for comprehension, math, writing, and communication.
LOST TIME, VANISHING INNOVATION
Having to help these students was a drain on staff. "Student remediation took up a large amount of the time of our freshman faculty," she says — "time that could be better suited to other areas of student development."
Familiar with ATI's suite of products, Dr. Blackwell wondered if ATI could help. She'd already seen how ATI stacked up against the competition.
At the time she became director, the school was using both ATI products and another company's offerings, she explained. An exploratory committee reviewed both companies' materials, and she reviewed reports and compared data. "It became clear that [the other company] could not match what we needed," she said. Thus, the school increased its use of ATI products over the next 2 years and progressed to joining as a Complete Partner.
It was natural, then, to turn to ATI for a solution to her current problem.
---
DOWNLOAD THE INFOGRAPHIC AT RIGHT AS A HANDY REFERENCE
---
"I've found the ATI educators to be extremely insightful, knowledgeable about new trends in nursing education, and extremely accommodating to the needs of our program," she explained. "Their enthusiasm for nursing and for education has been infectious and their desire to share their knowledge inspiring."
PUTTING THE RESPONSIBILITY OF LEARNING ON STUDENTS
ATI's SmartPrep is a comprehensive TEAS preparation package — a multimedia tutorial that accelerates past traditional methods and drives student readiness with personalized study plans, engaging content, and frequent comprehension checks. It includes:
65 lessons across the 4 subjects tested by the

AT

I TEAS: science, reading, math, and English and language use
650 questions to check comprehension
Customized study plans that address each learner's strengths and weaknesses
Focused remediation directly connecting students with content that helps them improve.
Content is weighted according to the TEAS exam, so students focus their studying on the right subjects, in the right proportion.
The program also includes the ATI TEAS Study Manual, designed to streamline applicants' preparation for the TEAS. This official TEAS resource is proven to work. On average, students who used TEAS prep materials from ATI scored higher on their TEAS test than those using other companies' materials or no study prep materials.
IMPLEMENTING SMARTPREP AT HOLY NAME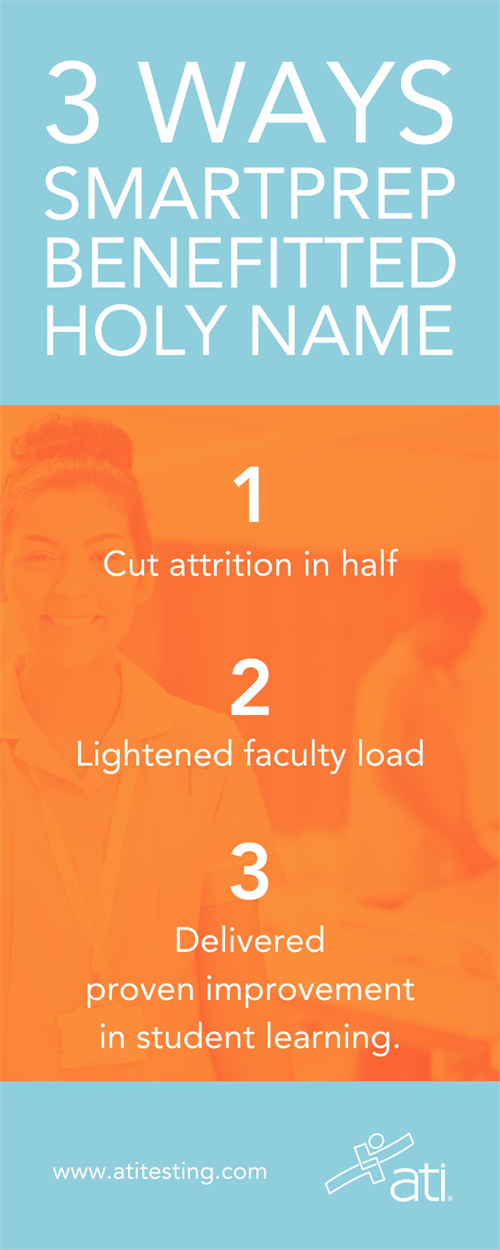 Dr. Blackwell decided to require all incoming freshman to go through the SmartPrep program.
"We sent a letter to each incoming freshman student outlining their responsibility in the completion of SmartPrep before the first day of class," Dr. Blackwell explains. The students' progress was followed by the faculty advisor, who sent reminders to keep students on track. Faculty also was able to review time on task and completion of assigned work.
That first semester's results? Remarkable. "SmartPrep has exceeded my expectations," Dr. Blackwell says. "Our students seem more engaged and better prepared to take on the rigors of nursing school. Many were better able to glean important information from their readings, and this was evident in the data received from didactic testing."
As hoped, SmartPrep also was a gain for the faculty. "SmartPrep has placed the responsibility of learning basic skills on the student and freed up faculty time, which can be used in other areas," Dr. Blackwell explained.
---
DOWNLOAD THE INFOGRAPHIC AT RIGHT AS A HANDY REFERENCE
---
The students, too, have apparently made the most of their newfound skills. In a recent academic year, Dr. Blackwell explained, "We had the most success on our medication-calculations assessment that we have ever had. There was little remediation needed, and those who had to take a second assessment were successful with a 100-percent passing score.
"We also had less attrition in the fall semester. Usually we lose 20% of our students; that fall, we lost 10%."
A FINANCIAL TRADE-OFF
Dr. Blackwell notes that anyone concerned about the cost of using SmartPrep should put such fears aside. "Although SmartPrep requires a financial investment by the institution, the savings in decreased attrition will more than pay for the outlay of funds," she says.
Students who go through the SmartPrep program seem much less stressed and hurried, she adds. "They know the expectation of accountability and responsibility for their own learning from working with SmartPrep. This has eased their transition and, we hope, created life-long learners ready for the rigors of nursing practice."
---
---