YOU CAN TAKE THE 'PULSE' OF STUDENTS' FUTURE SUCCESS ON NCLEX
Sep 17, 2021, 11:06 AM
<6-min. read> New assessment methods (and simulation) helped Wingate University transform a fledgling nursing program into a successful, competitive one.
---
AFTER DISMAL START, WINGATE LEARNED HOW TO ACHIEVE 100% PASS RATE WITH REMEDIATION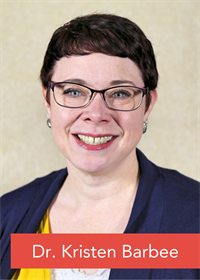 You can easily envision a glass of sweet tea in the hand of Kristen Barbee, PhD, MSN, when you hear the warm, Southern inflection of her voice. But, truth told, the director of the Wingate (N.C.) University Nursing Program would much prefer a strong cup of coffee — an admitted passion of hers — over its weaker counterpart.
---
---
That desire for a brew of strong substance matches her desire for a nursing program of strong substance — a program that graduates successful, compassionate nurses who confidently and successfully pass the NCLEX.
Unfortunately, fulfilling her desire for the latter did not turn out to be as straightforward as expected.
TOO LITTLE INTEL TOO LATE
Wingate began its nursing program in 2012. With a first-rate nursing faculty — including Dr. Barbee, a highly recognized educator, speaker and author — and a low student-to-faculty ratio, administration believed it could deliver a highly personalized experience for students. The school set its expectations high and aimed for a 90% NCLEX pass rate for its first cohort.
Administrators soon discovered they were woefully ill-prepared to achieve their ambitions.
Dr. Barbee described the results as "dismal": a 45% pass rate for the first cohort.
The school recognized that its lack of steps to identify and remediate failing students before it was too late was a significant part of the problem. "We went by their test scores within the courses (as to who needed remediation)," Dr. Barbee says. "We didn't really use any kind of standardized, proctored assessments for the first two years of the program. So, as students were failing tests, that's how we identified them."
"FLIPPANT" ATTITUDES & NEEDING A FAST ROI
Dr. Barbee described students' attitude toward the difficulty of the NCLEX as "flippant," explaining part of the school's challenge. But program administrators believed the problem went much deeper. Feeling an anxious accountability to the students, the state board of nursing, and the accreditation organizations, they determined that the program required:
• an attitude adjustment among its students
• a completely revised curriculum, from the philosophy of the program to the course SLOs
• the implementation of a wide range of active-learning strategies
• new staff devoted to supporting this fresh outlook (including a new program administrator: Dr. Barbee)
• the use of simulation as a teaching strategy
• a dig-in-and-get-it-done attitude from the faculty with the hard work necessary to match
• additional resources that could deliver big impact
• the guidance of experts in nursing education and testing.
"We knew we needed help desperately with that 45% pass rate," Dr. Barbee explains. "We knew we needed something implemented quickly." So, her team went to work to ensure they created the best response to their challenges:
• They interviewed and hired faculty who were open to innovative methods of teaching — and who exhibited the dedication to tackle challenges.
• They meticulously reviewed the curriculum, replacing some courses with new offerings.
• They investigated modern adaptations of active-learning strategies that could best deliver their revamped curriculum.
• They reviewed offerings on the market that could support their efforts.
It was during the last task that her team discovered the benefits of ATI's packages of solutions and chose to sign on as a Complete Partner to reap all the benefits. They knew immediately that Pulse, in particular, would offer the support their newly revised program would need.
"We didn't even deliberate about another package," she says.
DETECTING DEFICIENCIES EARLY & THEN SOME
Wingate isn't alone in relying on end-of-program assessments to clarify its students' NCLEX readiness. After all, such assessments are very effective at identifying whether students will pass or fail the licensure exam. Unfortunately, those assessments come too late in students' formation to allow educators to remediate and improve the trajectory of at-risk students.
Pulse solves that problem by providing an unfolding picture of a nursing student's understanding of the information being taught. Rather than waiting until a traditional predictive exit exam indicates a student isn't ready for the NCLEX — and then facing a 60- to 90-day crash course to get back up to speed — Pulse provides educators with an early warning system, allowing them to avert a crisis for students at risk.
---
DOWNLOAD THE INFOGRAPHIC AT RIGHT AS A HANDY REFERENCE
---
Specifically, Pulse:
• Almost immediately identifies each student's likelihood of passing NCLEX with trending data and ratings of:
"On track"
"Needs improvement"
"At risk."
• Anticipates cohort-level performance with current and historical views
• Measures student use of ATI materials against ATI-recommended benchmarks, including:
Time spent in tutorials
Time spent answering practice test and quiz questions
Questions answered versus questions available.
• Data visualized with a program "speedometer" to ease interpretation of NCLEX readiness and product use easy.
CONFIDENT STUDENTS AND GRATEFUL GRADS
Dr. Barbee says students' behavior has changed since the school began using Pulse.
"Seeing that Pulse number and whether it's increasing or not," she says, has turned out to be empowering for many. "It's either giving them the confidence they need, because they are doing something right, or the jolt they need to do something different," she explains.
Graduates, too, have told Dr. Barbee how grateful they were to have used Pulse and other ATI products.
"I had many tell me … that ATI helped them so much. They hated it during time they were using it. But when they took NCLEX, they saw how it helped them, and they were thankful for it.
"I asked if they would recommend we continue using it," she adds, "and they said, 'Yes.'"
Students are apparently helping spread the word about their success. The school currently has its biggest incoming class of freshman. "So word is definitely out that we have these good pass rates, and that's all due to ATI," Dr. Barbee says.
EASY TO SEE VIEWS OF BIG-PICTURE OUTCOMES
Dr. Barbee says that Pulse — along with traditional data such as clinical evaluations and grades — has provided a "big picture" view of students' progress. The technology also helps faculty compare students' Pulse progress to their grades. Seeing differences between the two allows them to quickly isolate inconsistencies.
"When I see those reds [on the Pulse speedometer], I know I need to get in there and do something," Dr. Barbee explains. "It's all so clear and easy to read.
These benefits have allowed Wingate to identify and fix problems in curriculum, testing, or other program aspects as early as possible.
FROM RESISTANT TO ECSTATIC FACULTY
Faculty say Pulse has made their jobs easier.
"Some were a bit resistant to change and were slower in coming around," she says. "But most of the faculty have jumped on board and use it in every single course," Dr. Barbee says. "Most really, really like it and enjoy it.
She tallied off multiple benefits:
• Faculty no longer have to "reinvent the wheel" or come up with their own active-learning strategies because "everything is right there" (in ATI's programs).
• ATI resources reinforce what faculty is delivering in class.
• The ATI products free up their time for active-learning strategies.
"It's excellent in that the ATI products give us flexibility to be more creative," Dr. Barbee adds. ATI staff made the transition easy, too. "Anytime we have a question, it's been answered right away … I really like the ability to have yearly sessions with an educator."
PROMOTING POSITIVE RESULTS
Wingate was so impressed with its results after implementing Pulse, incorporating other ATI products and adjusting its curriculum, that it presented a poster summary at the 2017 National Nurse Educator Summit. The students have also enjoyed the transition to active-learning strategies, Dr. Barbee says. "If someone came in today and started with a lecture, they'd be very disappointed." Throughout her discussion about Pulse and other ATI products, Dr. Barbee's enthusiasm was obvious in her voice. But her words confirmed her positive feelings. "We love the products," she says. "We absolutely love them. We'll keep on using them."
---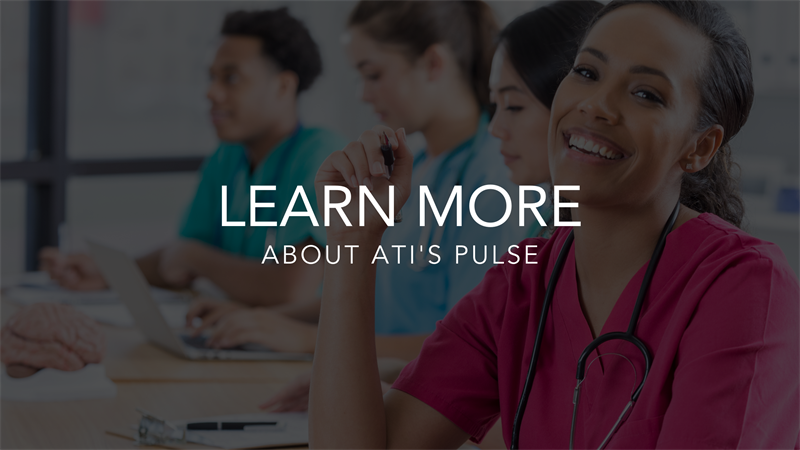 ---