6 STEPS TO HELP GEN Z AVOID EARLY ONSET BURNOUT
Sep 23, 2021, 16:58 PM
<3-min. read> Young nurses need strong coping skills for a challenging future. Dr. Joy Weller provides strategies to help them succeed and avoid burnout.
---
TEACHING GEN Z ABOUT SELF-CARE IS 1 WAY TO HAVE STRONG IMPACT ON STUDENTS' FUTURE SUCCESS
By Joy Weller, MSN Ed, RN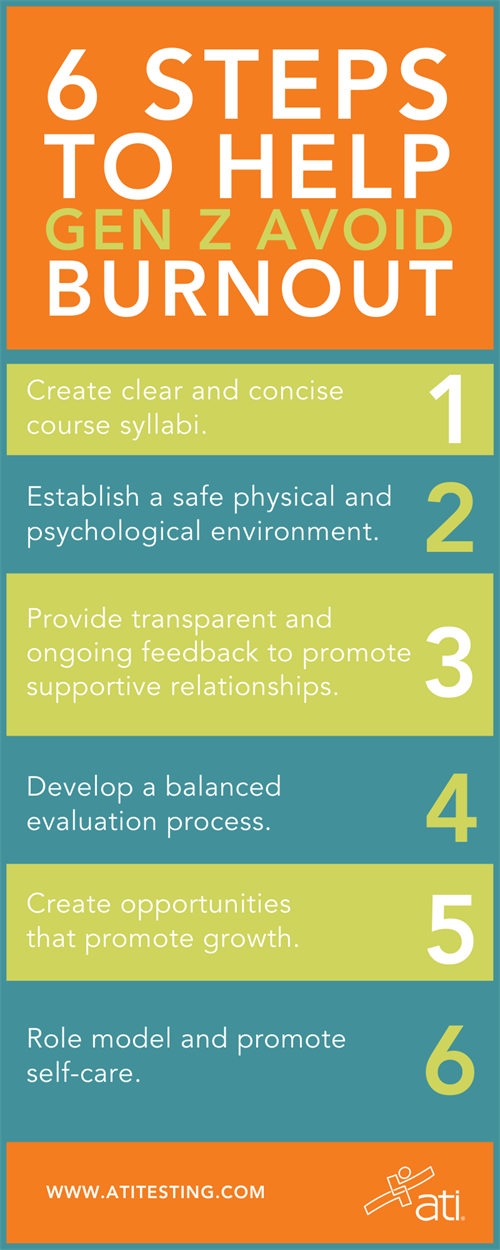 Your Generation Z students live with unique challenges compared to their predecessors. 3 key factors cause most concerns:
An uncertain political and economic climate
Immense pressure for academic and career success
Social media at their fingertips 24/7 reminding them of these challenges.
---
LEARN MORE ABOUT GENERATION Z LEARNERS
---
Much has been written about burnout among Millennials. But the American Psychological Association (2020) found that Gen Z has a higher prevalence of poor mental health than its predecessor generation. For many of these learners, high levels of stress, anxiety, and depression are contributing to early onset burnout. This problem holds future concerns for nursing programs, as it may contribute to student attrition.
---
DOWNLOAD THE INFOGRAPHIC AT RIGHT AS A HANDY REFERENCE
---
Additionally, burnout in college doesn't end when students are graduated. It can carry over into careers or even prevent students from entering their chosen professions.
TAKE THESE 6 STEPS TO HELP GEN Z AVOID EARLY ONSET BURNOUT
Early onset burnout among Gen Z students is concerning and warrants attention. Some strategies to proactively address concerns related to burnout include:
Create clear and concise course syllabi. Your syllabi assist students with a clear understanding of course expectations.
Establish a safe physical and psychological environment. A safe environment promotes trust and engagement in meaningful activities.
Provide transparent and ongoing feedback to promote supportive relationships. Give students an opportunity to adjust or make corrections during a project or course to minimize a fear of failure often expressed by Gen Z students.
Develop a balanced evaluation process. Avoid the use of high-stakes testing and create a balanced evaluative process to eliminate the all-or-nothing thinking among many of these learners.
Create opportunities that promote growth. Consider projects that promote the use of noncognitive skills, such as persistence, confidence, teamwork, etc.
Role model and promote self-care. Developing self-care habits early in their academic careers helps Gen Z students effectively manage stress and prevent burnout.
TEACH GEN Z SELF-CARE TO ALLEVIATE BURNOUT
Self-care refers to nourishing one's emotional, mental, physical, and spiritual well-being. Additionally, it acknowledges the importance of taking time out to recharge. Ignoring self-care may lead to distraction, procrastination, increased anxiety and depression, and fear of failure — all recognized traits of many Gen Z students. (Tarantola, 2018) Thus, teaching the importance of taking time for self is important for future student success.
Consider promoting the following self-care strategies among students, faculty, and yourself. (After all, self-care is important for everyone.)
Assure basic needs are met. Don't skip meals, drink plenty of water, and get adequate sleep
Engage in regular exercise. Even 20 minutes of exercise a day promotes physical and emotional health.
Practice deep breathing. Deep breathing relieves tension and reduces stress.
Be intentional about laughter. Funny videos on social media provide a continuous source of laughter, which is known to have physical and emotional benefits.
Promote mindfulness through meditation. You can incorporate mindfulness into class time at the beginning of each day.
Encourage journaling. Implement journaling in courses throughout the curriculum to promote mental and physical well- being.
KNOW YOUR EFFORTS CAN POSITIVELY IMPACT GEN Z
Don't underestimate the difference you can make in your young students' lives. As an educator, you can directly impact the academic success of your Gen Z learners by:
Acknowledging the presence of burnout among them
Implementing strategies to prevent or minimize the effects of stress and anxiety that contribute to burnout.

You play a critical role in assisting this young generation of learners in developing habits of self-care. Starting these habits early will carry them through their academic careers and promote longevity in their profession.
---
REFERENCES
American Psychological Association. (2020) Stress in America 2020. Retrieved September 20, 2021, from https://www.apa.org/news/press/releases/stress/2020/report-october
Tarantola, C. (2018, April 19). Top self-care practices to prevent burnout. Pharmacy Times https://www.pharmacytimes.com/view/top-self-care-practices- to-prevent-burnout
---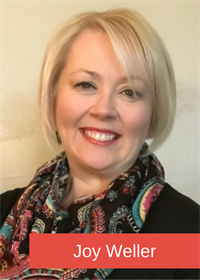 Author: Joy Weller, MSN Ed, RN, is the Manager of Post-Grad Solutions — Complete and Global accounts for ATI Nursing. She began with ATI in 2014 and is part of a dynamic team that delivers high quality NCLEX reviews for PN and RN graduates, as well as supporting global nurses as they transition to healthcare in the United States. Weller has more than 19 years of experience in nursing education and combines her expertise in leadership, classroom/online teaching, curriculum development, and faculty mentorship in her current position. Weller has presented on the topics of positive self-talk, finding hope, no shame, and anxiety. She earned her nursing degrees at Fort Hays State University and Indiana Wesleyan University.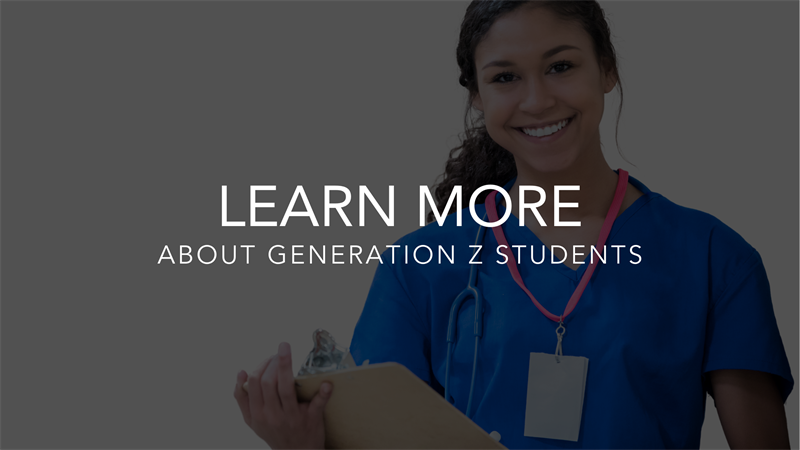 ---