3 reasons why you should learn more about Virtual Clinicals
Nov 1, 2021, 13:57 PM
<3.45-min. read> Gaining clinical experience — and clinical judgment — requires tools now readily available due to the joining of ATI and Swift River.
---
Preparing the next generation of nurses is about supporting greater clinical experience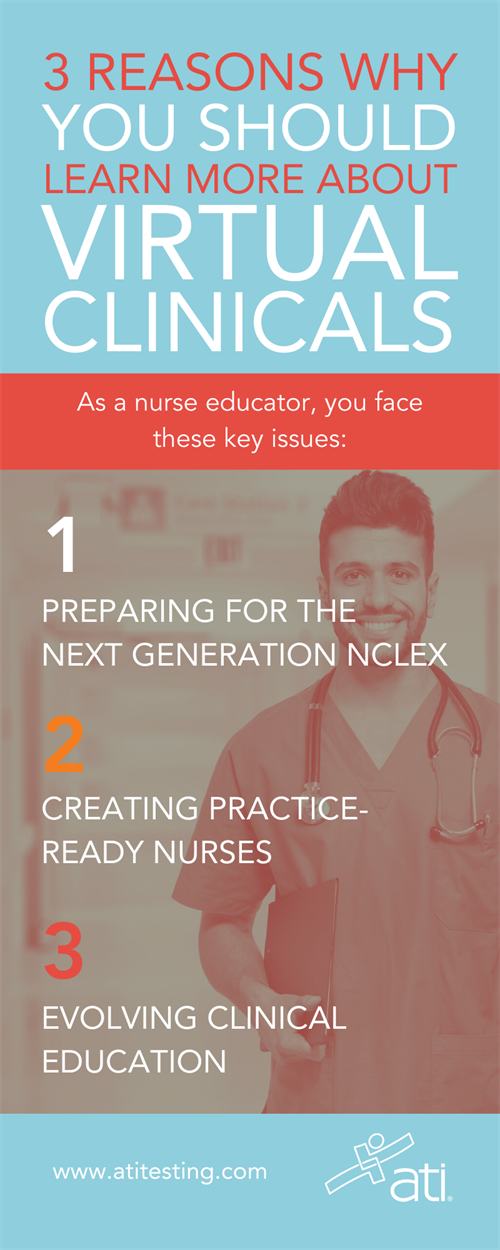 In 2023, nursing candidates face a revolutionary new licensing exam. And while this change is momentous within nursing education, students will be better prepared as a result of the recent joining of Swift River with ATI Nursing Education.

Swift River Simulations is now part of ATI's portfolio of learning tools and strengthens its suite of resources built specifically for nursing students (and the nurse educators who teach them) to master core nursing knowledge and develop clinical judgment.

The result is a complementary set of tools for nursing programs that are faced with 2 daunting challenges:
Preparing students to join a workforce challenged by a lingering pandemic.
Planning for a revolutionary change to nursing's entry-level licensing exam — an exam that could either ensure a steady flow of new nurses to the profession or interrupt the supply at a time when they're needed most.

The new licensing exam, referred to as the Next Generation NCLEX (NGN), is scheduled to launch April 2023. It will feature new question types and scoring methods designed to better assess students' clinical judgment.
---
LEARN MORE ABOUT SWIFT RIVER SIMULATIONS
---
HOW ATI AND SWIFT RIVER ARE POSITIVELY IMPACTING THE CLINICAL EXPERIENCE
ATI and Swift River both focus on giving nursing students the clinical experience they need to become safe, competent, practice-ready nurses. Working together, the 2 companies now jointly provide a suite of resources to help nurse educators address 3 key issues facing the profession.
1) PREPARING FOR THE NEXT GENERATION NCLEX
As educators prepare for the new version of the NCLEX, they will now have access to Swift River's virtual, unfolding case studies and simulations along with ATI's core assessments. Educators can use the tools to both develop and measure students' clinical judgment.
2) CREATING PRACTICE-READY NURSES
Newly licensed nurses can struggle in adapting to the pace of real-life practice. Both ATI and Swift River share a passion for developing students who are ready for the rigor of the hospital floor. Together, the companies will help nursing students transition from student nurse to proficient nurse faster.
3) EVOLVING CLINICAL EDUCATION
The nursing profession lacks enough clinical sites for students. With a united approach, ATI and Swift River believe they can continue to innovate and develop new ways to supplement hands-on clinical learning. Well-structured simulation exercises will be a critical way to develop clinical judgment, and Swift River Simulations are an excellent complement to other ATI screen-based simulations like Real Life Clinical Reasoning Scenarios and HealthAssess.
AN EXCITING ADVANCEMENT IN NURSING EDUCATION
Sean Burke, President, ATI Nursing Education/Ascend Learning Healthcare, said that Swift River Simulations will become an essential part of how ATI is helping prepare the next generation of nurses.
"I'm so excited about this joining together of industry leaders — both for nursing education and nursing programs," he said.
Dan Moreschi, RN, MS, MSN, CMSRN, expressed similar enthusiasm. The founder of Swift River said, "ATI is the industry leader in assessment and has strong expertise in readying educators and students for the Next Generation NCLEX."
ATI's incoming Chief Nursing Office Patty Knecht said, "We believe in the importance of expanding nursing students' clinical practice and want to make tools for developing clinical judgment more readily available." Joining with Swift River does exactly that, she added.
MORE ABOUT SWIFT RIVER
Moreschi is a dedicated nursing leader who has spent more than 50 years serving as a nurse and administrator in various hospital settings, from specialty hospitals to emergency departments. His experience opened his eyes to the growing need for advancing the profession and creating safe and effective nurses. Eventually, this passion led to the creation of a product suite of simulations that hone students' clinical judgment, with a particular focus on safe medication administration, prioritization, and delegation.
Swift River Simulations offer a series of unfolding screen-based simulations and cases covering all the major clinical areas, and educators can choose from more than 600 cases featuring hundreds of clients.
MORE ABOUT ATI
ATI has been a part of nursing education for more than 20 years. The company was started by 2 nurses who wanted to find a better way to help students succeed on the NCLEX. Today, the company is focused on delivering meaningful insights into nursing students' growth by helping them master core nursing knowledge and develop their clinical judgment. ATI partners with more than 3,000 nursing programs across the country to help them prepare the new generation of nurses for the unique challenges of today's world.
Burke said that ATI admired both Swift River's passion and its innovative approach to helping nursing students develop into safe, practice-ready professionals. "After becoming familiar with Swift River Simulations, we immediately saw how naturally it complements our own offerings and provides added value for our clients," he explained.
"This is an exciting moment for nursing education," Burke said.
---