WHEN INACSL STANDARDS CHANGE, WHY YOU NEED TO PAY ATTENTION
Nov 16, 2021, 12:17 PM
<6.5-min. read> Clinical simulation isn't new. What is? Updates to the INACSL Standards. Discover what the most important changes are.
---
THE NEW INACSL STANDARDS WILL HELP YOU DELIVER MEANINGFUL CLINICAL-REPLACEMENT RESULTS
Simulation isn't just "one more tool" in an educator's toolbox. It's one of the most indispensable tools.
In fact, it's become a tool that — in an era when virtual learning is now commonplace — no forward-thinking educator can do without it.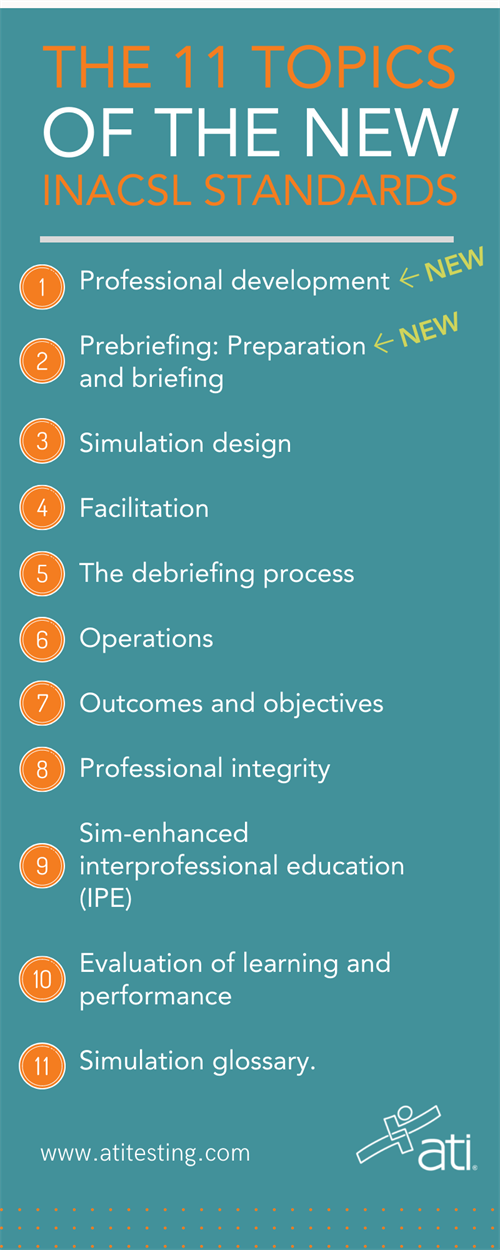 After all, during the pandemic, when in-person classes shut down and providers put "No entrance" signs up for students, simulation became one of the only ways for learners to get the practice experience they needed.
---
DISCOVER CLINICAL-REPLACEMENT SIMULATION SOLUTIONS
---
But, like any tool, the use of simulation requires guidance. You can't simply assign a student to watch a screen-based simulation and then move on to your next lesson-planning task. No, to ensure students gain the most from their clinical simulation learning — in a safe, positive environment — you first need to provide some prebriefing before and debriefing after the simulation. (More on that to come.)

Simply put, students who are immersed in a simulation experience require the same preparation as those stepping, for the first time, onto a hospital floor or into a provider's examination room.
To give your students the best simulation experience possible, then, you need to be familiar with resources available to you and the best practices for using them.
---
DOWNLOAD THE INFOGRAPHIC AT RIGHT AS A HANDY REFERENCE
---
INACSL STANDARDS: AN IMPORTANT RESOURCE FOR YOUR TEACHING
The use of simulation continues to grow, both in the reality of experiences for learners and the data available to educators of students' knowledge progression. You can expect, then, that simulation will become an ever more integrated part of your lessons.
That means you'll gain the most from this tool by becoming familiar with the organizations that support it. One of the most important for nurse educators? The International Nursing Association for Clinical Simulation and Learning (INACSL).
Recently, INACSL updated its Healthcare Simulation Standards of Best Practice. These standards have been a key resource for the healthcare community since 2011, when the organization originally introduced them as its Simulation Standards of Best Practice. Today, these standards guide the integration, use, and advancement of simulation in academics, clinical practice, and research.
This year's edition — its 4th — is particularly important because it includes 2 new standards, as well as revisions to the original 9. (See infographic at right for the full list.) What do these revisions mean for you as an educator? Why do they matter? We asked some of nursing academia's sim experts to explain.
SHINING A SPOTLIGHT ON SIMULATION WITH THE INACSL STANDARDS
Christine Heid, PhD, RN, CNE, CHSE, an ATI Nursing Education Consultant, has been involved with simulation and INACSL for many years. She believes the technology is a crucial part of healthcare academia.
"The pandemic didn't change the work we've been doing in clinical simulation," she explained. "It just brought a huge spotlight to it. People were already infusing capital into these resources, helping develop these clinical opportunities for a long time."
But, she added, it's reassuring that a larger number of people are now understanding its value on a broader scale. After all, she noted, "As simulationists, we've been saying for years that simulation works."
HOW INACSL STANDARDS ENSURE SIM MEETS TODAY'S HEALTHCARE NEEDS
Knowing the important role that simulation plays in teaching students, INACSL pays close attention to keeping the standards as up-to-date as possible. As such, the organization reviews and revises the document every 4 years. Work on the 2021 edition, in fact, began in late 2018. The individuals on the Standards Committee comprise nearly a dozen individuals across numerous fields, such as life-science educators, physicians, physical therapists, pharmacists, and more.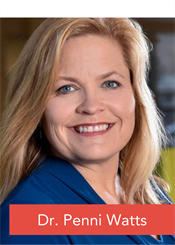 Penni Watts, PhD, RN, CHSE-A, FSSH, FAAN, Associate Professor and Director of Clinical Simulation at the University of Alabama – Birmingham School of Nursing and member of the INACSL Board of Directors, explained that regular revisions are crucial for meeting healthcare's growing demand for best practices in simulation use.
She said that reviewers base changes on historical and foundational elements of past editions, along with survey data from both INACSL members and the simulation community. The committee also examines current best practices, new research, and future recommendations that were noted in previous standards.
Dr. Heid said those in nursing education can't focus only on what's happening today, but also what tomorrow is going to look like. "We must know how to prepare our students for that future," she added. "These standards are based on years of literature and research. They take time to develop and are a culmination of everything good to make simulation great."
WHY THE INACSL STANDARDS ADDED NEW SECTIONS
INACSL'S Standards Committee reviews and revises each standard in its document to ensure all include the most accurate, up-to-date information. In doing so, the committee sometimes determines that new standards are needed to account for gaps in previous editions.
Dr. Watts, a member of INACSL's Board, said, "We have seen fewer changes over the years, as there is some continuity in the standards even after 10 years." But, she added, "We also know COVID led to an increase in simulation use, which provided some insight into areas of improvement."
---
DOWNLOAD THE INFOGRAPHIC BELOW (WITH CLICKABLE LINKS) AS A HANDY REFERENCE
---
NEW INACSL STANDARD NO. 1: PROFESSIONAL DEVELOPMENT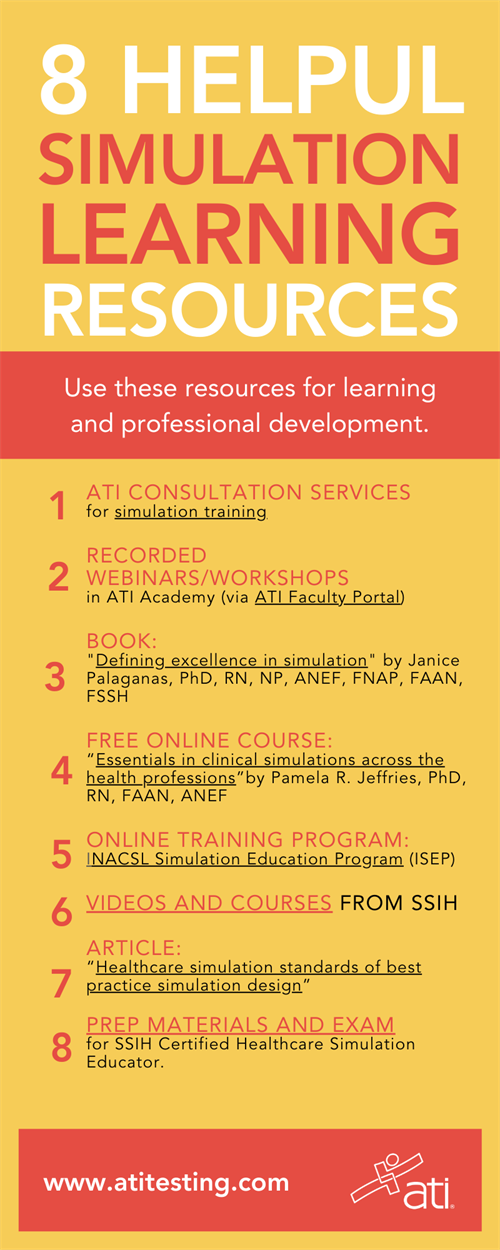 The Professional Development standard was created to support simulationists across their careers. As simulation-based education grows, this standard is intended to keep educators current with new knowledge to meet the needs of learners.
Dr. Heid said, "I'm really thrilled about the professional development standard. I feel like it finally speaks to us not being a niche but an essential component — not only of academic practice but also professional practice."

Beth Fentress Hallmark, PhD, RN, MSN, CHSE-A, ANEF, is Director of Simulation at Belmont University (Nashville). She said the professional development standard wasn't an idea that came up simply because of COVID, though.
"We've talked about developing this standard for years, because there has always been some confusion around it," she explained. "Simulation has continued to mature, and we knew we needed a professional development road map to ensure instructors at all levels were receiving the same information."
This new standard focuses on the following key criteria:
Perform an educational needs assessment with a gap analysis
Participate in professional development activities that address learning outcomes and priorities
Reevaluate the professional development plan regularly.1

INACSL's new standard is obviously useful in helping educators who want to progress in their simulation expertise. But other organizations and credentialing opportunities in the simulation space are also available to help. For example, the Society for Simulation in Healthcare (SSIH) provides several certifications, such as the Certified Healthcare Simulation Educator (CHSE), which Drs. Heid, Watts, and Hallmark have all achieved. SSIH also offers videos and articles, among other resources. (See the infographic at right for additional books and online courses that provide formal learning and professional development.)
NEW INACSL STANDARD NO. 2: PREBRIEFING & BRIEFING
This new standard is especially important. It better enables educators to prepare students for their first time being in a simulation-based experiences. Numerous research articles have proven that prebriefing increases success and enhances a student's reflection process.
In fact, an article in the June/July 2021 issue of Nurse Educator, "Using debriefing for meaningful learning with screen-based simulation," noted that, "Failing to include debriefing with screen-based simulation could negatively impact student learning outcomes."
Dr. Heid feels strongly about the importance of pre- and debriefing.
"These new standards provide context to things we were already doing," she explained. "I've been doing prebriefing for 10 years, even before the word existed. I think many of us in the field found it effective for creating psychologically and physically safe environments. It allows you to make sure your students are ready to go and handle any misconceptions before the simulation begins."
The standard focuses on the following key criteria:
The simulationist should be knowledgeable about the scenario and competent in concepts related to prebriefing.
Prebriefing should be developed according to the purpose and learning objectives of the simulation-based experience.
The experience and knowledge level of the simulation learner should be considered when planning the prebriefing.2
Admittedly, if you are new to using simulation, a set of 11 standards may seem intimidating. But the experts have support to set you on the right path.
Check out this article for suggestions and tips from Drs. Heid and Watts to get started.
---
1For more information: https://www.nursingsimulation.org/article/S1876-1399(21)00094-3/fulltext
2For more information: https://www.nursingsimulation.org/article/S1876-1399(21)00095-5/fulltext
---
MORE ABOUT DR. CHRISTY HEID
Christine Heid, PhD, RN, CNE, CHSE, has a long list of credentials that define her deep knowledge of simulation, online, and technology-mediated teaching and learning. Currently serving as Nursing Education Consultant for ATI, she is a Certified Healthcare Simulation Educator (CHSE) and a 2017 member of the International Nursing Association for Clinical Simulation Learning (INACSL – CAE Healthcare) Fellowship Program. She also serves on numerous committees within related organizations, among other laudable achievements.
Learn more about ATI's approach to simulation in nursing education and discover video tutorials from Dr. Heid for additional insight.
---
8 HELPFUL SIMULATION LEARNING RESOURCES
---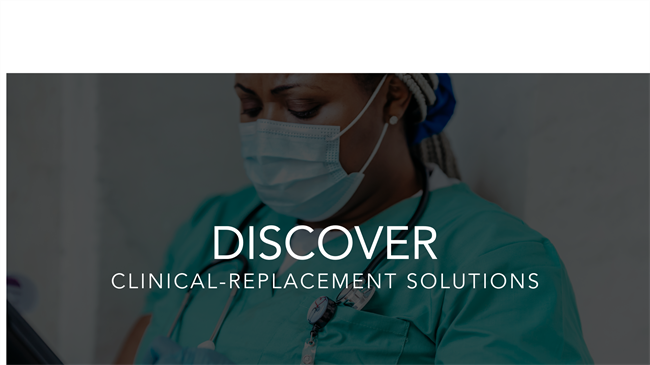 ---