Avoid that frantic feeling when writing an NGN case study
Sep 28, 2022, 11:11 AM
<8-min. read> Helping prepare students for the Next Generation NCLEX means you need to master the task of writing a case study. An NCSBN expert offers tips.
---
Follow these top tips from a Next Gen NCLEX expert for case study writing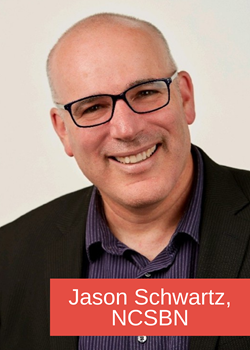 A central element of the Next Generation NCLEX (NGN) is the case study. And figuring out how to write a case study has created many questions and concerns among nurse educators. That's why Jason Schwartz, Director of Outreach at the National Council of State Boards of Nursing (NCSBN), zeroed in on exactly how to write a case study during the recent edition of "The ATI Talk."
---
STAY UP-TO-DATE ON THE NEXT GENERATION NCLEX
---
With his tips and suggestions, you'll see that writing a case study is far less intimidating than you may have imagined.
UNDERSTANDING THE ELEMENTS OF A CASE STUDY PRESENTED IN THE NEXT GEN NCLEX
Before you attempt writing a case study, you need to understand how to design it. To do that, you need to be familiar with Layer 3 of the NCSBN's Clinical Judgment Measurement Model. Layer 3 illustrates the 6-step process that a nurse goes through in each client encounter. (See the numbered graphic below that depicts the 6 steps.) You may hear a variety of terms used to address this process:

cognitive functions
cognitive operations
cognitive components
cognitive skills
cognitive process.
All of these terms are correct. (ATI's preferred verbiage is cognitive functions, which is how we will refer to it here.) What's important is remembering to what the actual functions refer. Those are:
Recognize cues (What matters most?)
Analyze cues (What does it mean?)
Prioritize hypotheses (Where do I start?)
Generate solutions (What can I do?)
Take actions (What will I do?)
Evaluate outcomes (Did it help?)

With those cognitive functions in mind, the next step is to understand how they apply to the 6 questions — otherwise known as item types — within each case study. And that understanding is simple: Every case study on the NGN will include 6 item types. (Every candidate taking the test will encounter at least 3 case studies.) As a case study unfolds, each question will align with its matching cognitive function in order. Thus, the first item (question) will focus on whether the candidate can recognize the cues presented in the case study. The second question will assess whether the candidate can analyze those cues, and so on.
As mentioned, the case study will present information that the candidate will review to answer the items. New information — in the form of lab results or nurse's notes, for example — will be added to the case study as it unfolds.
WRITING EACH ITEM TYPE IN A NEXT GEN NCLEX CASE STUDY
ITEM 1: RECOGNIZE CUES
Schwartz suggested considering "Recognize cues" as a question: "What's the most important thing?"
You then, as the item writer, want to include a variety of information for the test-taker, just like that individual will encounter a lot of information in the real world with a real client.
"The test-taker needs to be able to pick out the red flags — the aspects of the client's health that should get the nurse's attention," Schwartz explained. Then, to answer the question — in whatever format it takes, from an extended multiple-response/select-all-that-apply to a select "N" — the test-taker needs to determine which things require immediate attention. That is, "What matters most?"
ITEM 2: ANALYZE CUES
The next question of a case study will always focus on analyzing cues.

"It's essentially connecting some of the cues — or clues — to each other — connecting them to get a better picture of what might be happening," Schwartz explained.

Ask yourself how these cues relate to something the nurse should care about, such as a complication, a condition, or a disease process. These, then, are the same aspects you should consider and include as you write your case study.
ITEM 3: PRIORITIZE HYPOTHESES
This item type comes in "2 flavors," Schwartz explained.

"Sometimes there will be explicit hypotheses like, 'Oh, the client is exhibiting X, most likely because of Y and Z.' That sounds like hypotheses are pretty explicit."

But, he added, sometimes the hypotheses are less direct. The candidate may need to prioritize which health issue to deal with first, such as respiratory issues over pain.

"I think the name still works," Schwartz said, "because there are hypotheses that indirectly are informing those decisions."
To help him remember how to write this item, Schwartz said he would sometimes change the verbiage to "prioritize conditions" or "prioritize some aspect of the client status."
THE HALFWAY POINT OF THE NEXT GEN NCLEX CASE STUDY: FROM DETECTIVE TO MAGICIAN
As the test-taker moves from the first half of the case study to the second half, Schwartz said the individual was taking an important turn.

"I like to describe the first half almost like the nurse is a detective. We are trying to figure out what's going on here — whether these things mean what's happening," he explained. "But you'll notice there haven't been any items yet in those first 3 that deal with 'what are we going to do?'"
"Well, the second half of the case study is much more action- or intervention-oriented," he said. "It's all about what are we going to do in terms of what's our job there. Of course, it's still [being a] nurse. But sometimes I think of the nurse as a magician. The nurse now is looking to transform or improve the client status through the various tools that nurses have available."

As a result, he said, the halfway point is an important landmark. "We've just gone from the detective half to the magician half," he said.
ITEM 4: GENERATE SOLUTIONS
In this section of the case study, the candidate is connecting the client's needs to the interventions that might make a difference. "That doesn't mean that every single one of those things will happen or that every single one of those things will happen at the same time," Schwartz noted. "An example I give sometimes is: Your family's trying to decide where to go to dinner. There might be 5 suggestions, and they're all valid; they're all terrific. But you're not going to go to all 5, right? That'd be a lot to eat. So, I think of this almost as a little bit of brainstorming."
Schwartz said the candidate should consider what actions could help the client, as well as what actions to avoid.
ITEM 5: TAKE ACTIONS
This question is where, Schwarz said, "we really are getting ready to do some things."
In his presentation for "The ATI Talk," Schwartz showed an example of a case study describing a nurse who has been asked to prepare the client for immediate surgery.

Schwartz read the question, "Which of the following actions should the nurse take? Select all that apply."

"You know [this] item type," Schwartz noted. "This is our extended multiple-response .... Check out the boxes. These are the things we're really going to do."

Schwartz said many educators have told him they get "generate solutions" mixed up with "take action" — and understandably so.

"Both of them are about various interventions or actions," he noted. The difference? In generating solutions, you're formulating a plan. "You're thinking about what might help." Take action is much more, well, action-oriented.

More specifically, to help you differentiate the two, he described "generate solutions" as formulating a plan and thinking about what might help.

"Take action," he explained, is where the nurse is actually doing something.
ITEM 6: EVALUATE OUTCOMES
As with the previous functions, the verbiage for the last cognitive function of the CJMM aligns closely to the last step of the Nursing Process.

"Just like the Nursing Process ends in evaluation, we call ours evaluate outcomes," Schwartz said. "But what's it all about? Sometimes [it's] just plain English," he explained. In other words, this function is exactly what it sounds like.

"I like to talk about the client existing as a before and an after," Schwartz said. "Before is kind of how we first encountered [the client]. Here were all the aspects of their situation. After is after some intervention that's happened."
He suggested helping students look at this function as, "Which actions resulted in positive outcomes?" and "Which aspects of the client's health got worse or need continued evaluation?"
"That is how every case study ends in the real world," he pointed out. "The nurse wouldn't now walk away, because sometimes you evaluate those outcomes and you say, 'There's more to do.' You've recognized some cues, and the whole thing starts all over again."

For testing purposes, though, this is the end of the situation.

"6 items, and we're through," Schwartz said.
A TIP FOR WRITING YOUR OWN NGN CASE STUDIES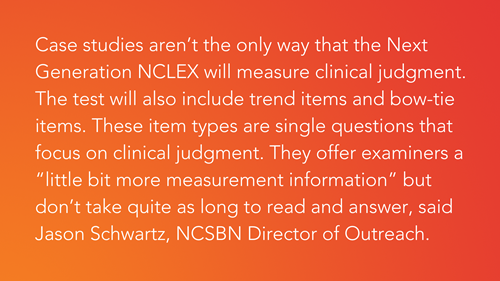 Schwartz offered advice for an educator preparing to write a case study: Take an existing case study, cover up the answer choices, and then write new ones.

"You could even go to [a] scenario, cross out some of the stuff that's there and modify it," he added. "Maybe we have a pediatric client or maybe the pulse is low instead of high. You can do whatever you want."
Sometimes, he noted, working with an existing case study is easier than facing a blank page.

Schwartz also made an effort to emphasize that educators shouldn't be intimidated by any aspect of the NGN. It's much more similar to the current version of the exam than it is different. He characterized the NGN as being like the current NCLEX with "some extra toppings," much like you can compare a plain cheese pizza to a pepperoni pizza.
A CLOSING NOTE: HOW NEXT GEN CASE STUDIES HELP CANDIDATES BETTER IMAGINE REAL-WORLD SITUATIONS
Schwartz noted that, in the past, when he talked to educators, they sometimes criticized the NCLEX as not representing the real world.
"They say, 'Jason, NCLEX is not real world; it's NCLEX land.' Everybody has one thing wrong and needs one thing done," he said. In the real world, however, clients have many health issues taking place simultaneously.
That's why the NCSBN has given explicit instructions to item writers that the scenarios and items should be as close to real-world situations as possible. (A change you'll notice that explicitly represents the desire to make the exam more like what a test-taker will experience as a new nurse is the inclusion of reference ranges. Nurses no longer have to pull this information from memory because it is almost always provided alongside lab results.)
"Even if it's messy; even if it's a lot of information," he said.

Without presenting such scenarios, Schwartz pointed out, "how else would we know if somebody could wade through a lot of information and pick out [what is] the most salient?" The answer: You give them a lot of facts to consider as the case study progresses over time. That may mean a case study takes place over several days.
And, as the candidate progresses through the case study, answering questions and learning more information about the client, they do so in the same progression — in order — as the cognitive functions in Layer 3 of the CJMM. Along the way, the case study is delicately assessing the candidate's clinical judgment skills.
"I don't want your takeaway to be, when you see a case study, 'Ooh! 6 random complicated questions! What do I do?' No. It could be a little complicated; I'm not going to walk away from that," Schwartz said. But the questions are never random; they follow the 6 cognitive functions in order.
"The first one always [offers] a lot of information. 'What do we need to work it out right now?' Second one: 'How come? What does it mean? How's it going?'
"They always go in that order all the way through to evaluate outcomes," he added. Students are presented with a range of content knowledge. "Some are new item types. Some are just familiar twists on things you already know, like the SATA, but adding a few [more] choices. And others, like highlighting, matrix, grid, or the pulldown, are truly new."
But, in the end, the case studies reflect real-world situations. "Real world. This was a very explicit instruction to our item writers: Give us real world."
---
Watch the full edition of "The ATI Talk" to see Schwartz's detailed description about the Next Generation NCLEX. Then read an article on the top questions Schwartz answered during the Q&A portion of the session.
---
WHAT TIPS CAN YOU OFFER ABOUT WRITING CASE STUDIES? SHARE THEM IN THE COMMENTS BELOW.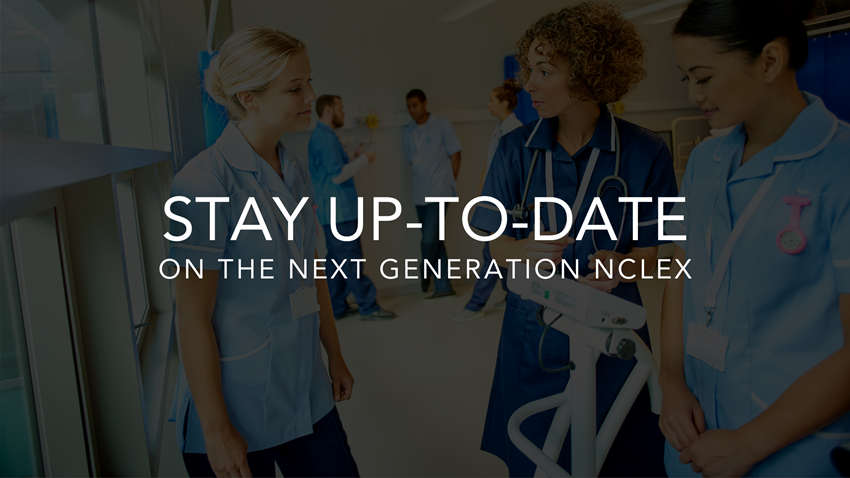 ---