How will new NCLEX scores compare after the launch of NGN?
Apr 1, 2023, 02:01 AM
<4-min. read> NCLEX pass rates have trended downward for several years. So, what's ahead for scores after the launch of the new Next Generation NCLEX?
---
The NCLEX has made an epic change. What should you expect?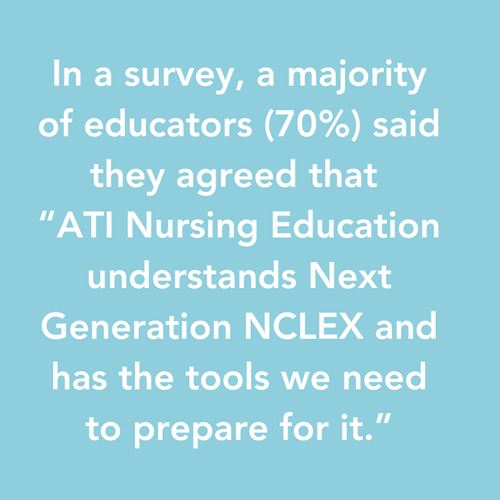 The Next Generation NCLEX (NGN) has launched. How will it impact the future of nursing? Well, the addition of clinical judgment functions to the exam should ensure students are better prepared to pass it — and better prepared for practice. But what about your pass rates in the next few months? Will they soar, stay the same, or take a nosedive? Let's look at what's been happening with NCLEX scores and try to anticipate what's ahead.
---
LEARN ABOUT THE NEXT GENERATION NCLEX
---
How poorly are candidates performing on the NCLEX?
NCLEX pass rates were declining before the pandemic. But the stress of isolation, concerns about students' (and loved ones') health, and anxiety about life, in general, contributed to steeper dips over the last three years. We can likely also attribute decreased scores to delays in students not being able to take the exam in a timely manner after graduation.1
How big were the declines?
The National Council of State Boards of Nursing (NCSBN) revealed2: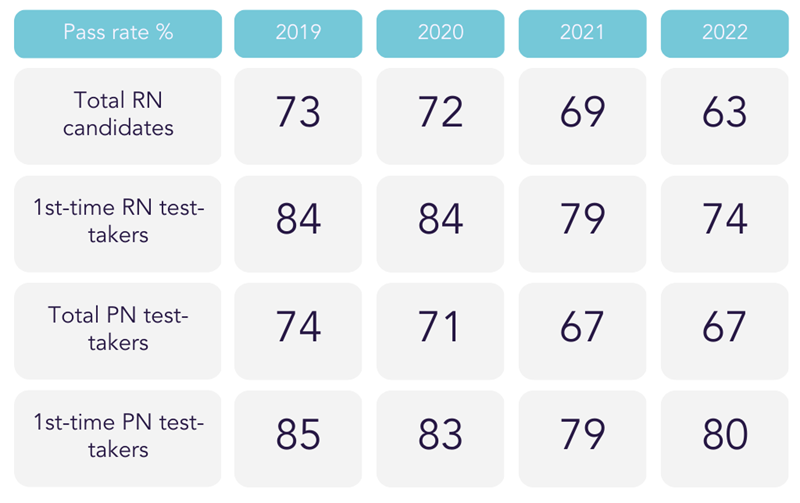 The NCSBN also saw declines in degree levels: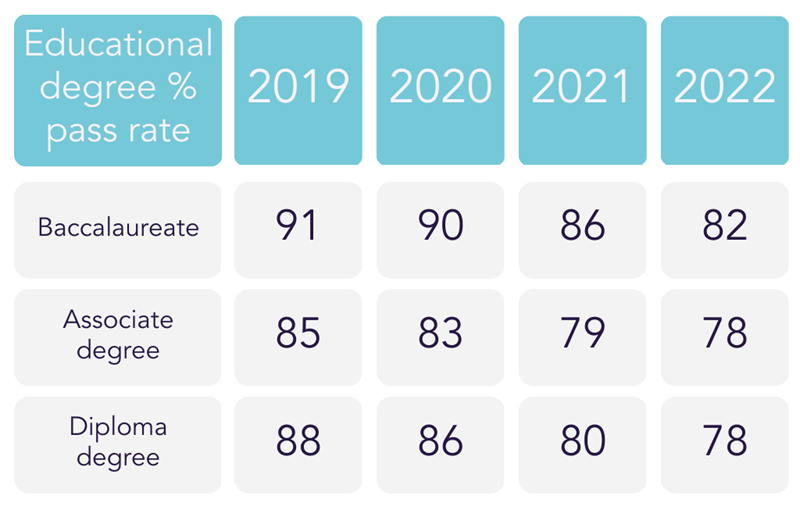 As in-person classes resumed and anxieties have lessened,
Pamela Roland, MSN, MBA, RN
, ATI Nursing Strategist, says we can hope pass rates will rise. But we still must anticipate the new hurdle of the Next Generation NCLEX (NGN).
How will the Next Generation NCLEX impact pass rates?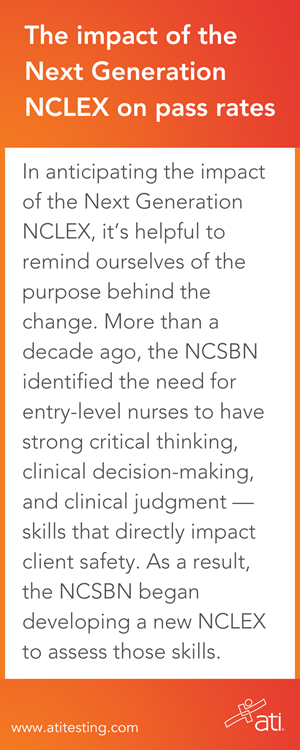 We won't know how the NGN will impact NCLEX pass rates until we start to see results from the first cohorts who sit for the new test. We do know that getting ready for the NGN has been onerously challenging. In a survey of ATI clients, many acknowledged that preparing for the new exam had been disruptive to their nursing programs.3 75% said that the NGN had been "extremely/very time-consuming." Nevertheless, the majority were optimistic about their readiness. Twelve percent felt they were on top of the issue, and another 52% felt they were making progress and were committed to being prepared.
Those at state institutions and in BSN programs tended to feel the most prepared, while those in PN/LPN/LVN programs said they felt least prepared.
Reassuringly, most respondents said they were confident ATI's readiness had helped them. A majority (70%) said they agreed that "ATI Nursing Education understands Next Generation NCLEX and has the tools we need to prepare for it."
Next Generation NCLEX long-term impact
One positive impact of the NGN that many hope will extend beyond pass rates: better retention of new nurses. Graduates who pass the NGN will be more practice-ready than their predecessors, which should make them more confident and prepared on the job, says Patty Knecht, PhD, MSN, RN, Chief Nursing Officer for ATI. That confidence should decrease attrition of new nurses, nearly 25% of whom leave their jobs within a year.
"For the first time in a long time, we have groups of nurses under age 35 quitting our workforce," Dr. Knecht adds. "Hopefully, the focus on clinical judgment will create some stability in our workforce. It will certainly contribute to safe care."
What can you do right now regarding the Next Generation NCLEX?
Your clearest path to success in achieving high Next Generation NCLEX pass rates is to continue a focus on building students' clinical judgment skills. Research provides some insights on how you can incorporate clinical judgment into your students' lessons.
Follow these tips from ATI's "Next Generation NCLEX Guidebook":
• Use unfolding case studies to develop clinical judgment given the established link between dynamic case studies and clinical practice experience. And use simulation. Shatto et al (2017) demonstrated that simulation can contribute to significant clinical judgment development in nursing students.4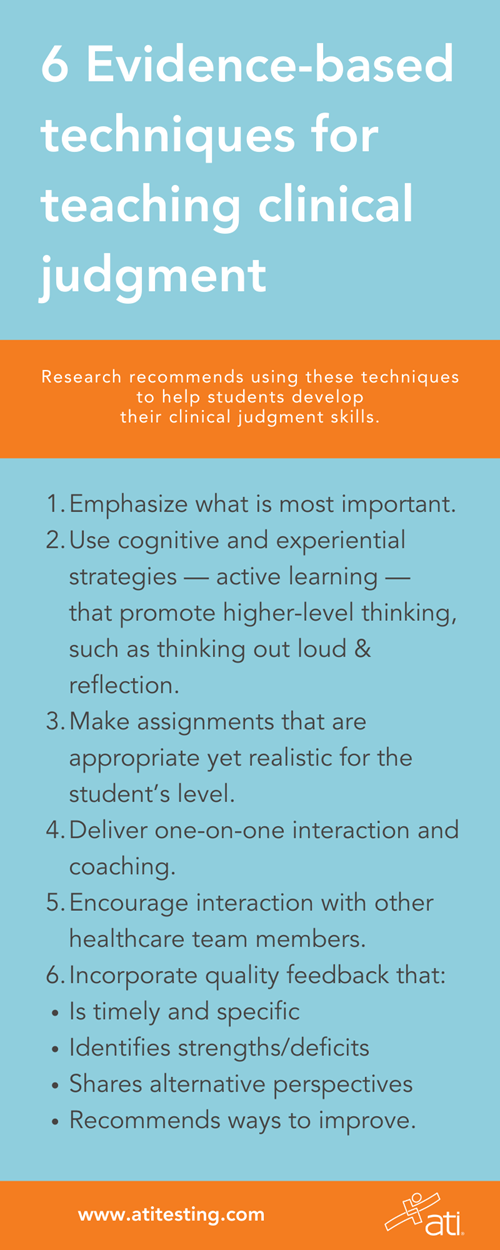 • Debrief after unfolding clinical scenarios. Ask students for evidence-based responses based on associated clinical judgment functions. You'll promote deeper learning, foster clinical judgment development, and better evaluate student learning.5
• Show students why tasks require problem solving, critical thinking, and clinical judgment.6
• Focus on six instruments that measure clinical judgment: simulation-based experience exposures, specific nursing specialty simulations, debriefing and its effect on clinical judgment, assessment, clinical decision-making, and reflection.8
• Use concept-based strategies that require deliberate practice as issues manifest in a variety of contexts. You will increase the experiences on which students can draw to reason through client situations.9
Further, you can prepare your students for the Next Generation NCLEX by leaning on teaching techniques that are based on research.7 Specifically, you should follow these 6 tips:
Emphasize what is most important.
Use cognitive and experiential strategies — active learning — that promote higher-level
thinking, such as thinking aloud and reflection.
Deliver one-on-one interaction and coaching.
Make assignments that are appropriate and realistic for the students' level.
Encourage interaction with other healthcare team members.
Incorporate quality feedback that:
Is timely and specific
Identifies strengths/deficits
Shares alternative perspectives
Recommends ways to improve.
For more ideas on how to improve students' clinical judgment skills, download a copy of the "Next Generation NCLEX Guidebook" at: https://info.atitesting.com/ngn-guidebookdownload-ati
---
The impact of the Next Generation NCLEX on pass rates
In anticipating the impact of the Next Generation NCLEX, it's helpful to remind ourselves of the purpose behind the change. More than a decade ago, the NCSBN identified the need for entry-level nurses to have strong critical thinking, clinical decision-making, and clinical judgment — skills that directly impact client safety. As a result, the NCSBN began developing a new NCLEX to assess those skills.
---
Data Spotlight: An Assessment of First-Time NCLEX Test-Takers by Degree Type. (2022, May 17). American Association of Colleges of Nursing (AACN).

https://www.aacnnursing.org/News-Information/News/View/ArticleId/25209/Data-Spotlight-Assessment-of-First-Time-NCLEX-Test-Takers-by-Degree-Type

NCLEX Pass Rates. (n.d.). NCSBN.

https://www.ncsbn.org/ exams/exam-statistics-and-publications/nclex-pass-rates

. page
(2021, November). ATI Nursing Educator Satisfaction Study.
Hussein, M., Olfert, M., & Hakkola, J. (2021). Clinical judgment conceptualization scoping review protocol. Teaching and Learning in Nursing, 17(1), 84–101.

https://doi.org/10.1016/j. teln.2021.10.003

Sommer, S. K., Johnson, J. D., Clark, C. M., & Mills, C. M. (2021). Assisting Learners to Understand and Incorporate Functions of Clinical Judgment Into Nursing Practice. Nurse Educator, Publish Ahead of Print.

https://doi.org/10.1097/nne.0000000000001020

Strategic practice analysis. (2018). NCSBN Research Brief, 7, 11–15.
Klenke-Borgmann, L., Cantrell, M. A., & Mariani, B. (2020). Nurse Educators' Guide to Clinical Judgment: A Review of Conceptualization, Measurement, and Development. Nursing Education Perspectives, 41(4), 215–221.

https://doi.org/10.1097/01.nep.0000000000000669

Jessee, M. A. (2021). An Update on Clinical Judgment in Nursing and Implications for Education, Practice, and Regulation. Journal of Nursing Regulation, 12(3), 50– 60.

https://doi.org/10.1016/s2155-8256(21)00116-2

Next Generation NCLEX Guidebook for Classroom Faculty. (2022). ATI Nursing Education.

https://info.atitesting.com/ngn-guidebook-download-ati