The important advice you need for nursing education retention
May 3, 2023, 15:07 PM
<6-min. read> Nursing education retention is taking a hit, but what steps can you take to turn it around? Check out this sound advice from experts.
---
Nursing education retention: How to help your 1st year students find success
One of Merriam-Webster's definitions of "momentum" is "strength or force gained by motion or by a series of events."
What's been the momentum of your nursing education retention rates for 1st year students? What are the motions or events impacting them? Are they moving forward? Backward? At the very least, are they staying the same?

Most nursing education rate statistics show momentum trending downward. The reasons are varied, but most are related to students' lack of academic preparedness. To help address this issue, ATI recently published the "2023 State of Nursing Education Admissions Report." It addresses the challenges of admissions but also outlines solutions.
---
Learn more about Launch: Nursing Academic Readiness
---
Here, we'll provide a broad overview of the report. (You can access the full report here). Then, we'll offer 2 specific resources to help you make an immediate, positive impact on the momentum of your program's retention rates.
What's happening in nursing education retention?
In 2021, student enrollment in entry-level baccalaureate nursing programs increased by 3.3% and by 4% in Doctor of Nursing Practice (DNP) programs. Unfortunately, other segments of nursing saw decreases:
9.6% decline in baccalaureate degree-completion programs
3.8% decline in master's programs
0.7% decline in PhD programs.
This was the 3rd year in a row for decreases in RN-to-BSN programs. But the dip in master's program enrollments was a surprise; it had been increasing since 2001. This master's program dip — along with decreases in PhD programs — is concerning. It could signal even fewer educators will be available to fill the growing number of faculty vacancies.
An additional factor at play in nursing programs? The number of qualified applications — 91,938 — that 4-year colleges and universities did not accept in 2021 despite the huge need for more nurses. (Programs' reasons for not accepting more applications include insufficient clinical placement sites, faculty, preceptors, and classroom space, as well as budget cuts.)
Complicating these stats is a trend uncovered in a survey ATI performed of nearly 4,000 students last summer.
What's causing nursing education retention to dip?
The ATI survey showed that many students said they were delaying or foregoing their application to nursing school. The students had recently taken the ATI Test of Essential Academic Skills (TEAS) to determine their academic preparedness for nursing school.
Among the study's key findings was that most respondents (86 percent) said they were delaying their application or were not ready to apply primarily because they wanted to improve their academic preparedness (69 percent).
So, while students are interested in nursing careers, they're afraid they aren't ready. And they are afraid they will fail.
What steps are needed to change the momentum of nursing education retention?
Well, we already know that students recognize they need help. That means one of your first steps can be to begin strategizing how your program can support them. Specifically, consider these 2 areas:
Make an early and sustained investment.
Offer early program support.
1) Make an early and sustained investment to improve nursing education retention
To cope with students' varied needs, your nursing program must make an early, sustained investment in their academic support and remediation. Sandra Annesi, DNP, MSN, RN, ATI V.P., Nursing Client Success, says many students are skeptical of success in college. "But giving students support can help mitigate the challenges that prospective nursing students have cited," she explains. "Plus, you'll bring more nurses into the pipeline at a time of critical need."
Other education experts support that concept of earlier and more sustained investment.

A report in BMC Nursing stated: "It is essential that programs identify students not progressing well and intervene early to promote success. Once a student is admitted into the nursing program, the institution has a responsibility to do all [it] can to help that student be successful and retain their seat for on-time completion"1.
2) Offer early program support to improve nursing education retention
Once your program accepts students, offer some type of summer school or other course to help familiarize them with the scope of nursing and give them a better understanding of the academic challenges they will face. These collegians will be better able to cope with anxiety concerns and prevent future academic struggles.
Along those lines, develop interventions targeted at "students lacking the psychological, physical, or practical resources needed to successfully cope with both nursing school and the nursing profession"1.
Finally, consider options that will reassure older students that they can be successful in a nursing career. Partner with programs offering degrees your school doesn't provide and create a bridge, such as helping EMTs/CNAs/MAs to become LPNs/RNs.
None of these solutions will change students' lack of academic preparedness overnight to turn around your program's nursing education retention. But if you begin with some early interventions and layer in support services, you can start a wave of change for a better future.
Specific ATI solutions that can improve nursing education retention
ATI has developed special tools to support your students as they enter the demanding courses required for success in nursing education.


Pre-admissions: Use the ATI TEAS as an assessment and diagnostic tool
The TEAS assesses basic essential skills in the academic content areas of reading, mathematics, science, and English and language usage. More nursing and allied health programs use the TEAS than any other entrance exam.
The reasons are many:
Health science educators and subject matter experts design the TEAS.
The TEAS is a reliable statistical predictor of early program school success.
The TEAS ensures you choose the right students for your program.
ATI's Bias and Sensitivity Review Committee continually reviews and improves the TEAS. This committee comprises external reviewers who represent historically impacted groups (e.g., ethnic minorities, gender). These psychometricians ensure the exam uses appropriate language and that items don't provide an unfair advantage to a particular examinee group for noneducational reasons (e.g., stereotypes). The committee oversees the pretesting of all items on the TEAS, so they perform optimally.
But using the TEAS as an assessment exam is not its sole purpose. Research shows that institutions that use the TEAS as a diagnostic admissions tool are better able to identify students who are struggling.
Used as part of a holistic admissions process, the TEAS can help you understand candidates' strengths and weaknesses so you can direct them to resources to help them improve in those areas. Doing so not only gives students greater confidence but also can improve your retention rates.


Post-admissions: Provide support for accepted students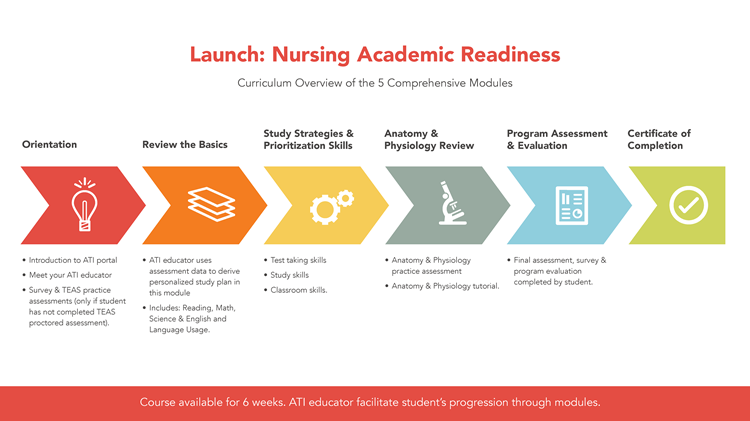 Students are ecstatic when they learn of their acceptance to your nursing program. However, many will need additional remediation and support to ensure they have the resources and foundational knowledge necessary to ensure they are successful in nursing school. This type of support will directly impact your nursing education remediation rates.
Several nursing programs across the country helped us test-pilot a specific tool you can use in this effort. The tool — Launch: Nursing Academic Readiness — will be available this fall.
As 1st-year nursing students struggle with basic concepts of reading, math, science, and English, educators have struggled with the added burden of trying to help them. To mitigate nursing programs' potential increase in attrition, ATI's new Launch solution helps address COVID learning loss, low reading and math rates, and low test rates. It also provides support for ELL students.
Launch is an innovative new product that helps students learn and review the critical skills needed for nursing program success. Its self-paced plan comprises 5 review modules. Each student works 1-on-1, asynchronously alongside an ATI Educator for up to 6 weeks. The ATI Educator assesses the student's knowledge and provides a personalized study plan. Once a student completes all modules, that learner has the confidence to launch into their academic journey. All successful students receive a certificate of completion to mark their accomplishment.
---
1Federica Canzan, L. S. (2022). Why do nursing students leave bachelor program? Findings from a qualitative descriptive study. BMC Nursing, 71.
---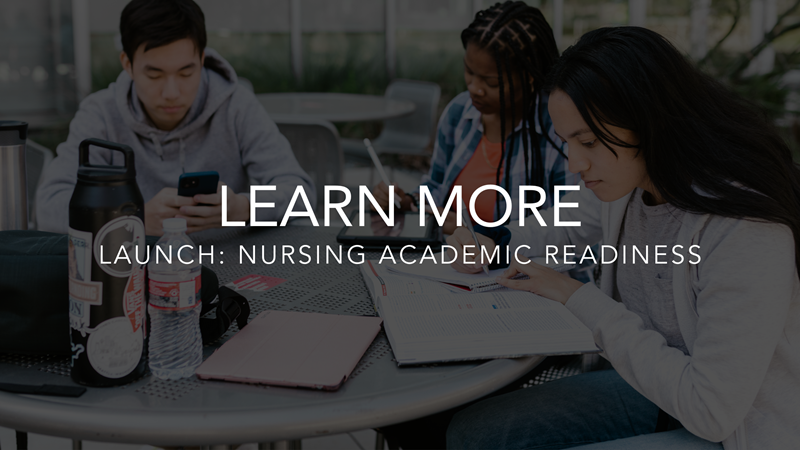 ---