THE BENEFITS OF THE LATEST SIMULATION-BASED SKILLS TRAINING
Sep 29, 2020, 14:29 PM
<5-min. read> A new skills-training option was put to the test by real-life users. Their feedback helped tweak the product for ultimate outcomes.
---
A BEHIND-THE-SCENES PEEK AT COMMENTS FROM EDUCATORS AND STUDENTS
Evidence-based studies have identified specific techniques that are most critical for new nursing students to learn. It's important knowledge to have as it impacts what skills educators should be teaching.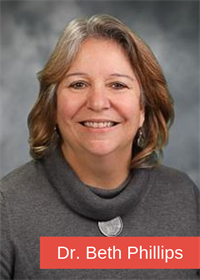 After getting complaints from students that the skills being taught weren't being used in real-world practice,
Beth Phillips, PhD, RN, CNE
, associate professor in the
School of Nursing at Duke University
(Durham, N.C.) and director of the Institute of Educational Excellence, took a second look at her program. She realized
it needed to reconsider what skills it was teaching
.
"I saw that faculty and clinical instructors were spending just an exorbitant amount of time with students in the lab, teaching them all kinds of skills, checking them off in head-to-toe assessments — very in-depth — and, then, the students would go to clinical and not see many of those things ever performed," she explained.
Many programs are plagued by the same dilemma. Solving it was on the brains of ATI's Product Team.
HELPING STUDENTS CONNECT RESEARCH TO SKILLS TRAINING
It's not only educators who need to review evidence-based studies to reinforce which skills students need most. Students, too, gain a great deal of comprehension from studying the research.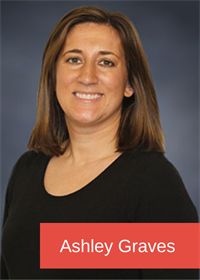 "
Evidence-based studies
allow students to make the connection between theory and practice," explains
Ashley Graves, MSN, RN
, Integration Specialist Nurse Educator at ATI. "Evaluation of evidence-based studies also empowers students to evaluate research to fully understand the risks and effectiveness of skills and procedures."
Graves notes that teaching students to rely on evidence-based practice also helps them learn to appropriately recognize and analyze cues from the patient. "That knowledge underscores their ability to prioritize next steps and which actions to take," she says. The result is students with enhanced clinical judgment and better outcomes for patients.
TAKING ADVANTAGE OF TECHNOLOGY
Many educators understand the importance of incorporating such research into their lesson plans. But finding the appropriate research and identifying where to insert it into their curriculum isn't at the top of most faculty's crushing to-do lists. Removing the burden is new simulation software that teaches nursing skills and incorporates evidence-based research into the lessons.

ATI's new Skills Modules 3.0, an upgrade of its 2.0 offering, provides that research, along with other features such as:
90 new and updated skills videos
Virtual scenarios
Accepted-practice guidelines
Key considerations
Skills checklists
A glossary with enunciation
Case studies
Student reporting
Pre- and post-testing with rationales
New EHR documentation examples.
TESTING SCREEN-BASED SKILLS LEARNING
During a pilot test of the new version of ATI's Skills Modules, educators and students provided feedback to help the ATI Product Team better understand these features and how they would be used. Their comments underscore how the screen-based solution is fulfilling its goals.

An instructor from the University of Virginia School of Nursing (Charlottesville, Va.) noted that the new format, now organized by skill, was very user-friendly, but she was especially impressed by the charting function. "I liked the interactive chart in the tutorial," she commented.

That positive feedback was exactly what the ATI Product Team was hoping to hear. Graves, who was deeply involved in helping roll out the new Skills Modules 3.0, says the charting function was an important feature of the redesigned solution and its outcomes.

"By reviewing integrated-charting examples in Skills Modules 3.0," she explains, "students learn what to expect regarding documentation."

Integrated charting examples also allow students the opportunity to experience real electronic documentation before they ever see it in a clinical setting — or a skills lab. Reviewing electronic documentation in the lab setting is a benefit, Graves explains, because it provides a safe, nurturing environment in which students can learn and ask questions.

"Then students can develop an understanding of what information needs to be documented upon completion of a skill or procedure," she says.


Students in testing agreed with that explanation. "It was a great skill to see how the nurse would actually chart for the patient," one wrote.

Another aspect that educators noted as especially beneficial? "I particularly loved the key considerations section," says an instructor from Lanier Technical College's Healthcare & Nursing program (Forsyth Campus, Cumming, Ga.). "I think the questions reflect real-world problems that students will encounter." Plus, she added, it "offers practical solutions."

Several educators commented on the virtual scenarios feature. "I really liked the right and wrong sounds that the activities provide in the practice challenges," said an educator from the Bismarck State College Nursing program (Bismarck, N.D.). A Florida Southern College (Lakeland, Fla.) educator had similar thoughts. "I liked the scenes where you could hear [the patient] thinking in his head," she wrote. "It was gold for teaching critical thinking. This is huge!"

One of the students in the pilot agreed. "I liked how I got to see exactly how the nurse intervenes and responds to a client. It is hard to infer an appropriate response by just reading," she noted.

Another Florida Southern instructor commented, "I love the PQRST in assessing pain. As an ER nurse, we were always 1 or 2 questions away from understanding."

The pain-assessment feature was popular with student testers, as well. "I liked the addition of the practice questions," one wrote, "as well as the opportunity to see the patient's nonverbal cues and pain rating directly on the FACES Pain Scale."

Besides pain assessment, other interactive Virtual Scenarios in Skills Modules 3.0 focus on content areas such as:
HIPAA
Vital signs
Nutrition
Blood transfusion.
PUTTING SOLUTIONS TO WORK IN THE CLASSROOM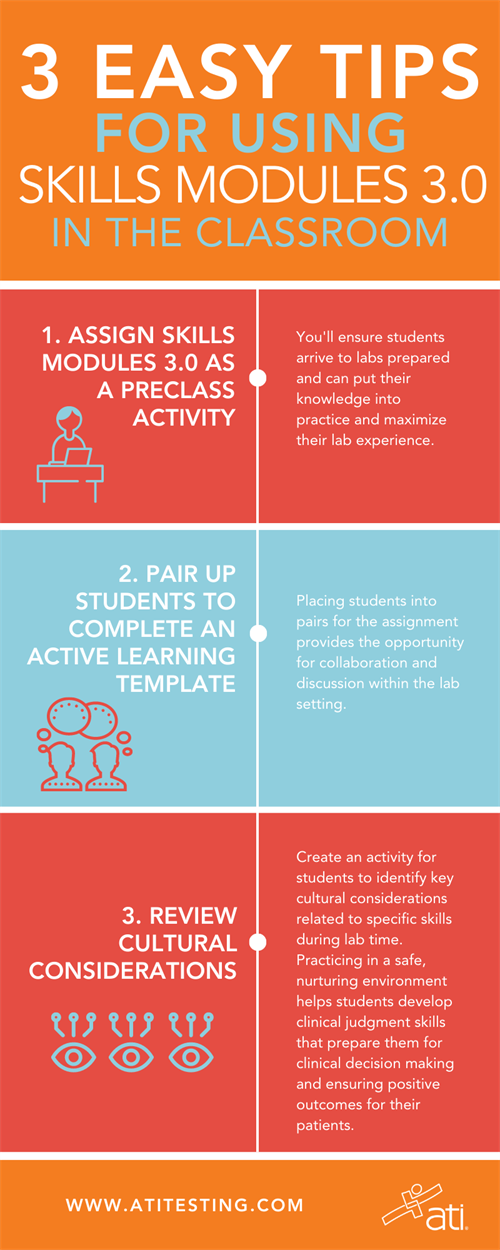 Graves says her colleagues on the Integration Team have focused on how to help educators put the new Skills Modules 3.0 tool to use.

One suggestion — to ensure students arrive prepared for labs — is to assign Skills Modules 3.0 as a preclass activity. "That way, students are coming to their designated lab time prepared to put their knowledge into practice," Graves explains. Even better, students can then maximize their time inside the lab.

Having prepared students is, of course, a major win for educators. "Prelab activities allow a smooth transition for faculty to facilitate student learning inside of lab time," Graves says.

Another tip offered by the ATI Integration Team: After ensuring students are arriving at lab prepared with knowledge from Skills Modules, you can pair them up to complete an Active Learning Template on the skill. Pairing provides the opportunity for collaboration and discussion within the lab setting.

Graves points out that it is also important to review cultural considerations related to skills and procedures.

"When the students complete the skills module prior to coming into lab, faculty can create an activity for them to identify key cultural considerations related to specific skills inside of lab time," she says. "Allowing this practice in a safe, nurturing environment is key to helping students develop clinical judgment skills that prepare them for clinical decision making and ensuring positive outcomes for their patients."

Advancing clinical judgment skills is a key point of nursing education today.
---
DOWNLOAD THE INFOGRAPHIC AS A HANDY REFERENCE