What are the NCSBN's 6 functions of clinical judgment for NGN?
Dec 17, 2022, 12:07 PM
<2.45-min. read> The Next Generation NCLEX will assess students' clinical judgment skills. We've got a graphic to help you remember what the functions are.
---
Here's a helpful Next Gen NCLEX graphic to remind you about clinical judgment
In preparation for the launch of the Next Generation NCLEX (NGN), the National Council of State Boards of Nursing (NCSBN) created a Clinical Judgment Measurement Model (NCJMM). Its purpose is to help nurse educators and clinicians evaluate candidates' clinical judgment. The model identifies the functions in the cognitive process that a nurse employs during decision-making — functions that align closely with the Nursing Process.


These 6 steps involve a repetitious process the nurse moves through when interacting with every client. The process is iterative, meaning the nurse can gain new information or cues while assessing or treating the client. The new information can cause the nurse to return to a previous function and then move through the process again, continuously re-evaluating.
---
STAY UP-TO-DATE ON THE NEXT GENERATION NCLEX
---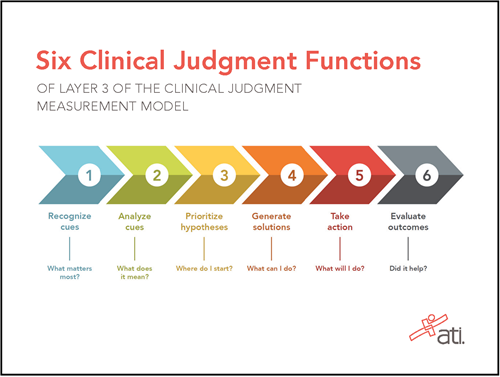 The 6 cognitive functions are:
Function 1: Recognize cues (assessment). The filtering of information from different sources (i.e., signs, symptoms, health history, environment).
Function 2: Analyze cues (analysis). The linking of recognized cues to the client's clinical presentation and establishing probable client needs, concerns, and problems.
---
DOWNLOAD THE GRAPHIC AT RIGHT AS A HANDY REFERENCE
---

Function 3: Prioritize hypotheses (analysis). Establishing priorities of care based on the client's health problems (i.e., environmental factors, risk assessment, urgency, signs/symptoms, diagnostic tests, lab values).
Function 4: Generate solutions (planning). Identifying expected outcomes and related nursing interventions to ensure a client's needs are met.
Function 5: Take actions (implementation). To implement appropriate interventions based on nursing knowledge, priorities of care, and planned outcomes to promote, maintain, or restore a client's health.
Function 6: Evaluate outcomes (evaluation). To evaluate a client's response to nursing interventions and reach a nursing judgment regarding the extent to which outcomes have been met.
THE NEXT GEN NCLEX WILL INCLUDE ITEMS ABOUT OTHER FACTORS THAT IMPACT CLINICAL JUDGMENT
To further help nursing students understand the aspects of their job that affect their clinical judgment, the NCSBN identified additional factors — environmental and individual — that impact the clinical situation. Considering these factors is crucial to ensuring a nurse makes an appropriate clinical decision.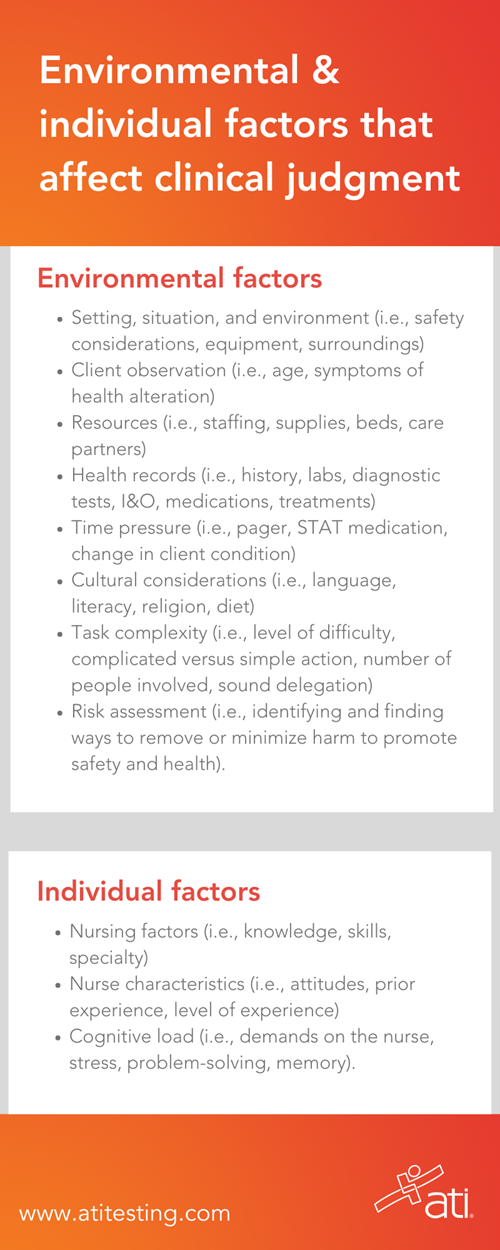 The Next Gen NCLEX will incorporate environmental and individual factors into items on the exam as it attempts to assess students' clinical judgment. That means you should keep these factors in mind when you are developing lessons. Doing so will build students' clinical judgment and ensure they are practice-ready as they face the NGN and officially enter their new profession.
Examples of the factors include:
ENVIRONMENTAL
Setting, situation, and environment (i.e., safety considerations, equipment, surroundings)
Client observation (i.e., age, symptoms of health alteration)
Resources (i.e., staffing, supplies, beds, care partners)
Health records (i.e., history, labs, diagnostic tests, I&O, medications, treatments)
Time pressure (i.e., pager, STAT medication, change in client condition)
Cultural considerations (i.e., language, literacy, religion, diet)
Task complexity (i.e., level of difficulty, complicated versus simple action, number of people involved, sound delegation)
Risk assessment (i.e., identifying and finding ways to remove or minimize harm to promote safety and health).
---
DOWNLOAD THE INFOGRAPHIC AT RIGHT AS A HANDY REFERENCE
---
INDIVIDUAL
Nursing factors (i.e., knowledge, skills, specialty)
Nurse characteristics (i.e., attitudes, prior experience, level of experience)
Cognitive load (i.e., demands on the nurse, stress, problem-solving, memory).
As you prepare your students for the Next Generation NCLEX and help them build their clinical judgment skills, reiterate these 3 simple steps as often as possible:
Show them how these cognitive functions interact.
Point out the relationship between the Nursing Process and clinical judgment.
Explain how they work in tandem to help nurses deal with complex clinical situations.
With each reminder, students will be better prepared for the NGN and for becoming practice-ready nurses.




---
WHAT QUESTIONS DO YOU HAVE ABOUT THE FUNCTIONS OF CLINICAL JUDGMENT? SHARE THEM IN THE COMMENTS BELOW.
---