THE MANY WAYS NCLEX PREP IS CRUCIAL IN TODAY'S CRAZY WORLD
Mar 3, 2023, 15:03 PM
<10-min. read> NCLEX prep is more critical than ever with the challenges facing students and educators in nursing. What solutions have you found that help overcome what the profession is facing today?
---
HOW VIRTUAL NCLEX PREP CAN HELP YOU PREPARE FOR THE LAUNCH OF NGN

The launch of the Next Generation NCLEX (NGN) begins a new era for nursing education and a new approach to NCLEX prep. It will introduce the workforce to nursing graduates who are better-prepared than ever for the realities of today's fast-paced healthcare settings due to the new exam's focus on assessing clinical judgment skills. Having these skills as they begin their careers means new nurses won't make mistakes that put lives at risk.
Instead, these new nurses will already have the necessary knowledge to assess the situations they face and be prepared to handle them with proficiency.
---
LEARN MORE ABOUT VIRTUAL-ATI NCLEX PREP
---
But, before nursing education can reach this milestone, it faces challenges in helping students to adapt their NCLEX prep to pass the current exam. Statistics have shown a decrease in passing rates since before the pandemic. How can we prepare students for the new exam when they have difficulty passing the current one?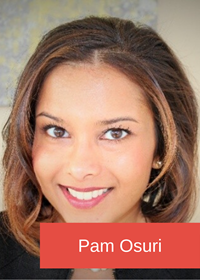 We asked ATI Director of NCLEX Services Operations Pamela Osuri, MSN, RN, CNS, to help explain the current situation, describe what's ahead, and offer tips on how to address the challenges, including — specifically — the ways educators can provide strong NCLEX prep support to students.
---
QUESTION: Stats from the NCSBN have shown a decline in NCLEX pass rates since before the pandemic. How did the pandemic exacerbate the declines?
OSURI:
The pandemic limited faculty from their traditional methods of learning both in the classroom and in the clinical setting. Both students and faculty were forced to move to online learning management systems, virtual conferencing, and online simulations to meet their course and curriculum expectations.
This swift change in the educational environment stripped some learning of its depth; this critical content and concepts were much more difficult to explain when educators weren't teaching in person. The change also had a negative impact on engagement with students.
Once nursing programs were able to return to the classroom, though, everyone needed time to adjust to being back in person. Students needed to adjust to socializing, being together in person, and experiencing in-clinical settings. Students needed to build their confidence and become comfortable in managing care for clients. But all of this was hampered by the limited clinical experiences available. That meant students had even fewer hours in the clinical setting, which impacted their exposure and confidence even further in caring for clients and learning how to develop clinical judgment.
---
Q: Many nursing programs are also citing declines in student retention. What are the factors causing students to leave nursing school?
OSURI:
Many factors are impacting student retention in nursing school. The ones I've found to be most significant are related to anxiety, finances, the commitment that nursing school requires, and students being academically unprepared.
Students' anxiety is primarily related to the realities of nursing practice. Many worry about being able to fulfill the role of what nurses are expected to manage with client care — from both a physical and mental workload.
Additionally, many simply lack the finances to afford nursing school. If they manage to get accepted into nursing school, financial obligations — and family obligations — can interfere with being able to fully commit to nursing school. Students who are being tugged in so many directions have a hard time dedicating the level of focus necessary to being successful as students.
But one of the biggest challenges that programs have recently faced has been students who are academically unprepared for nursing school. Their levels of reading comprehension and knowledge in science and math are leading to academic failure within the first 2 semesters. This is especially challenging for English language learners and those who have learning challenges — who lack focus or require learning accommodations. I've also seen first-generation college students struggling.
Other factors that are likely causing some students to drop out are the other attractive professional degrees that do not require physical or mental work with sick clients.
---
Q: Are the issues of lower pass rates and student retention related?
OSURI:
They are. Students today juggle a lot. Their finances are tight, so they may be working. They also may be trying to balance school and family expectations. Then, there's the lack of ample clinical experiences, which can hamper NCLEX prep and affect NCLEX outcomes.
There's the additional worry of many students that when they enter the workforce, they won't be able to manage the complex needs of their clients. And they've seen how stressful the workplace can be, so that impacts them as much as those nurses who have been working for years and are experiencing the same anxieties.
---

---






---
Q: What can educators and nursing programs do to help address these issues?
OSURI:
I believe admissions criteria should expand beyond GPA requirements. Faculty should consider implementing preadmissions assessments that are not limited to prerequisites but include critical thinking, stress management, and assessment of outside influences that could impact how students are able to manage during nursing school.
We also need to provide more support for students. They need remediation and tutor resources once they are admitted to programs. If we can develop student-centered learning environments and retention programs, we'll help address some of these stressors and learning needs while also providing the support that newly enrolled students need.
Another idea that some programs are starting to consider is integrating more online learning resources into curriculums. Today's youngest generation of students is so comfortable with e-learning tools that we are missing an important opportunity when we don't provide the tools that they enjoy using to help them learn.
One other area I don't want to overlook is providing resources to help students address the many stressors they face. We need to provide students with counseling, accessible healthcare on campus, and even food pantries. All of these factors will impact students' success in a very positive way.
We can't forget to support faculty, of course. Educators must have tools to consistently support students who need holistic assistance. Tools that support NCLEX prep are especially important.
---
Q: The new version of the NCLEX — the Next Generation NCLEX — will replace the current version starting on April 1. How do you think the new exam will impact NCLEX pass rates?
OSURI:
With any adjustment to the exam, it is possible a drop in NCLEX pass rates can occur. But faculty have already begun to adapt their NCLEX prep and implement clinical judgment activities into the classroom to support students in adjusting to the NGN items. Faculty can continue to aid students in making this adjustment both in the classroom and in the clinical setting by increasing critical thinking exercises. Their efforts will help students be better prepared for the changing NCLEX exam.
---

Q: Should the advice educators give to students about how to prepare for the Next Gen NCLEX be different from the NCLEX prep advice they've been giving for the current exam?
OSURI:
Granted, the new NCLEX will have new items that assess clinical judgment. But how educators prepare students for the exam shouldn't change drastically. Instead, you should encourage students to include study resources with clinical judgment exercises, along with current NCLEX exam items. They can also help students prepare by reviewing rationales and looking at the study questions with a holistic lens of all aspects of the client picture.
---
Q: What suggestions can educators provide to students for NCLEX prep that will give them an extra edge in passing the NCLEX?
OSURI:
Students need NCLEX-prep resources that will help them identify content areas in which they are still weak so they can strengthen their knowledge. Resources such as Virtual-ATI, for example, pair students with an ATI educator who works with that student one-on-one to focus on the areas in which the students need extra support. Students need confidence in their nursing knowledge and in answering the item types so they won't freeze up under the real-life circumstances of the NCLEX.
---
Q: What does research show in terms of the time frame between graduation and when students should take the exam? How long should they study?
OSURI:
Students should begin their NCLEX prep during their last semester of nursing school. They should begin reviewing questions as a part of their daily school routine. Some schools have students complete a capstone course that integrates practice for the NCLEX.
A tool I mentioned earlier is especially helpful in giving students a significant edge: ATI's NCLEX-prep product Virtual-ATI. Students can start using this program up to 30 days before graduation. It's a comprehensive way to prepare for the NCLEX. And, not only is Virtual-ATI a good way to study for the regular NCLEX, but it also is embedded with Next Generation NCLEX testing resources and practice questions, so those taking the new NGN version will be ready, as well.
Students who engage and successfully complete the Virtual-ATI program earn a Green Light Achieve status, so they'll know when they are ready to take the exam. We encourage students to take the NCLEX within 3 weeks of earning this status. Students who complete the Virtual-ATI NCLEX Review have historically been shown to achieve a high NCLEX pass rate.
It is important for students to know that their NCLEX prep tactics require consistency and routine. Delays in preparing can impact their ability to pass the NCLEX on their first attempt.
---
Q: What other resources do you recommend to help students pass NCLEX?
OSURI:
There's no magic solution that will help students pass the NCLEX. They need to practice with a variety of resources, especially in terms of their unique learning style. That's one of the benefits of ATI, because students have a wide array of tools to help them. Virtual-ATI 2.0 is exceptionally helpful. It offers 12 weeks of NCLEX prep during which each student is paired with an ATI Educator. Each educator works one-on-one with the student to verify whether the student is truly ready to succeed in taking the exam. By the end of the 12 weeks, students know whether they are ready because their ATI Educator will give them the "green-light" of approval.
---
Q: Is the main focus of Virtual-ATI having an educator who coaches the student?
OSURI:
No, the coach is there to assist. But the student has to do the work. The program is designed to begin 30 days before graduation. During that time, the students have access to more than 400 on-demand resources that they can use whenever it's convenient for their schedule. They can work with content assessments that include practice questions, NGN items and rationales that are specifically based on that student's individual needs. Then, after they get their "green light," they have a post-review study plan that includes remediation resources that help them stay fresh in the areas that were their weakest so they don't lose that knowledge. Virtual-ATI also includes access to BoardVitals, which is a test bank of more than 1,600 PN questions and more than 3,500 RN questions. All of these include detailed rationales that align with the NCSBN blueprint.
---
Q: Does Virtual-ATI support faculty in helping students with their NCLEX prep? Or is it mainly a tool for students to use on their own?
OSURI:
Virtual-ATI definitely is a helpful tool for educators. It allows them one more way to gauge students' preparation for the exam because it shows them the students' progress within the modules. It also supports students to be prepared for NGN items. Having a coach is a benefit because it boosts confidence; students don't feel alone. Having that extra layer of support gives faculty peace of mind.
Faculty can reach out to their ATI representative for support or questions; faculty and ATI team members work collectively to support the student. And because V-ATI matches students with an ATI Nurse Educator, that frees up faculty's time to focus on other areas. They can spend their time being available and engaged to teach, develop more clinical judgment activities, build relationships with their students, and simply be a stronger support as students complete their NCLEX prep with Virtual-ATI.
---