HOW TO MAKE GEN Z LEARNERS EAGER TO TALK WITH YOU
Apr 30, 2021, 15:05 PM
<1.75-min. read> Generation Z nursing students will be more responsive to an educator who applies a coach approach and applies effective listening skills.
---
WHY GIVING MEANINGFUL FEEDBACK BUILDS TRUST WITH STUDENTS IN GENERATION Z
BY JOY WELLER, MSN ED, RN, MANAGER, ATI NCLEX SERVICES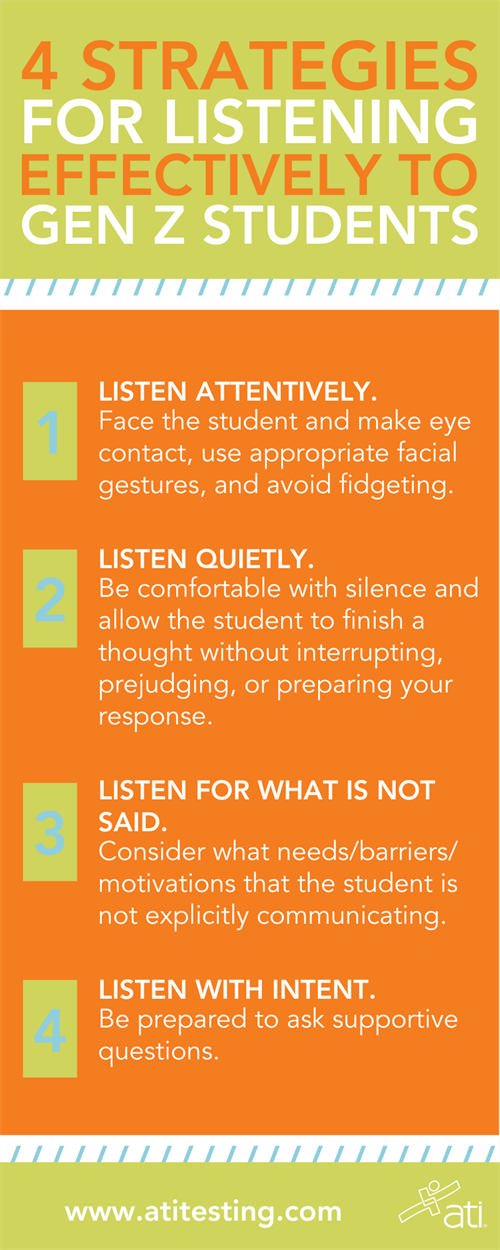 In Part I of this blog, "
How to promote learner responsibility among Gen Z students
," I discussed the importance of using a facilitative coach approach — rather than an authoritative approach — when affirming Gen Z students. Students will always be more open to meaningful feedback — whether planned or unplanned — as long as you deliver it in the appropriate manner. And, as described in that article, the coach approach is best for supporting the development of student-instructor relationships and for promoting learner engagement.
---
LEARN MORE ABOUT GENERATION Z LEARNERS
---
The coach approach works best because safety and belonging are foundational needs of all human beings. Like anyone, then, Gen Z students must feel safe and supported and be an active participant in the feedback process. They want to know they are heard and valued (Seemiller & Grace, 2019). So, for them to feel valued, you must listen actively and remain focused.
HOW TO EFFECTIVELY LISTEN TO GEN Z LEARNERS
What are the keys to implementing active listening? To most effectively listen and respond to students?

You need to implement 4 strategies:
Listen attentively. Face the student and make eye contact, use appropriate facial gestures, and avoid fidgeting.
Listen quietly. Be comfortable with silence and allow the student to finish a thought without interrupting, prejudging, or preparing your response.
Listen for what is not said. Consider what needs/barriers/motivations that the student is not explicitly communicating.
Listen with intent. Be prepared to ask supportive questions.
HOW TO EFFECTIVELY ASK QUESTIONS OF GEN Z LEARNERS
Active listening and supportive questioning go hand in hand. Questioning is a component of active listening, and active listening is critical to supportive questioning (Project Knowledge Index, n.d.).

Relationships and feedback are enhanced when educators focus on asking students questions that facilitate self-directed growth and achievement. When using a facilitative coach approach to feedback, keep in mind supportive questions should:
Be thought-provoking and stimulate curiosity.
Contribute to reflective conversation.
Create possibilities and growth.
Evoke more questions.
Affirming feedback identifies student strengths, builds confidence, and provides direction. Using a facilitative coach approach motivates Gen Z learners to implement self-directed strategies that lead to improved learning outcomes in relationship with their instructor.
---
DOWNLOAD A PDF OF THE INFOGRAPHIC ABOVE AS A HANDY REFERENCE
---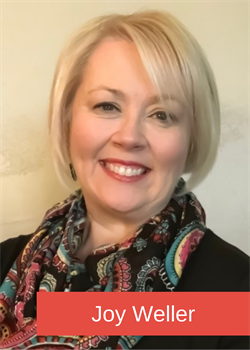 Author: Joy Weller, MSN Ed, RN, is the Manager of Post-Grad Solutions — Complete and Global accounts for ATI Nursing. She began with ATI in 2014 and is part of a dynamic team that delivers high quality NCLEX reviews for PN and RN graduates, as well as supporting global nurses as they transition to healthcare in the United States. Joy has more than 19 years of experience in nursing education and combines her expertise in leadership, classroom/online teaching, curriculum development, and faculty mentorship in her current position. Joy has presented on the topics of positive self-talk, finding hope, no shame, and anxiety. She earned her nursing degrees at Fort Hays State University and Indiana Wesleyan University.





---
REFERENCES
---
PEOPLE ALSO ASK …
What is good about Gen Z?
Gen Z is known for being reliant on their smartphones and hooked on digital entertainment and social media. But they also care deeply about issues such as diversity and mental health, which they discuss easily concern for peer judgment. They are project driven and pragmatic and want to understand the relevance of what they are learning.
What are Gen Z characteristics?
Most spend more than 10 hours a day on the Internet. 95% use a smartphone, and most for 5+ hours per day, including about a third who use their phones after midnight every night. They text incessantly and have a limited — 8 seconds — attention span. But they also cravee face-to-face communication.
How does Gen Z learn best?
They prefer educators who act as coaches — those who are facilitators, passionate, enthusiastic, engaging, knowledgeable, and experienced. They rebel against teachers who approach education with an authoritative air.