The latest news on the Next Generation NCLEX initiative from its chief architect
Feb 2, 2021, 17:23 PM
<8-min. read> Dr. Phil Dickison recently joined hundreds of ATI clients to share the latest news about Next Generation NCLEX, including a new item type.
---
Exclusive Update: Next Generation NCLEX from NCSBN and Dr. Phil Dickison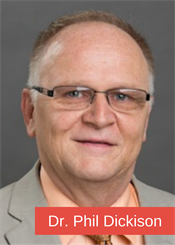 Recently, Phil Dickison, PhD, RN, appeared on ATI's digital-discussion program, "The ATI Talk." Dr. Dickison,
the National Council of State Boards of Nursing
's Chief Officer, Operations & Examinations, provided a progress update on the
Next Generation NCLEX
while answering questions from viewers and ATI expert educators.
His forthright responses provide important clues on what you can expect on the new version of the NCLEX, set to launch in 2023.
We will be going in-depth on Dr. Dickison's answers in articles that we will post soon. In the meantime, however, we're providing brief highlights of his top takeaways. Read on to learn new information and be reassured regarding any concerns you may have.
(ATI clients can watch the recorded version of "The ATI Talk" in ATI Academy. For
background on the Next Generation NCLEX
and why NCSBN decided to launch it, check the
Next Gen NCLEX Resource Center
.)
1) The public's health is at risk if nursing students don't develop better clinical judgment skills.
Asked why it's important for the revised version of the NCLEX to measure
clinical judgment
, Dr. Dickison explained that the skill is a crucial factor in the day-to-day activities of new nurses. NCSBN learned this vital fact after performing an observational study of new nurses several years ago. Detailed in more than 2,500 pages, the data revealed that the linking factor in almost any task an entry-level nurse performed was his or her ability to make judgments on the spot based on the evidence presented to them.
Dr. Dickison said, "Many of these judgments … have the biggest impact in urgent or emergent situations." While important, what was more worrisome was that NCSBN learned new nurses were regularly making errors, and 60% of them were directly related to clinical judgment. About half of the errors led to remediation or disciplinary action. No one knows how many might have led to patient harm.
"And, so, it became really important for us to take a look at clinical judgment," Dr. Dickison added. "And that's why we're here today."
2) Learning item-writing is not key to preparing for NGN.
The first question many educators ask about NGN is, "How do I write NGN-style items?" Dr. Dickison said NCSBN has provided and will continue to provide webinars on this topic.
"But that really is the wrong focus," he noted. Instead, he wants educators to focus on how to use
NCSBN's Clinical Judgment Action Model
.
"Using that Action Model in classroom discourse gives you feedback in real time," he explained. "It allows you to use your education techniques of reflecting a question to students."
"[This technique] gets to the actual practice of clinical judgment in classroom discourse," Dr. Dickison said. "So, while it's important to write the items, don't become so focused on that. Use the Action Model to develop discourse … around clinical activities — around almost anything you can think about. Just use this Action Model. Put it in practice every day."
(Learn more about
NCSBN's Clinical Judgment Measurement Model, the Clinical Judgment Action Model, and decision-making processes in developing clinical judgment skills
.)
3) The pandemic ultimately led to a positive impact on today's NCLEX test-takers.
When test centers had to close in March 2020, as the coronavirus brought the country to a standstill, NCSBN shifted its focus. As important as work on the NGN was, more important was getting current nurses through the system so they could help with the pandemic.
As a result, to shorten the exam and accommodate more test-takers safely, NCSBN removed the Special Research Section, as well as removing some questions from the regular section of the exam. (See No. 4, below, for details on this tactic.) Then, behind the scenes, NCSBN staff continued working on the NGN and researching previously collected data. That information revealed that test-takers no longer needed to answer as many questions as on the prepandemic version of the exam, nor did they need 6 hours to take the test.
Instead, NCSBN determined it could conduct a valid exam in 4 hours.
Previously, the extra 2 hours had been used by a small group of people who might have run out of time finishing the exam without those extra minutes. But, in shortening the test, the number of individuals who ran out of time was only 3.5%.
"Industry standards are about 5%," Dr. Dickison noted. "We're still well below that."
Thus, NCSBN saw no reason to go back to adding the questions it had removed.
4) Today's shorter NCLEX is just as valid as the longer version.
NCSBN was able to make the decision to shorten the NCLEX because it continually researches the exam's data, which isn't necessarily true of all licensure organizations.
"We had every keystroke from every candidate," Dr. Dickison explained. Taking this information from the previous year's test-takers, then, NCSBN ran that information through a simulation of the shorter exam. Within 72 hours, their models showed that the shortened exam was valid.
"[The shortened test] didn't change the outcomes of anybody," Dr. Dickison said.
5) NCSBN expected NGN-style items to take twice as long to answer. They were wrong.
Initially, NCSBN theorized that graduates would spend double the time answering an NGN-style item compared to a standard NCLEX item.
"We were wrong," Dr. Dickison said. "And [the time] didn't triple, either. Actually, it's only taking about 15 seconds more for people to answer an NGN item than it does a regular item."
Dr. Dickison attributes this factor as most likely being due to new case study item types. In the case study questions, a test-taker is continually gathering information, taking it from one question to the next as the case study unfolds. As a result, they are building knowledge, which allows them to answer the questions more quickly than, say, a single-focus question.
6 ) The NGN should not impact any of your educational principles of teaching.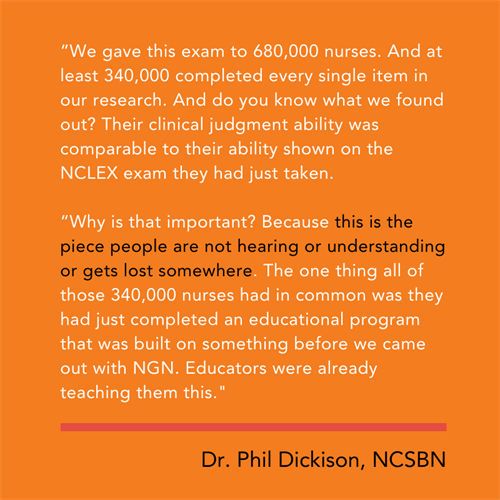 Many educators assume they must change their way of teaching to prepare students for the NGN. That's not true, Dr. Dickison explained. "Evaluate the different education models, and find the one that works for you."
After all, he pointed out, NCSBN's data proved that educators were already doing a good job of teaching clinical judgment.
"We gave this exam to 680,000 nurses. And at least 340,000 completed every single item in our research," he explained. "And do you know what we found out?" he asked. Those students' clinical judgment ability, tested in the Special Research Section, was comparable to their ability shown on the NCLEX exam they had just taken.
"Why is that important?" Dr. Dickison asked. "Because this is the piece people are not hearing or understanding or gets lost somewhere," he explained — that the one thing all of those 340,000 nurses had in common? "They all had just completed an educational program that was built on something before we came out with NGN. Educators were already teaching them this."
NGN is simply a measurement tool to identify weak and marginal students. Their test results showed the most variability. As a result, educators need not change their way of teaching. They should simply emphasize their existing focus on building clinical judgment skills.
7) The NGN will differ from the existing exam in only a few ways.
In most ways, the new version of the test will be the same.

"Just because we're measuring clinical judgment doesn't mean all the other stuff is not important; it's still important," Dr. Dickison said.

Ways in which the test will be the same:
It will remain a computer-adaptive test.
The majority of items will be standard NCLEX item types.
Ways in which the test will differ:
Case studies will be added.
Polytomous scoring will be used on NGN item types. They will not have right and wrong answers.
A candidate that requires more than the minimum number of items on the NCLEX could receive up to 10% of the remaining items as single-episode "bow tie" items.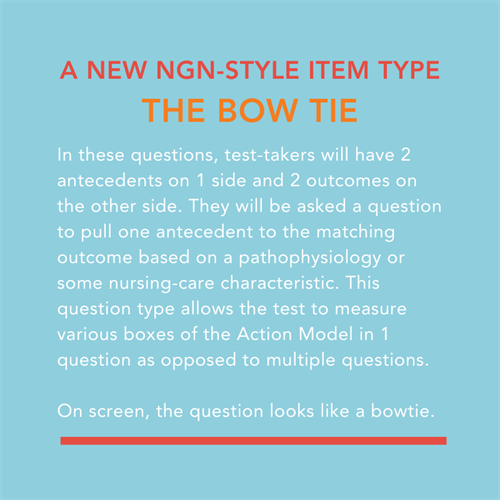 "A bow-tie item was given its name because, on the screen, it kind of looks like a bow tie," Dr. Dickison explained.

In these questions, test-takers will have 2 antecedents on one side and 2 outcomes on the other side. They will be asked a question to pull 1 antecedent to the matching outcome based on a pathophysiology or some nursing-care characteristic. This question type allows the test to measure various boxes of the Action Model in 1 question as opposed to multiple questions.

"The bow tie is really unique; no [other licensure exam] has it," Dr. Dickison said.

He added that the new question type has worked very well. NCSBN spent a long time performing user interface studies to ensure nursing candidates could look at this item type and know how to answer it.

"We've had no problems with the instructions around this item, and our 340,000 people who have completed the exam and received one of these [have been able] to answer it with regularity," he added.


8) The newly added PN Special Research Section is revealing new information.
The PN Special Research Section was first added to the NCLEX in October, so current data is limited. Nevertheless, NCSBN has already gleaned new details from it.

For one, PNs are proving as adept as RNs in answering the NGN-style item types.

Additionally, the same correlations are being seen regarding candidate performance.

"If you're a high-performing PN, you're high performing on your clinical judgment, and the variability comes right near the cut score as we should expect," Dr. Dickison said.

Also, PNs follow the action model in the same manner as RNs, but RNs spend more time in hypothesis generation compared to PNs. "So there's a distribution that changes along the Action Model, but the Action Model measured as a whole is stable."

He added, "How we build the items may be different because we may need to measure one of the Action Model boxes a little more strongly in one segment, because that is where the larger masses of work by PNs is being done." But there's no box along the Action Model where the PN is not having operational patient-client-care responsibility.

"The model holds for PNs as well as RNs," Dr. Dickson added. "It's just writing the items to the level of care expected or the scope of practice."

As mentioned at the beginning of this article, this only provides a high-level overview of Dr. Dickison's comments during the Jan. 26, 2021, "ATI Talk." Look for more detailed information, as well as answers to additional questions, in articles to be posted soon. (Bookmark the ATI Blog so you can check back regularly for updates.)

Register now for the March 19 edition of "The ATI Talk" (2-3 p.m. CT), again featuring Dr. Dickison.
---